World Intellectual Property Day 2010
June 2010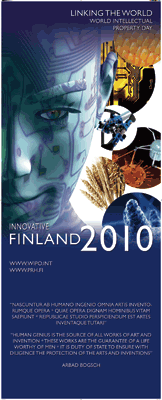 On April 26, to mark the 10th anniversary of World Intellectual Property Day, WIPO launched an exhibition at its headquarters showcasing some of the many posters received from Member States and observers over the years.
At its inception, 10 years ago, the date of World IP Day had been set to coincide with that of the entry into force of the Convention establishing WIPO. This year, therefore, was a cause for multiple celebrations, as it also saw the Organization marking the 40th anniversary of that Convention – as well as the launch of the new WIPO logo.
The theme of this year's World IP Day, "Innovation – Linking the World," seemed to spark imaginations worldwide, with over 70 reports of a broad range of activities, events and campaigns received from Member States and organizations from across the globe.
Competitions
One report that caught our attention came from the U.K. Intellectual Property Office (IPO) – Bailiwick of Guernsey. The IPO reported that the "Guernsey's got Genius" World IP Day competition was a great success, with some outstanding entries from young people – secondary school and college students from the Island. The winner, 12-year-old Pierre de Garis, was described as "a veritable genius in the making." Pierre learned how to use graphic design software from his aunt over the course of a weekend, then designed his invention, the "Dog Control Harness," from scratch. He now wants to pursue a career in design. It looks like a good option, based on what he's produced so far!
Many other competitions were organized to mark World IP Day, for example:
Bermuda's Registry General Office: an essay writing competition for middle and senior school students on the theme "How does innovation link the world?"
The Irish Patents Office: a six-week Junior Inventor Competition on the theme of "Green Innovation."
Hong Kong SAR's Intellectual Property Department, Customs and Excise Department, Reprographic Rights Licensing Society and Hong Kong Education City Ltd.: a jointly launched video clip competition among young people on the theme "Respect copyright to promote creativity and awareness of IP protection."
Portugal's National Institute of Industrial Property and Association for Technological Centers: a jointly organized "This is an idea" contest for budding entrepreneurs.
Thailand's Department of Intellectual Property: an IP Day exhibition that included the results of a package design contest for traditional Thai desserts.
Universidad Central de Venezuela: an essay writing competition for students on any IP-related theme. The Israeli Patent Office: an event described as a "festive campaign" for children, asking them to solve simple technical problems which were granted patents and exposing them to the rich world of trademarks and designs.
Activities – old and new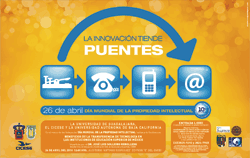 Small and medium-sized enterprises were the focus of many activities, such as a workshop in the United Arab Emirates for young business leaders, an information day at the Estonian Patent Office and a two-day seminar in Malaysia.
As in past years, many Member States took advantage of World IP Day to pay tribute to their well-known actors, authors, musicians, performers, singers, writers – a long list of copyright stakeholders – in dinners, galas, award ceremonies and television specials; many received WIPO awards. New on the list of activities was a cultural event at Ali & Associates, Pakistan, which had staff members put themselves in the shoes of creators by performing their favorite skits and songs. It was not as easy as they thought it would be, but the best performers were rewarded at the end of the evening.
Another new event was the Netherlands' "Patent Parade," an interactive, traveling exhibition of Dutch inventions. The Parade, which marks the 100th anniversary of the Dutch Patent Act as well as World IP Day, will visit the 10 major libraries of the country, reaching some 1.2 million visitors over the next year. Visitors will be able to see and try out many unique inventions and prototypes. The libraries hosting the Patent Parade will organize special programs for schools and businesses.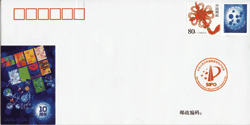 China's First Day cover
Spain hosted a Creative Cities week in Alicante. The event brought together activities for World Book and Copyright Day (UN Educational, Scientific and Cultural Organization) on April 23, World IP Day on April 26 and World Graphic Design Day (International Council of Graphic Design Associations) on April 27.
The State Intellectual Property Office (SIPO) of China also held week-long celebrations under the theme "Creation-Protection-Development." In addition, to mark the 10th Anniversary of World IP Day, SIPO distributed 25,000 copies of a "First Day Cover," featuring the origins and goals of World IP Day, this year's theme and the WIPO 10th Anniversary poster.
WIPO thanks its Member States and observers for making this World IP Day one of the most successful, with so many varied activities. This report offers only a brief look at the efforts made, but it cannot close without a special mention of Moldova, sender of one of the longest lists of activities with events organized over three months: March, April, May.
Related Links
The WIPO Magazine is intended to help broaden public understanding of intellectual property and of WIPO's work, and is not an official document of WIPO. The designations employed and the presentation of material throughout this publication do not imply the expression of any opinion whatsoever on the part of WIPO concerning the legal status of any country, territory or area or of its authorities, or concerning the delimitation of its frontiers or boundaries. This publication is not intended to reflect the views of the Member States or the WIPO Secretariat. The mention of specific companies or products of manufacturers does not imply that they are endorsed or recommended by WIPO in preference to others of a similar nature that are not mentioned.