Talking to the Director General
February 2009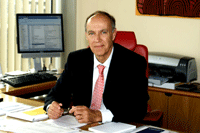 WIPO Director General Francis Gurry in Geneva. (Photo WIPO)
Francis Gurry took office as Director General of the World Intellectual Property Organization on October 1, 2008, following his election by WIPO's Member States. The Director General took time out of a packed schedule to talk to WIPO Magazine about his first few months at the helm.
What was your first priority during your first three months in office?
The most pressing priority was to agree with our Member States on a new strategic framework and a substantially revised Program and Budget for 2009. This was a very intensive process. It involved re-defining the strategic goals of the Organization in the light of the changing technological, cultural and geo-economic environment, and then starting to realign all our programs and resources in accordance with those goals.
We now have nine new strategic goals. As well as covering our work to promote a balanced evolution of the international normative framework for IP, to provide premier IP services, and to facilitate the use of IP for development, they include a new focus on building respect for IP; on responsive communication; on developing international IP infrastructures; on establishing WIPO as a world reference source for IP information; and on addressing IP in relation to global policy challenges, such as climate change, public health and food security.
The next task is to bring the structure of the Organization into line with the new strategic framework. This is part of a systematic Strategic Realignment process, which I started in October and which will continue throughout the year. The restructuring involves a lot of movement of staff between different programs. It is moving ahead quickly thanks to the impressive flexibility and forward-looking spirit of staff throughout the Organization.
You also highlighted improved communication as an immediate priority?
Yes. I believe that responsive communication with our stakeholders is paramount. As well as introducing greater transparency in the consultations with our Member States, we have also reorganized our Communications Division and launched a major new customer service initiative. The aim is to enable WIPO to respond more effectively to the numerous daily requests that we receive for information and services.
You mentioned climate change just now. What can WIPO do about this?
First, it is clear that tackling the threats associated with global warming requires significant investment in innovation to develop climate-friendly technologies. Equally, these new technologies need to be diffused rapidly across the economy. One practical contribution that WIPO might make, therefore, is to provide an open innovation platform, where companies could disclose their green technologies with a view to research collaboration on a commercial basis, or to licensing them on fair, reasonable and non-discriminatory terms. Open innovation has useful potential application in the field of climate-friendly technology, because of the complexity of the technologies involved (often multiple technologies go into producing a single product), and because of the opportunities for greater collaboration which the networked economy provides. So we are beginning to explore with Member States and industry the possibility of a role for WIPO in this area.
What do you hope to have achieved by the end of 2009?
On the internal side, I hope to have completed the first major phases of the strategic realignment. And to have successfully managed the impact on WIPO of the economic crisis.
On the external program, I want us to be able to show real progress in implementing the WIPO Development Agenda. The 45 recommendations of the Development Agenda contain a set of aspirations and principles. We are now working to translate those aspirations into distinct projects with clearly defined deliverables and timelines.
Then there is the patent area. We cannot hope, by the end of 2009, to have solved the problems facing the international patent system, which is choking under the weight of demand. But I am convinced that the Patent Cooperation Treaty (PCT), as the only global patent application system, will be part of an eventual solution. In 2009, therefore, my aim is to agree a road map for the future evolution of the PCT system.
Another distinct area in which I believe that the global IP community can deliver a very positive result is in improving access to published works for visually impaired persons. We will be working with the World Blind Union, the International Publishers Association and with Member States in order to achieve a consensus on a successful process for making this happen.
More broadly, we need to start the process of conducting a health check on the state of the copyright system in relation to the multiple threats it is facing.
What kind of impact do you think the economic crisis will have on intellectual property?
We are monitoring this carefully, not least as WIPO is funded almost entirely by the revenue from our IP registration and filing services. We have seen some slowing in patent and trademark applications in 2008, although growth has so far remained positive.
Historically, patent filings have tended to dip during periods of economic difficulty simply because fewer resources are available for investment in the innovation cycle. Once the economic cycle improves, patenting activity tends also to recover. That said, economic crises have, in the past, also been a catalyst for innovation, because of the need to improve standards of efficiency, to do more with less, and to develop smarter business solutions. As President Obama said in his inaugural speech: "our minds are no less inventive, our goods and services no less needed than they were last week or last month or last year." So an economic crisis can also mean an opportunity to capitalize on intellectual property.
Could you describe a typical day in your life as Director General?
No two days have been the same since I took office. But they have all been equally full.
On a typical day, if I am not flying back into Geneva from an official visit, I will make an early start on clearing e-mails. I am not at my best over breakfast, so I tend to avoid working breakfasts if I can. When I arrive at the office I consult with my secretary on the day's schedule and sort through the most urgent telephone messages. The morning's meetings might include discussions with Ambassadors, or with visiting delegations, about, for example, capacity-building activities which WIPO is conducting in their countries; or with an NGO group on areas of potential cooperation. Next might come a strategic planning meeting with my senior managers, in order to review the direction, activities and structure of their respective areas as part of the strategic realignment process.
If I don't have a speaking engagement at lunch time, I will try to shut myself away for an hour to deal with the daily mountain of files containing all the requests, reports and proposals which are sent to me. In the afternoon I might have a quick discussion with members of my Cabinet to run through priorities for the week and check on progress. They may also brief me on, for example, concerns which staff or Member State representatives have raised with them. Various other internal and external meetings might follow, covering finance, or human resources issues, or preparations for the next Standing Committee. In between, I might squeeze in a telephone interview with a journalist; then maybe a call on one of my fellow heads of UN agencies in Geneva to discuss common areas of interest.
And your evenings?
On the evenings where I don't have an official engagement, or am not heading back to the airport, it is home for dinner with the family – before a final assault on the e-mails.
The WIPO Magazine is intended to help broaden public understanding of intellectual property and of WIPO's work, and is not an official document of WIPO. The designations employed and the presentation of material throughout this publication do not imply the expression of any opinion whatsoever on the part of WIPO concerning the legal status of any country, territory or area or of its authorities, or concerning the delimitation of its frontiers or boundaries. This publication is not intended to reflect the views of the Member States or the WIPO Secretariat. The mention of specific companies or products of manufacturers does not imply that they are endorsed or recommended by WIPO in preference to others of a similar nature that are not mentioned.