Upping the Stakes in the Egyptian Film Industry - Adel Adeeb
June 2008
By Bhamati Viswanathan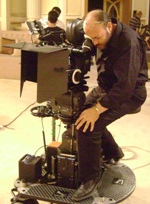 Adel Adeeb behind the camera.
(Photos: Good New Group)
This is an abridged version of a profile of Egyptian filmmaker Adel Adeeb, written by Bhamati Viswanathan for the Creative and Innovative Economy Center (CIEC) of the George Washington University Law School. The profile focuses on Adel Adeeb's financial acumen in tapping into new channels to fund his creative projects. Ms. Viswanathan is presently writing her doctoral dissertation at the University of Pennsylvania Law School.
The Egyptian film industry is notable for being well-established and highly successful, yet also fast-changing and uncertain. Steeped in a tradition of big production movies awaited by eager audiences domestically, Egyptian films enjoy the highest attendance rates in the pan-Arabic world. The industry nevertheless faces a constant series of challenges.
Financial concerns are paramount to Egyptian filmmakers, all of whom are obliged to raise financing for their own productions. Driven by a strong "star system" of homegrown Egyptian talent and ever-increasing labor and technical costs, adequate funding to cover spiraling production costs is harder to find. While revenues are derived through increasingly diversified distribution channels – including first-run cinema releases, television rights, and, in the long run, ancillary rights (DVD and DHD releases, etc.) – these revenues have grown only at a modest pace and are only fully realized when a film proves a major success.
As the upfront costs are great, and future returns tend to be uncertain, Egyptian filmmakers have been limited to a longstanding core of producers with deep pockets, diverse funding sources and a stable footing in the field. A few major players, many of whom serve variously as creator, producer, distributor, promoter, screen licensor, and/or secondary rights' manager, have profoundly shaped the industry.
Creative vision
Adel Adeeb is one such major player. Raised in the dynastic leading families of film, he has grown to develop his own multi-faceted role. He created the Good News Group, a highly successful and respected company in Cairo, which comprises various successful multimedia ventures in print and on the Internet. Yet it is the film production component of the Group that has won particular distinction through its ability to turn out compelling films that have drawn both popular and critical acclaim.
Three of Adeeb's recent films have been blockbusters. The Yacoubian Building, based on the best-selling novel by Egyptian author, Alaa el-Aswany, won the first ever Egyptian nomination for an Oscar and attracted international backing prior to release. The film is a highly artistic portrayal of diverse Egyptian lives and tackles many contemporary issues with great candor. Morgan Ahmed Morgan skillfully blends drama and comedy in a family saga. While Baby Doll Night presents a provocative story in a fashion that had never before been attempted in an Egyptian film.
All three films moved far beyond the subject matter of the usual blockbuster – such as romance, tepid drama, or easy comedy – and, while achieving originality, also connected deeply with audiences throughout Egypt and in the wider Arab world.
Financial acumen
Adeeb's creative vision is paired with astute financial acumen. His financial strategy involves four main approaches:
internal funding by drawing on private revenue sources;
external funding through co-production and/or outside investment;
key licensing arrangements in television and emerging media;
generating new revenue streams through international content distribution.
These strategies are characteristic of filmmakers worldwide. But it is Adeeb's energetic pursuit of new, and hitherto untapped, channels within the standard financial pipelines that mark him out as especially entrepreneurial.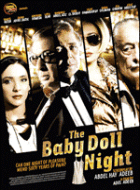 Baby Doll Night screened at the 2008 Cannes Film Festival.

Adeeb enjoys the distinct advantage of already owning a wide-reaching and stable enterprise on which to draw for internal funds. The Good News Group includes several major Arabic-language newspapers and magazines, a leading Arabic language Internet portal, and other retail partners. Its ownership of distribution channels helps secure Adeeb's marketplace primacy: The company also includes a large number of film exhibition chains which control screens in major metropolitan areas, ensuring that the Group's films are shown at prime times. By controlling a creative studio, production facilities and distribution venues the Good News Group enjoys powerful leverage which enables Adeeb to assume the risks associated with producing innovative films.
But the escalating cost of film production is driving Adeeb to seek outside funding. Where the The Yakoubian Building cost some US$3.97 million to produce, Morgan Ahmed Morgan cost US$4.9 million and Baby Doll Night a staggering – by Egyptian standards – US$6.3 million. Adeeb could self-finance projects when costs stayed under the US$4 million mark – those days are gone. But success has placed him in a good position to attract outside investors seeking an entrée into the sector. The tactics he has pursued vis-à-vis outsider supporters are relatively new to Egyptian filmmakers. He has secured a triple-A credit rating from the HSBC bank and intends to make an initial public offering of equity in Good News Group in the United Arab Emirates – an unprecedented move for an Egyptian film company.
His second tactic is to propose co-productions – both of Egyptian and foreign films – to producers abroad. As yet, co-production is in its inception, and it remains to be seen whether players in the Gulf are prepared to launch co-production efforts at this stage.
As a film distribution vehicle, the Good News Group reaps lucrative revenues through its control of venues for film releases. To further increase revenues, Adeeb is working to capture a significant market share of television rights. These have become a vital channel for the dissemination of Egyptian-made films, both domestically and abroad. Adeeb has sought to capitalize on this wave by selling television rights directly to broadcasting powerhouses in Egypt and the Gulf. He has noted an insatiable appetite for feature length films among television broadcasters. At a time when Egyptian cinema is releasing a total of approximately 60 films per year, any major television station could purchase every film on the market and broadcast them within a single year.
Allocating IP rights
One of the challenges that Adeeb now faces is the allocation of intellectual property (IP) rights in his growing catalogue of films. While he has sought to retain all IP rights in prior works, television broadcasters in particular have been actively pursuing the purchase of IP rights in films after their initial release. With sufficiently deep pockets, the major television broadcasters have managed to secure an expanding catalogue of Egyptian film works. Adeeb will likely be approached for such a wholesale assumption of IP rights, whether for dissemination of his films in Egypt, the Gulf or worldwide.
The sale of IP rights may not be of concern if adequately compensated. On the other hand, by selling these rights Adeeb may forfeit future exploitation of the works in channels that are not fully developed today, such as dissemination via mobile telephones or the Internet. Further, if the rights holder has promised to return revenue streams to Adeeb, he risks frustration if the rights holder fails to fully exploit certain outlets to maximize revenues in the way that Adeeb himself would seek to do.
Pay the piper
Adeeb is now poised to launch new ambitious creative projects. But having opened the door to outside alliances he is likely to find his complete autonomy over Good News Group, and its future ventures, challenged. Investors may demand greater financial transparency. They may also seek a measure of decision-making ability as to how funds are invested, what risks are assumed, how theatrical releases and television rights are balanced and so forth. Adeeb will have to determine, as indeed any entrepreneur must decide, the degree to which he is willing to allow outside forces to shape his course.
______________________
Talking IP with Adel Adeeb

The Yacoubian Building, won the first Egyptian nomination for an Oscar.

WIPO Magazine conducted a short interview on the value of intellectual property in the film industry with Adel Adeeb two weeks after the screening of his film Baby Doll Night at the Cannes Festival.
In building the Good News Group, to what extent have you needed a good understanding of IP rights?
A very good understanding of IP is the basic of starting a business, particularly for a film production company. Piracy and other invasion of rights can seriously damage a film's reputation, financial revenue as well as the company's reputation. For example, a few weeks after The Yacoubian Building had been released, we were hammered with links that claimed to have the film on their site. Thanks to our IT department, who take very good care of that, all those sites were shutdown. Another incident was with street vendors in the populated areas of Cairo, such as Ramsis and Isaaf, who were selling pirate copies of the film on DVD. Those vendors were reported to the authorities and shutdown as well. But there is no way to fully "protect" ourselves against such theft because technology is evolving at such a rate that you cannot stop it all. We do the best we can.
What sort of IP rights are most important in enabling you to generate revenue from your films?
Video rights. A film is released in cinemas and six months later it goes to video, DVD, and etc.
This would be a great source of revenue, but online piracy is a major road block that can halve that revenue. Whereas abroad the DVD market can actually bring more revenue than cinema release, in Egypt the DVD market is close to non existent. The cost of DVDs is too high for an audience that can download the film for free online! Very few people will pay 100+ Egyptian pounds (approx. US$ 20) when they can settle for a less than perfect picture from an online download.
The normal process would be that after six months of DVD the film then airs on TV and that is equally a great source of revenue… but internet piracy also slows that down and the revenue is affected by it. That is why, once the film is in production, TV rights are sold on the spot along with all the other rights so that we can guarantee a minimum revenue before the film even hits theaters.
How do you see the Arab film industry developing? Is there room for new players?
I see it developing very nicely. There is a new generation of young filmmakers appearing on the terrain who are getting the recognition they deserve in their home lands as well as abroad. I think the film market, while having its usual problems (bad quality and cheesy films), is getting smarter bit by bit. The production value of films is getting better slowly but surely, and more importantly the content is becoming more and more interesting and more relevant to yesterday's and today's world. Good News is very interested in discovering and investing in new talents which bring a new taste and a different touch to this market. An obvious example is young Marwan Hamed, director of The Yacoubian Building (his first feature film). Another is Rami Abdel Jabbar, who will direct a future project feature film Biet Min Lahm (House of Flesh).
What advice would you give to an aspiring young filmmaker in Egypt?
Be professional. Realize that there is a world out there that is starving for knowledge of our world and that our films should reflect the good and the bad. Strive for the best quality script and actors.
Interview by Sylvie Castonguay, WIPO Editorial Team, Communications and Public Outreach Division.
Acknowledgement Nour El Tony, Head, Sales and Marketing, Good News Group.
The WIPO Magazine is intended to help broaden public understanding of intellectual property and of WIPO's work, and is not an official document of WIPO. The designations employed and the presentation of material throughout this publication do not imply the expression of any opinion whatsoever on the part of WIPO concerning the legal status of any country, territory or area or of its authorities, or concerning the delimitation of its frontiers or boundaries. This publication is not intended to reflect the views of the Member States or the WIPO Secretariat. The mention of specific companies or products of manufacturers does not imply that they are endorsed or recommended by WIPO in preference to others of a similar nature that are not mentioned.