On the Beat - Tapping the Potential of Kenya's Music Industry
July 2007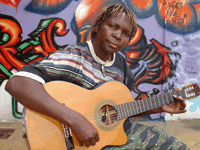 Olith Ratego - sweet sounds and sharp social comment. His interest in music came from his mother, a singer of "dodo" traditional Luo music. (Courtesy of Ketebul music)
The modern musical landscape of Kenya is one of the most diverse and vibrant of all African countries. But under-investment, ineffective management of intellectual property rights, and rampant piracy have prevented the industry from realizing its economic potential and left its artists struggling to earn a living. Following a recent visit to Nairobi by a team of WIPO's copyright and outreach experts, this article takes a look at what makes Kenya's music great, and at some of the elements which have hitherto stunted its growth.
With more than forty different regional languages, the country's musical panorama is rich and remarkably complex. Driving through Nairobi's streets in your matatu, you will hear songs in Luhya, Luo, Kamba, and Kikuyu on every street corner. Music has traditionally been a distinctive feature of Kenyan ethnic groups, such as the Kikuyu, Kenya's largest ethnic community, and the Luo people of the Lake Victoria region, who have always been particularly well known for their musical culture.
In addition to its entertainment value, Kenyan music has always been, and is still today, a major vehicle for sharing information and educating local populations. Opondo Owenga, a traditional Benga musician, was well known during the colonial era for his use of music to convey the history of the Luo people. Such musical riches are under threat, however, since traditional music rooted in oral tradition is disappearing at an alarming rate.
A potent mix
The roots of Kenya's popular music can be traced to the 1950s. The most characteristic pop sound is Benga music, which was born on the lakeshore and originates from the Luo community. It is a crossover of traditional rhythms and instruments, such as the nyatiti lyre, the orutu single stringed fiddle, the ohangla drums, and modern dance. Benga became so popular that ethnic groups from six out of Kenya's eight provinces have adapted it to their own style and flavor, while retaining the pulsing beat, high energy bass, interlocking guitar riffs and recurrent voice solos which characterize the Benga genre. The complex rhythms include indigenous and imported rhythms, notably the Congolese beat. The Shirati jazz band, formed in 1967, was one of the first Benga bands to make a major breakthrough. Others were George Ramogi, Victoria Jazz Band, DK and Joseph Kamaru, who received international exposure in the 70's. Recently, traditional Kenyan music attracted international attention when the songs of the singer Ayub Ogada were featured in the award winning 2005 movie "The Constant Gardener."
Foreign artists and foreign bands, essentially from Tanzania and the former Zaire, have also been a major component in the rich Kenyan musical stew. The entrancing Taarab music is a fusion of Indian, Arab and African motifs that developed in the coastal cities of Kenya and Tanzania. Congolese groups started performing in Nairobi night clubs in the mid 1960s and, as political conditions in the Congo deteriorated in the 70s, more groups made their way to Nairobi. The famous Congolese sound based on rumba, known as Soukous or Lingala, became the mainstream genre of music in the 70's and 80's in music clubs. The popularity of bands, such as Orchestra Virunga and Super Mazembe, spread as far as Europe and the United States.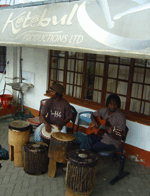 Abbi is among the new generation of Afro-fusion artists. (WIPO/Nicholas Hopkins-Hall)
The last decade has witnessed the mushrooming popularity of hip-hop music in Kenya, with the rise of musicians such as Gidi Gidi Maji Maji and the late Poxi Presha, who, while retaining their African heritage, have been influenced by the American music scene. Alongside this trend, a new generation of talented artists is setting the stage in the so called Afro-fusion style, a blend of traditional local sounds mixed with various other influences. Among them, to cite but a few, is the compelling voice of Suzanna Owiyo, the fiercely socially engaged yet witty music of Makadem and Olith Ratego, the sweet Afro-jazz melodies of Eric Wanaima, and the originality of Abbi.
Obstacles
Despite its vibrant creativity and boom in production, the Kenyan music industry is nowhere near realizing its potential. "Nobody knows about Kenyan music," says Suzanna Owiyo, "and that is because we lack proper networking in terms of distribution."
Paradoxically, the very diversity of Kenya's musical scene represents a key challenge to developing a sustainable industry. In particular, its linguistic diversity has fragmented the market and made it more difficult for artists to develop unique and recognizable sounds that can serve as currency for access to mainstream global markets.
The lack of investment in production has also stunted the industry's growth. Training and rehearsing facilities are few and inadequate, recording studios are technically obsolete and CD plants are virtually non-existent. All mastering of recordings has to be done in South Africa, thereby increasing costs. Moreover, it is often very difficult for young musicians to buy instruments. Abbi expresses the frustration of many of his fellow artists: "If we could get more international investment in music, then truthfully our music would rise to a different level."
Exploring options
More and more artists are embracing River Road – also known as Riverwood, the center of the burgeoning Kenyan film industry – for production and distribution of their music. For a long time, Kenyan artists were critical of the production quality of River Road, indeed viewing it as a wellspring of music piracy. But many musicians are now tempted to experiment with the cheaper production options and better distribution networks offered by the film industry. Singer and composer John Katana comments: "Riverwood has great potential. It is going to grow, and I will be very interested to work with producers and makers of Riverwood movies because it has taken a big step."
Various other strategies and partnerships are being explored to facilitate the promotion and distribution of Kenyan talent on the world music scene. One of the most innovative is "Spotlight on Kenyan Music," an initiative of the Alliance Française of Nairobi, which seeks to identify and promote talented young Afro-fusion musicians all over the country, giving them the opportunity to perform in concerts and participate in album production.
Blight
However, currently only a handful of famous African artists have been able to make money from the popularity of African music. High piracy rates, poor enforcement procedures and ineffective management of intellectual property (IP) rights mean that most musicians struggle to make a living from their music or to achieve social recognition of their status as artists.
"Only a handful of famous African artists have been able to make money from the popularity of African music"
Ever since the introduction of cassette tapes in the 70's, piracy has blighted the Kenyan industry. Music pirates, who copy CDs the moment they are released and sell them on the streets, have a stranglehold on the market that musicians cannot break, making it nearly impossible for them to profit from direct sales of legitimate recordings. "That is why we have to slow down so much on making recordings," explains John Katana. "We are more into performing live and doing social functions because of the piracy problem." Another stark reminder of the impact of piracy is that for more than a decade now, international record labels and music companies have abandoned Kenya as a non-viable market for their product.
Promoting copyright
Kenyan copyright legislation was updated in 2001. A national Copyright Board is entrusted with implementation and monitoring of the new legislation. Stakeholders are working to further improve organizational structures of copyright and provide effective education on IP issues. The economic value of music to the country is beginning to be better understood and promoted. "Music adds value to the GDP and creates employment for the country," says Tom Kodiyo, vice-chair of the collecting society, the Music Copyright Society of Kenya (MCSK), which operates under the slogan: Making life better for those who make living beautiful. "All players have to work hand in hand," says Tabu Osusa, a leading music producer, "but the time has also come to put in place a national strategy to protect and preserve Kenyan creativity, which would create the conditions for music industries to flourish and raise revenues."
WIPO is working hand in hand with governments in Africa, as well as with representatives of the music industry and civil society, to promote the copyright-based industries in the region. WIPO's outreach activities aim to raise awareness – at all levels – of just how copyright helps keep the music coming. And a wide range of WIPO programs assist member governments in building the knowledge, skills and infrastructure needed to put IP to work, so that these industries can deliver to the country's economic development the dynamic charge of which they are capable.
The Kenyan music scene bears out an old proverb in the region that says "seeing is different from being told." A journey through Kenya reveals the pride of the people in their creative traditions, and a growing commitment to developing viable creative industries. While there are challenges, the future for Kenyan music is bright.
WIPO New Release: Talking Copyright
A short WIPO public outreach film captures the irresistible sounds and colors of the Kenyan music scene, and listens to what the artists themselves have to say about their music and the problems faced by the industry. Afro-fusion and Afro-jazz musicians, singers and composers, including Abbi Nyinza, Achien'g Abura, Suzanna Owiyo, Tom Kodiyo and John Katana, talk about what copyright means to them as artists, and to the future development of the music industry in their country.

"Talking Copyright – The Music Industry in Kenya" will be available on the webcast area of WIPO's Public Outreach site.
Article by Carole Croella, Copyright and Related Rights Sector, WIPO
Acknowledgements: Tabu Osusa, Exceutive Producer, Ketebul Music.
The WIPO Magazine is intended to help broaden public understanding of intellectual property and of WIPO's work, and is not an official document of WIPO. The designations employed and the presentation of material throughout this publication do not imply the expression of any opinion whatsoever on the part of WIPO concerning the legal status of any country, territory or area or of its authorities, or concerning the delimitation of its frontiers or boundaries. This publication is not intended to reflect the views of the Member States or the WIPO Secretariat. The mention of specific companies or products of manufacturers does not imply that they are endorsed or recommended by WIPO in preference to others of a similar nature that are not mentioned.