Capturing the Spirit of Invention: Philippe Tarbouriech, Photographer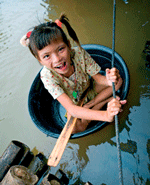 Problem-solving as child's play (Credit: Copyright Philippe Tarbouriech)
"Do you know there are said to be five times more lawyers than engineers in the U.S.?" photographer Philippe Tarbouriech asks with a rhetorical flourish as he shows his latest photographs of inventors.
The pictures, taken during his recent travels in South East Asia, are captivating. But Philippe Tarbouriech's interest in photographing inventors and innovators is fuelled by more than purely aesthetic considerations. Fascinated by all aspects of technological innovation, and with patented inventions to his own name, he is concerned that too many people, especially young girls, simply cannot envisage themselves as inventors. "The image has got somehow warped," he explains in an interview during an exhibition of his photographs at WIPO in April. "There is a social need to show more good role models of inventors. My dream is that kids will look at my photos of inventors and think: 'Hey, I could be like that!'"
It is not just the owners of patents or of successfully commercialized innovations who attract Philippe Tarbouriech's attention. His photographs include children and adults, scientists in Silicon Valley and grass roots entrepreneurs in developing countries. What he seeks to capture on camera is the essence, the spirit that pushes a person to invent.
Many of his images portray inventiveness at its simplest expression. "What makes someone invent? It's basically about refusing to accept that something is not possible," he says. He points to a photograph of two children on the skeleton of a bicycle, wobbling down a street in their Lahu hill village in northern Thailand. "Just look at these two. Their bicycle has no chain and no tires. They've got no shoes. It shouldn't be possible to ride it. But they've found a way to do it. That's inventiveness.
"Or this," he continues, indicating the figure of a small girl from Cambodia's Tonlé Sap lake, who beams up at the camera from a basin which serves as her boat. "She knows nothing about the laws of physics. But she's solved a technical problem. She's discovered that by creating a vortex in front of the bucket with her paddle she can make it move forwards instead of just spinning round."
Communicating a passion
Whether his subjects are children at play or scientists in their laboratories, what matters to Philippe Tarbouriech is that his photographs succeed in communicating the passionate interest of individuals in what they are doing. "And that only works," he says, "because I too am genuinely interested in understanding what that person is doing and how he or she is going about it."
Here, Philippe Tarbouriech's own technical background comes into play. He originally trained as an engineer, worked for a video game production company, and founded a company to promote his own invention, iTag, a keyring-sized device for "bookmarking" radio broadcasts. His background, combined with what he calls his profound curiosity, means that such interest comes naturally. He recites with infectious enthusiasm the technical details underpinning the achievements of the inventors he has met, such as the WIPO award-winner in Bangkok, Professor Vira Kasantikul (WIPO Magazine issue no.1/2006), whose collection and study of immense quantities of data from motorcycle accidents helped him design an affordable helmet that increases the survival chances of accident victims.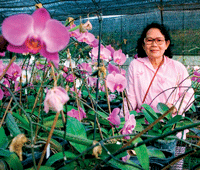 Not just a pretty flower. Oradee Sahavacharin's new tissue culture techniques for orchid production have provided hill farmers with a cash crop alternative to opium poppies. (Copyright Philippe Tarbouriech)
In a similar vein, Philippe tells the story of Thai horticulturist Oradee Sahavacharin. A former teacher at Chulalongkorn University, she was determined to provide hill-tribe farmers with an alternative cash crop to opium poppies, so set out to devise a means for the large scale production of orchids and cut flowers. Refusing to accept the limitations in tissue culture technology which prevented growing more than one orchid per plant, she developed a new cloning technique and a nutrient growth medium, which allowed more than one million plants to be grown from the tissue of a single orchid. Dr. Sahavacharin's work has helped Thailand become the world's top orchid exporter, while realizing her own dream of providing poor farming families with a way to earn a decent living.
Breaking free from the black box
The advent of digital cameras, Philippe Tarbouriech believes, has transformed the relationship between photographer and subject, providing a more powerful medium of communication both with - and by - the subject. "Before, there used to be this element of almost hunting involved in photography: The photographer captured images of a person and carried them off in a black box," he explains. "It often made subjects uncomfortable. Digital photography is different. It is a wonderful means of starting a conversation, of establishing a relationship. The photographer can show people themselves in a way that they have never seen before." This, he believes, relaxes and liberates his subjects, enabling their intellect to shine through for the camera.
Explaining IP
And to what extent are the inventors whom Philippe Tabouriech meets familiar with the principles of intellectual property? Such notions, he says, are often confused. In some developing countries where patenting activity and infrastructure were minimal, he encountered a basic lack of understanding even among officials in government ministries responsible for science and technology. Assuming the mantle of an impromptu ambassador for intellectual property, he often found himself teaching those he met about how the patenting system functions. This, he recalled, sometimes meant dashing the hopes of individuals, such as an enterprising artisan in Cambodia, to whom he had to explain why he could not patent the furniture he had made from recycled wood.
And what final thoughts might he offer for World Intellectual Property Day? "Never accept a problem as definitive. Give yourself space to have ideas. Go for it!"
By Elizabeth March, WIPO Magazine Editor
The WIPO Magazine is intended to help broaden public understanding of intellectual property and of WIPO's work, and is not an official document of WIPO. The designations employed and the presentation of material throughout this publication do not imply the expression of any opinion whatsoever on the part of WIPO concerning the legal status of any country, territory or area or of its authorities, or concerning the delimitation of its frontiers or boundaries. This publication is not intended to reflect the views of the Member States or the WIPO Secretariat. The mention of specific companies or products of manufacturers does not imply that they are endorsed or recommended by WIPO in preference to others of a similar nature that are not mentioned.