AW Energy: First Commercial Wave Power Production Unit Installed in Peniche, Portugal
Spanish Patents and Trademarks Office
The Finnish company AW Energy has announced that the first unit of the wave power farm in Peniche, Portugal, was successfully installed on the sea bed, beginning the commercial phase of clean electricity production.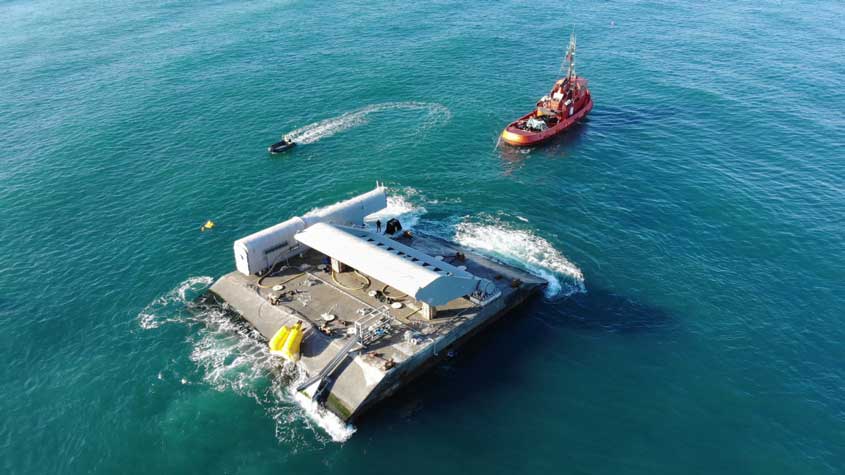 On the company's official website, the CEO of AW Energy, Christopher Ridgewell, confirmed that the unit, the first to produce power on a commercial scale, was "successfully" installed at Almagreira Beach in Peniche, a district of Leiria. Since the floating platform was submerged, the technicians have been monitoring performance 24 hours a day, seven days a week, by remote control and carrying out tests to adjust the system and improve operation.
He said that the first data collected "indicates WaveRoller® is operating well and performance is in accordance with our expectations". The deployment is an important step towards the commercialization of wave power by testing state‑of‑the‑art commercial and technical resources.
The installation of the prototype for the commercial phase of electricity production based on wave movement, with 350 kW of installed power, was completed in mid‑September 2019 in Peniche. The previous week, the unit had been towed to the site, submerged and installed at sea at a depth of 15–25 m, close to the shore, as the next step in its connection to the national power grid.
The technology consists of a vertical panel that moves with the sea currents, capturing energy that is transmitted to a hydraulic system and then to a power plant. Having created several types of units in the last decade and tested them on the seabed at Almagreira Beach, AW Energy produced a model able to resist the force of the waves and now wants to replicate it by installing several units, to begin the commercial phase of power production.
The company intends to install 5 MW of capacity to supply electricity to 4,000 inhabitants. "The conditions in Portugal are perfect for creating a new and substantial revenue stream for the country", said AW Energy, Portugal having "all the necessary ingredients", from qualified technicians to a prepared industry and an "untapped wave power potential that is among the best in Europe".
Wave power production, being "less intermittent than wind or solar power", helps to boost the electrical grid because its potential is equal to that of wind and solar power combined. Around 20% of the electricity consumed in Portugal and Spain comes from wind power.
AW Energy aims to create a large global park with an installed capacity of 50–100 MW, an investment totaling 100 million euros, and to make Portugal a leader in global wave power production.