Defining and Measuring the Market for Brands: Are Emerging Economies Catching Up?
Documento de trabajo Nº 21 sobre investigaciones económicas
Autor(es): Carl Benedikt Frey, Atif Ansar, Sacha Wunsch-Vincent | Año de publicación: 2014
DOI: English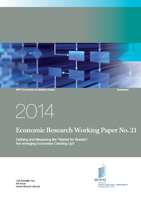 Los mercados de marcas, tal como se definen en este documento, desempeñan una función económica importante pero infravalorada en la economía mundial actual. La capacidad para utilizar el mercado de marcas permite a las empresas diversificar su actividad, acceder a competencias y generar nuevos ingresos sin necesidad de realizar grandes inversiones. En este documento se define y proporciona una taxonomía de los diferentes mercados de marcas, y se analiza a continuación la lógica económica de dichos mercados. También se evalúa la importancia relativa de los diferentes tipos de transacciones relacionadas con las marcas tanto en las economías desarrolladas como en las economías en desarrollo.