The WIPO Journal - 2012 Volume 4 Issue 1
Analysis and Debate of Intellectual Property Issues
Autor(es): Sweet and Maxwell | Año de publicación: 2013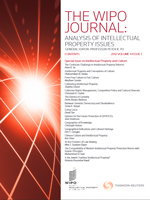 Special Issue on Intellectual Property and Culture. Contents: The Confucian Challenge to Intellectual Property Reforms | Intellectual Property and Conceptions of Culture | From Free Culture to Fair Culture | Cultivating Intellectual Property | Collective Rights Management, Competition Policy and Cultural Diversity | The Demise of Geniality | Between Semiotic Democracy and Disobedience | Going GaGa | Options for the Future Protection of GRTKTCEs | Geographies of Knowledge | Geographical Indications and Cultural Heritage | Chinese Culture and Intellectual Property | At the Frontiers of Law-Making | The Compatibility of Modern Intellectual Property Protection Norms with Islamic Principles | Is the Jewish Tradition Intellectual Property?
The peer-reviewed WIPO Journal was produced from 2009 to 2016 by Sweet and Maxwell in association with Thomson Reuters. The WIPO Journal ceased publication from December 2016.
The Journal sought to draw on contributions from experts around the world to provide diverse interdisciplinary perspectives on issues of interest to the global intellectual property (IP) community. Submissions were reviewed and selected independently of WIPO. Views expressed in the Journal are those of the authors, and should not be considered or interpreted as those of WIPO.
Copyright in all contributions remains with the contributors; the publishers acquire all publication rights.