The WIPO Journal - 2009 Volume 1 Issue 1
Analysis and Debate of Intellectual Property Issues
作者: Sweet and Maxwell | 出版年份: 2009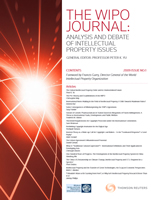 Contents: The Global Intellectual Property Order and its Undetermined Future | The Pre-History and Establishment of the WIPO | International Norm-Making in the Field of Intellectual Property: A Shift Towards Maximum Rules? | Some Consequences of Misinterpreting the TRIPS Agreement | Seizure of Generic Pharmaceuticals in Transit Based on Allegations of Patent Infringement: A Threat to International Trade, Development and Public Welfare | Threshold Requirements for Copyright Protection under the International Conventions | Rethinking Copyright Institution for the Digital Age | Internet Piracy as a Wake-up Call for Copyright Law Makers – Is the "Graduated Response" a Good Reply? | The Lisbon Agreement's Misunderstood Potential | What Is "Traditional Cultural Expression"?—International Definitions and Their Application in Developing Asia | One Hundred Years of Progress: The Development of the Intellectual Property System in China | The China-US Relationship on Climate Change, Intellectual Property and CCS: Requiem for a Species? | Intellectual Property and the Transfer of Green Technologies: An Essay on Economic Perspectives | "I Wouldn't Want to Be Starting from Here", or Why Isn't Intellectual Property Research Better Than It Is?
The peer-reviewed WIPO Journal was produced from 2009 to 2016 by Sweet and Maxwell in association with Thomson Reuters. The WIPO Journal ceased publication from December 2016.
The Journal sought to draw on contributions from experts around the world to provide diverse interdisciplinary perspectives on issues of interest to the global intellectual property (IP) community. Submissions were reviewed and selected independently of WIPO. Views expressed in the Journal are those of the authors, and should not be considered or interpreted as those of WIPO.
Copyright in all contributions remains with the contributors; the publishers acquire all publication rights.