Young Japanese inventor's ingenious robot on wheels supports climate action
The climate crisis is one of the top imperatives facing humanity. Indeed, it is so daunting, that we often feel helpless in the face of it. Scientists across the world are working hard to find solutions to help climate adaptation and mitigation efforts. But what can individuals do to make a difference? Young Japanese inventor, Muraki Kazumi has come up with an ingenious solution – the world's smallest carbon capture device, over which he holds a patent. The device, called Hiyassy, looks like a small travel suitcase on wheels and is designed to encourage a new approach to effective climate action.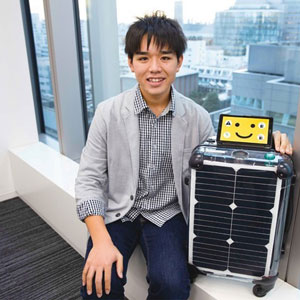 Muraki Kazumi fell in love with science at an early age and after reading a book by the late Professor Stephen Hawking, he developed a keen interest in Mars, and the possibility of human-life existing on the red planet. However, recognizing that Mars' atmosphere is 96 percent carbon dioxide, Kazumi began investigating carbon capture. The more he studied CO2, the more he came to understand its potential. And, recognizing the pace of global warming and its impact on the planet, he began thinking about what he could do to make a difference. That led him to start focusing on how to collect CO2, rather than how to stem its emission.
At the age of 15, he developed a CO2 air-recovery system, which has evolved into the world's smallest carbon capture device. The device, which looks very much like a small suitcase on wheels - think airplane carry-on luggage - is essentially a robot that can absorb up to six liters of CO2 in one hour at the press of a button. It is lightweight and portable and designed for every day use. The device is fitted with an AI-driven tablet that enables users to interact with the robot. When it is switched on users meet an engaging animated character also developed by Muraki Kazumi. He added this feature to encourage children to think about global warming. It's proving a very popular feature.
"In order to solve the problem of global warming, we must begin by changing the way we think about the issue," Muraki Kazumi says.
"We tend to feel helpless when confronted with a global-level problem, but with this device in our homes, I'm sure we could begin to feel like agents of change. The idea of 7.5 billion people on Earth having the power to stem global warming with the press of a switch is far more attracting than some scientists grapping with specialized endeavors that hardly anyone understands," Muraki Kazumi says.
Muraki Kazumi's dream is to rescue the global population by stopping global warming and to set foot on Mars. In the meantime, he's focusing on doing everything he can to save planet Earth from ruin.
I am going to do everything I can for planet's future, and someday, I want to be in school books around the world as the "man who stopped global warming.
Muraki Kazumi is currently Representative Director of the Carbon Recovering Research Agency (CRRA) in Japan.
Muraki Kazumi is featured in the World Intellectual Property Day Youth Gallery.