Young Saudi designer adds a contemporary feel to traditional Al Sadu weaving
Noura Al-Omair is a young Saudi Arabian designer with a passion for traditional Al Sadu weaving.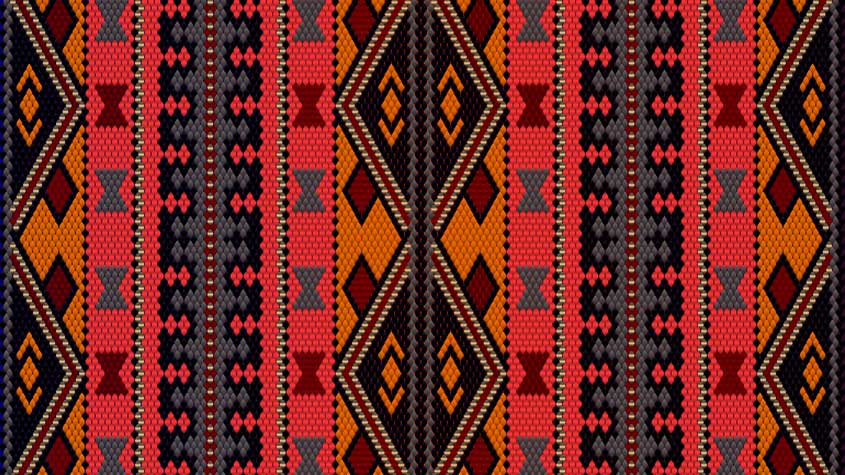 Al Sadu refers to the traditional textiles with geometric patterns woven by Bedouin women across the Arabian Peninsula and the Middle East and to the loom used to make them. In 2020, Al Sadu was inscribed in UNESCO's Representative List of the Intangible Cultural Heritage of Humanity, which describes it as "a form of warp-faced plain weave made on a ground loom," that produces a tightly woven, hard-wearing textile, traditionally used to build tents and other household goods. Weavers typically use natural fibers that are readily available from their surrounding environment, for example, wool from sheep as well as goat and camel hair. UNESCO notes that "the patterns found in Bedouin weaving reflect the desert environment in its simple, pure form, featuring geometric designs combined to flow in rhythmic repetition and symmetry."
Noura learned about Al Sadu weaving while following a series of short courses at the Royal Institute of Traditional Arts. "I thought it was a traditional art like other arts and after I completed the UNESCO course at the Institute I knew that Al Sadu has a great human and cultural value," Noura explains, noting its relevance to contemporary life.
My major in culture, allowed me to be very attached to the past and to find a connection between the past and the future. My feelings towards Sadu are hard to describe. But I can describe it as someone who weaves the future with the threads of the past.

Noura says.

Having discovered Al Sadu, Noura is keen to "leave a mark" on this art form. "After studying and researching, I made several designs to develop the loom machine, I showed it to my teacher Sarah Al-Madhi, and the Institute has approved one of my designs," she says. Noura is in the process of securing design rights from the Saudi Authority for Intellectual Property (SAIP) for her loom. In this way, Noura's contribution to Al Sadu weaving promises to live on for many years.
"At that time, I felt like I was in a beautiful dream, that I do not want to wake from," she says thankful that she has been able to make a mark on this traditional art form and to help make it relevant to contemporary life.
"With every thread I sew, I feel something strange. It takes me to the past and after a few moments, it takes me to the future with different and modern ideas," she says.
Noura is now developing a new style of weaving by integrating camel skin into her work. With these new designs, she hopes to give this traditional art form a more contemporary feel, and with the help of intellectual property rights, to share its beauty and mastery with the rest of the world. "My ambition is to have a registered trademark, that transfers this beautiful art to the world," she says.
Noura Al-Omair is featured in the World Intellectual Property Day Youth Gallery.