Windpact: Patented Impact Protection Technology
Presented by the United States Patent and Trademark Office (USPTO)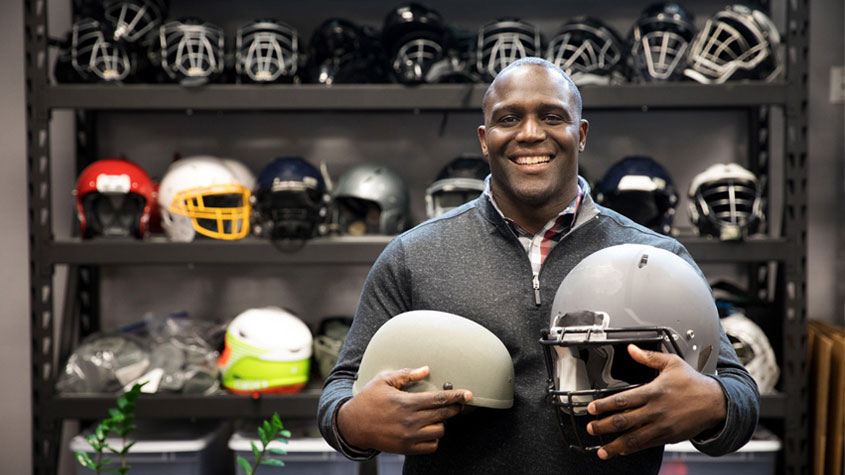 Windpact is a private company headquartered in Leesburg, Virginia, USA. It is a technology and applied science company focused on analyzing, designing, and implementing impact protection solutions to make lives safer. The main product is its "Crash Cloud," a material built into helmets or driver's seats to absorb and disperse impact energy.
The company's CEO and Founder, Shawn Springs, has a personal interest in safety, as a former American National Football League (NFL) defensive back for teams in Washington, Seattle, and New England. After he retired from the NFL, he decided to research ways to protect football players from traumatic head injuries. He approached a friend, Ken Duffy, about the technology used in a Safety 1st® child infant seat that Duffy had gifted him. Duffy gave him a pad from the car seat to experiment with. He connected that football was a series of car crashes and that the technology could be used in football helmets. He later met with the team leaders of the parent company for Safety 1st®, Dorel, and learned that its patented technology was only for car seats. With Dorel's blessing, Shawn Springs pursued his vision of expanding upon the technology in new ways.
Shawn Springs trademarked the company's name Windpact (U.S. Trademark registration no 5,281,738) in 2011 and set out to focus on finding a solution to mitigate the effects of collisions. With the help of his attorneys and colleagues, he applied for his patent (U.S. Patent no. 8,863,320 B2), which protected his right to use the padding technology for helmets. Shawn Springs also obtained a trademark for the name he gave to the technology, Crash Cloud (U.S. Trademark registration no. 5,342,065). He later applied for a second patent (U.S. Patent no. 10,039,338 B2) in helmet protection technology, issued in 2018.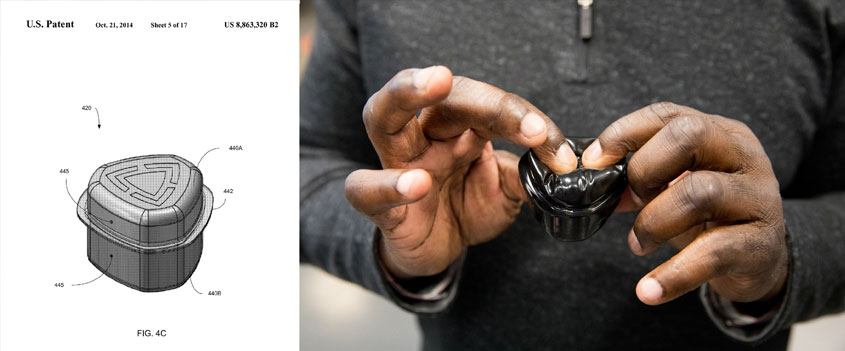 After receiving the patent in 2014, Shawn Springs began to build a team of world-class engineers, designers, and scientists dedicated to the science of impact and how materials dissipate energy to improve impact protection. To help with research and testing, he gathered a network of scientists and engineers from Virginia Tech Helmet Lab and the Ballistic Loading and Structural Testing Lab at North Carolina State University. By adjusting the rate of controlled airflow and the type of foam, they learned that Crash Cloud was effective in diffusing different kinds of impacts and could be helpful in numerous fields. The patented Windpact Crash Cloud absorbs energy as it compresses and dissipates energy through impact vents before rapidly re-inflating like a spring.
By making the type of foam and rate of controlled airflow, the Crash Cloud can be tuned to address a wide range of real-world impacts. This includes integrating the technology into helmets, vehicle interiors (e.g., headrests or headliners), and other protective padding solutions (e.g., chest pad, knee pad). The proprietary processes and technologies that Windpact provides are driving an archetypal shift in the development of products. Windpact's safety technology is designed to be non-intrusive, lightweight, and adaptable, so it doesn't interfere with the user's ability to perform.
The primary industries that Windpacts serve are sports, military, and automotive. Current products and collaborations include Evoshield classic and futuristic catcher's helmets and masks, Hummingbirds women's lacrosse helmets, and U.S. Army Tactical Combat Helmets. Future endeavors include work with industrial protective gear and snow, cricket, equestrian, bike, and motocross in sporting applications. They are also developing interior linings for automobiles. Because of this success, the company's status has transitioned from a start-up to generating revenue.
Windpact was a winner of the NFL HeadHealth Tech Challenge II and the NFL 1st and Future Start-up Competition. Shawn Springs is a clear example of a successful small business entrepreneur who understands that investing in a robust intellectual property strategy from the start is crucial to a company's success.