Building sustainable futures with traditional knowledge in New Caledonia
By Rebecca Ferderer, Traditional Knowledge Division, WIPO
For Subama Mapou, the vast resources of New Caledonia offer a wealth of inspiration for the development of new plant-based innovations that draw on the traditional knowledge of the islands' Indigenous Peoples. As a young Kanak woman from the Unia tribe of the Djawari chiefdom, Mapou's family introduced her to this knowledge at a young age. The family's ancestors make up a long line of traditional practitioners.
The passionate Kanak scientist discusses the significance of her work in supporting the livelihoods of Indigenous groups, and her ambition to help develop a sui generis legal framework that protects the archipelago's traditional knowledge while ensuring Indigenous communities are able to share equitably in the benefits of its use.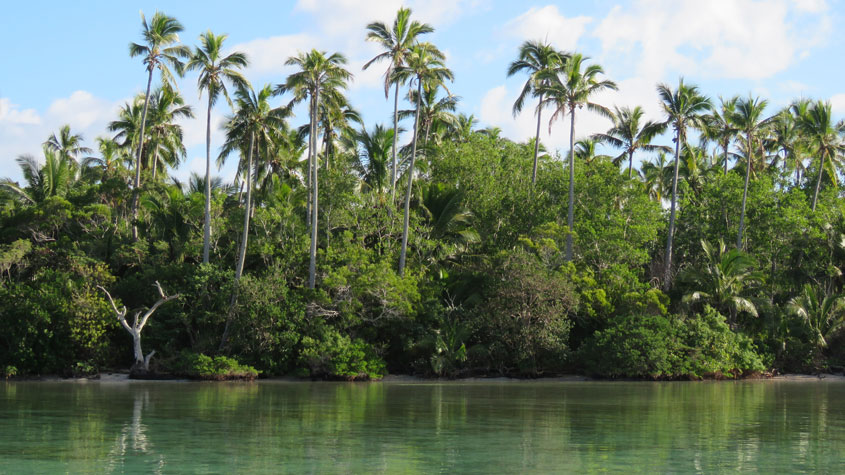 How did you get into plant biology?
I have always been interested in plants. Knowledge of medicinal plants and their use was passed down to me from members of my family, including my great-grandfather, Ouma Mapou, a 109-year-old traditional healer, and my grandmother. My university studies in plant and micro-biology are part of a promise to my family to continue their valuable research on plant-based traditional knowledge, including its protection and transmission to future generations. At present, I am working on my PhD in phytochemistry and ethnopharmacology at the University of New Caledonia. My aims are to support the sustainable management of New Caledonia's natural resources, to enhance the use of the archipelago's traditional knowledge, and to help establish a sui generis legal framework that protects the traditional knowledge of our Indigenous populations and ensure they can access and share in the benefits of its use in a sustainable and fair manner.
As humans, we need to respect and listen to Mother Nature. I hope we change the way we consume. Our children's future well-being depends on it.
What is so appealing about working with New Caledonia's natural resources?
What fascinates me most about working with New Caledonia's natural resources is the archipelago's rich biodiversity and the wealth of traditional knowledge surrounding its use. More than 90 percent of the species in the terrestrial, plant, and maritime environment are endemic to the islands. Local Indigenous Peoples have developed a broad knowledge of more than 1,200 species of plant, according to a bibliographic study I conducted as part of my research.
Tell us more about the importance of traditional knowledge to Kanak communities.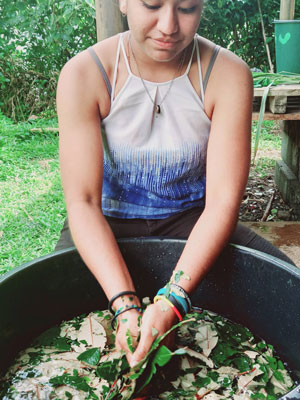 Archaeological remains show that the Kanak people have been present in New Caledonia for 4,000 years. New Caledonia is divided into eight customary areas with 28 Indigenous languages. The islands' unique taxonomic groups are reflected in the local knowledge that each group holds on traditional plant-based uses. Developed over centuries, this knowledge has been transmitted orally from generation to generation by traditional practitioners like my great-grandfather.
The preamble to the Charter of the Kanak People states that "the Melanesian populations, like other Indigenous Peoples in the world, have a vision of the cosmos, a relationship to space, a social organization and a customary practice which tend to a permanent search of balance and harmony." This vision of the relationship between Indigenous Peoples and their natural environment is what gives them the capacity to be resilient and to adapt to emerging challenges, as evidenced by my own people in New Caledonia.
Tell us more about your company, Gardenia Cosmétique.
The development of products from natural resources begins with raising public awareness. I set up my Gardenia Cosmétique to put my research into practice. People are looking for authentic goods and a guarantee of quality. My aim is to promote New Caledonia's biodiversity and traditional knowledge by using the know-how I have acquired in the field to transform the region's raw materials into the everyday products consumers are looking for in the most ecological way possible.
Gardenia Cosmétique's products are made using 100 percent natural ingredients with a quality guarantee based on scientific research, which enhances the traditional extraction method by stabilizing the active molecules contained in the ingredients. We have various agreements in place with different associations of Indigenous producers who produce the raw materials we need in line with the principles of fair trade and sustainable development. My desire to respect the rights of local Indigenous Peoples means that our products are produced according to fair trade principles. In commercializing these products, we are also respecting the rights of these Indigenous local producers and helping to promote their traditional know-how.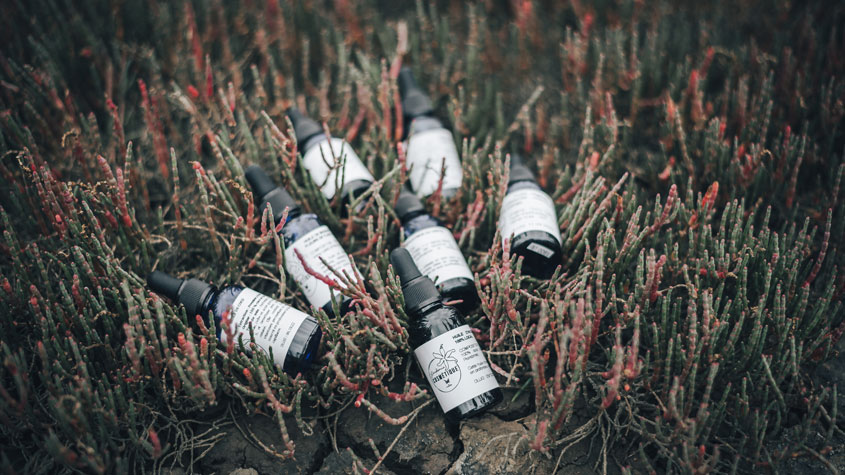 What gives your products a commercial edge?
The widespread use of products made from synthetic molecules can cause painful skin conditions, such as eczema and psoriasis. Today, consumers are looking for natural product lines that meet their personal needs. This is where Gardenia Cosmétique's products have an advantage; our products are a soothing, natural alternative that can help our clients better manage their skin allergies. We began marketing our products in early 2020, and are seeing real growth in demand for them.
Where are your target markets?
Our principal market is currently in New Caledonia. We have a boutique in the north of the archipelago. In 2021, we took part in major local events, including the Pacific Fair and the Women's Fair, which drew 20,000 people from all over New Caledonia. Our products are also available online from Nakupa.shop, an e-commerce platform for natural, artisanal products from all Pacific Islands. We are also planning to launch our own website, which will help us expand into European markets.
Our main operations are in the north, where we are also developing our garden of medicinal plants, our own laboratory, so we can scale production, and a school for our workshops. This means we can be in close contact with our producer associations based in remote Indigenous communities in the north. We also have facilities in the south, which enable us to source raw materials from that part of New Caledonia.
How did you come to learn about IP?
The traditional knowledge that my great-grandfather transmitted to me has real value in the fight against climate change and must be developed in collaboration with the Indigenous Peoples who hold this knowledge. Well before starting my own business, in 2010, I followed the negotiations that saw the integration of the Nagoya Protocol into the Convention on Biodiversity very closely. That process highlighted the sustainable utilization of genetic resources and associated traditional knowledge and inspired me to find a way to protect the eco-extraction process that I have developed. The process I developed produces high-quality natural products, which meet the requirements of ERI 360, the eco-extraction label for cosmetics introduced in France in 2018.
That year, Gardenia Cosmétique won first prize in the Innovation Forum for Overseas Countries, awarded by President Macron. This encouraged me to apply for the WIPO Training, Mentoring, and Matchmaking Program on Intellectual Property for Women Entrepreneurs from Indigenous Peoples and Local Communities, which was a great opportunity to learn more about IP rights, how to develop my business model, and market our cultural heritage. Our focus now is to strengthen the Gardenia Cosmétique brand.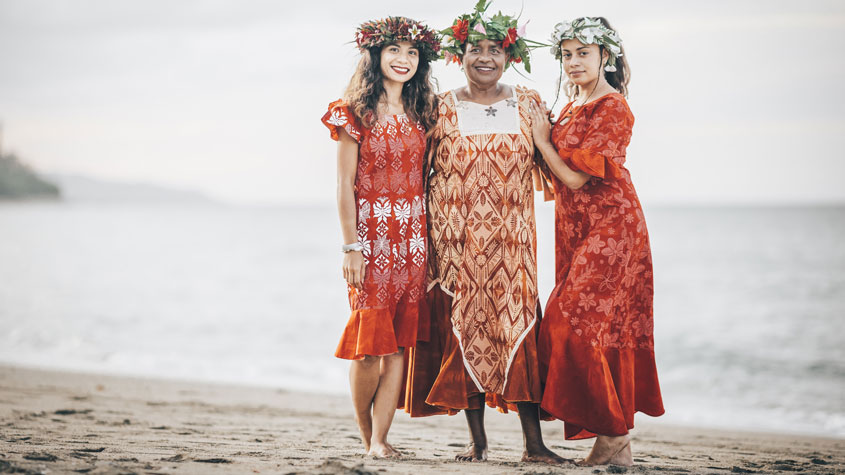 How would you like to see the IP system evolve?
I would like to see an international law that protects traditional knowledge. It is fundamentally important for future generations of all peoples to focus on the natural quality of products. Today's consumption model needs to be balanced against ongoing global challenges, such as climate change. As humans, we need to respect and listen to Mother Nature. I hope we change the way we consume. Our children's future well-being depends on it.
I would like to see a database of natural resources in New Caledonia's vernacular languages, subject, of course to the prior informed consent of the relevant communities. This would provide the government with the information needed to promote the sustainable management of these resources.
Tell us more about the Kanak Institute of Plants, Handicrafts, and Indigenous Languages (IKAPALA).
In 2017, I co-founded IKAPALA, a non-governmental organization that brings together all those committed to enhancing and protecting Kanak traditional knowledge. It acts as a bridge between state authorities, scientific bodies, and holders of traditional knowledge. My passion for plants and for protecting their associated traditional knowledge led me to set up IKAPALA. When I first began travelling around the country, I met many women, traditionalists, healers and young people, but they lacked a common tie. With IKAPALA, and its commitment to unity, simplicity and respect, we are creating a common link and strengthening our ability to safeguard our intangible and spiritual heritage.
IKAPALA holds a variety of events in New Caledonia on how to enhance, transmit and protect plant-based traditional knowledge. The Institute also facilitates collaborations between holders of this knowledge and interested third parties, such as researchers and companies that respect the rights of Indigenous Peoples, especially the Kanaks. Today, IKAPALA includes around 40 associations of women from each of New Caledonia's eight customary areas.
Increasingly, young people are taking pride in and reclaiming the value of their culture. IP is an important tool in helping them to generate income from this knowledge and thereby improve their livelihoods.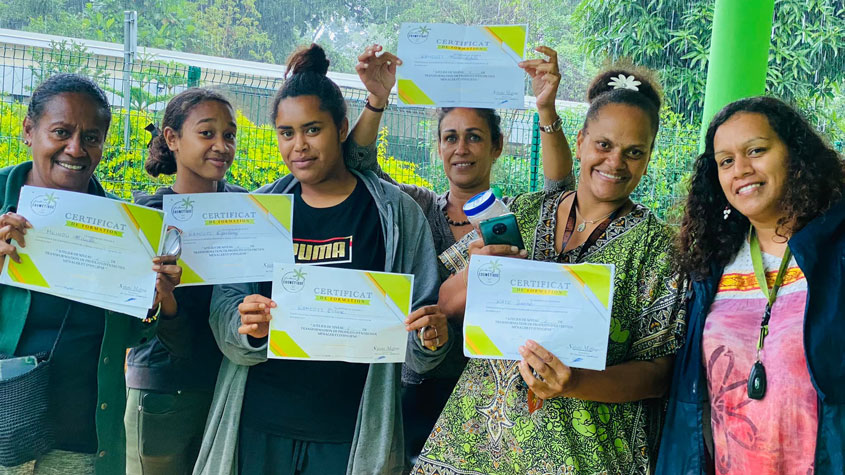 The Indigenous and Local Community Women Entrepreneurship Program
The WIPO Training, Mentoring and Matchmaking Program on Intellectual Property for Indigenous Women Entrepreneurs from Indigenous Peoples and Local Communities aims to encourage women entrepreneurship, innovation and creativity related to traditional knowledge and traditional cultural expressions. The program is designed to strengthen the capacity of women entrepreneurs from Indigenous and local communities to make strategic and effective use of intellectual property tools in support of their business activities.
Since 2019, nearly 50 women entrepreneurs from Indigenous Peoples and local communities have been selected from hundreds of applicants. They include artisans, designers, performing artists, researchers, healers, or small-scale farmers who are planning, or have already initiated, a project or business based on traditional knowledge and/or traditional cultural expressions.
What impact are these activities having?
After several years of awareness-raising, our efforts to build up IKAPALA and Gardenia Cosmétique are finally bearing fruit. For example, in partnership with the company, IKAPALA regularly holds free workshops, where I share my traditional know-how with Indigenous women's associations across New Caledonia. Here women learn how to use the archipelago's endemic plants and their associated traditional knowledge to prepare and sell their own organic goods, including soaps, aloe vera gels and cold-pressed coconut oil, which provide them with an important source of income.
The workshops are re-kindling traditional knowledge-based practices among women and men, enabling them to build skills in traditional handicrafts, as well as fishing and hunting practices. Increasingly, young people are taking pride in and reclaiming the value of their culture. IP is an important tool in helping them to generate income from this knowledge and thereby improve their livelihoods. It is a real privilege for me to be able to contribute to building a more sustainable future for the next generation of New Caledonians.
How do you explain the success of Gardenia Cosmétique and IKAPALA?
My passion for traditional knowledge and my determination to fight for the sustainable management of New Caledonia's natural resources through collaborations built on mutual respect have enabled me to come this far. Our success has been built on our respect for cultural diversity and our commitment to work together to achieve our common goal. The eight customary areas have now united under IKAPALA to defend our traditional knowledge and develop practices for protecting the region's biodiversity.
When we began in 2016, our support came from our partner associations and the Customaries of the Great South. In 2019, the Customary Senate of New Caledonia joined our ranks and plans to put in place a convention to protect traditional knowledge. This is a most welcome development. We continue to work with government agencies to explore ways to establish a framework to protect traditional knowledge in New Caledonia while ensuring the local communities access and share in the benefits of its use in a fair and equitable manner. Our ultimate objective is to succeed in adopting a national sui generis law on the protection of traditional knowledge.
What is your next project?
My next professional project is to develop new and natural active ingredients, targeting the luxury cosmetics industry and companies that respect Indigenous Peoples and are committed to sustainable development. The field of food supplements is another exciting avenue to promote our medicinal recipes. My aim is also to develop partnership-based projects to promote the sustainable management of our natural resources. I would also like to see IKAPALA partner with the Government of New Caledonia and the Customary Senate to create an entity that is dedicated to the protection of the country's traditional knowledge. Finally, I plan to establish a school for the local Kanaks to continue teaching them how to protect and promote New Caledonia's traditional knowledge and cultural diversity.
What advice do you have for young Indigenous Peoples?
I will always remember my great-grandfather's words: "Whatever you do, whatever degrees you receive, whatever people you may meet, never forget your cultural roots."
So, my advice is: always respect and share your values with unwavering passion, humility and determination. It will not be an easy path, but it will be incredibly rewarding when you achieve your goals.
A sui generis approach
A number of countries have adopted special legal mechanisms with intellectual property (IP) or IP-like provisions. These special regimes often provide protection against misuse or misappropriation of traditional knowledge, traditional cultural expressions and traditional knowledge associated with genetic resources.
Consult WIPO's compilation of sui generis regimes.
The WIPO Intergovernmental Committee on Intellectual Property and Genetic Resources, Traditional Knowledge and Folklore (IGC)
The IGC continues to work toward the negotiation of an international legal instrument(s) relating to intellectual property, which will ensure the balanced and effective protection of genetic resources, traditional knowledge, and traditional cultural expressions.
Learn more about the IGC.
The WIPO Magazine is intended to help broaden public understanding of intellectual property and of WIPO's work, and is not an official document of WIPO. The designations employed and the presentation of material throughout this publication do not imply the expression of any opinion whatsoever on the part of WIPO concerning the legal status of any country, territory or area or of its authorities, or concerning the delimitation of its frontiers or boundaries. This publication is not intended to reflect the views of the Member States or the WIPO Secretariat. The mention of specific companies or products of manufacturers does not imply that they are endorsed or recommended by WIPO in preference to others of a similar nature that are not mentioned.