Mycelia: shaping a new landscape for music
By Catherine Jewell, Communications Division, WIPO
Imogen Heap is a British recording artist. Her passion for music and technology won her a Grammy for engineering in 2010 and led her to develop the ingenious Mi.Mu gloves, which allow her to sculpt her futuristic harmonies from thin air. Her latest endeavor, the Mycelia project, sees Imogen exploring the potential of block chain technology (which underpins the crypto-currency Bitcoin) to help shape the future direction of the music industry and secure a fair deal for artists.
She is also making the music for the upcoming theatre production of Harry Potter and the Cursed Child, to open in London in June 2016, but took time out to talk to WIPO Magazine.
How did your interest in technology and music come about?
Well you can't go far in music without coming across technology, but perhaps my first real interest was in the player piano at home. Then at the age of 12 you'd find me playing about on an Atari with music software in a neglected cupboard at my boarding school. From the age of 15, I learned about recording real audio in the studio at the BRIT School for the Performing Arts and Technology in London.
How did you come to develop the Mi.Mu gloves?
Before I developed the gloves, you'd see me on stage running from one piece of equipment to another to create and record my layered sounds. I always felt limited when sampling or playing software instruments as they never came close to the expressivity of real instruments. When I came across Elly Jessop's VAMP (vocal augmentation and manipulation prosthesis) gloves at the MIT Media Lab in the USA, I realized those days were over. I wanted to work with Elly, but she was locked into commitments at MIT, so when I returned to the UK, I asked Tom Mitchell, a lecturer at the University of the West of England, if he would help me develop our own system. That was six years ago and now there are eight of us working on Mi.Mu.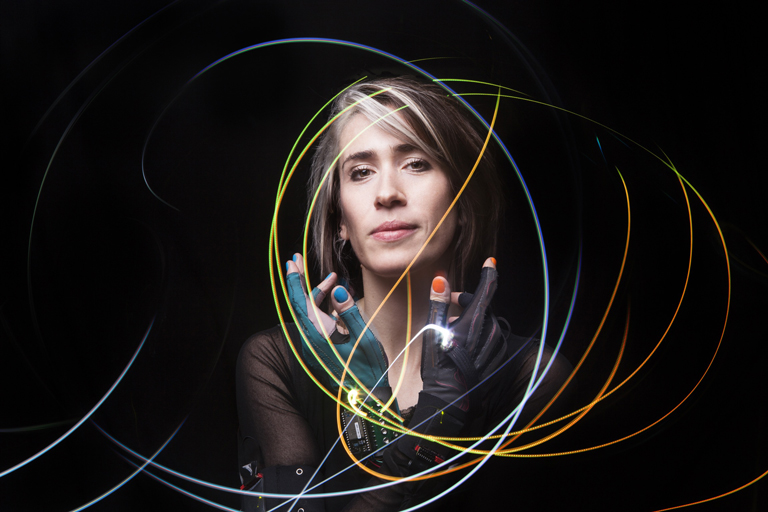 The gloves plumb into my music software and give me much greater freedom on stage to remotely access my computer software. Once they are programmed, playing music with them is intuitive and expressive. I can create different sounds and layer them up wirelessly using different hand postures and movements. For example, with a simple pinch action, I can capture and record a sound and loop it by releasing my grip.
We have been blogging about the gloves throughout their development and hope to make our "Glover" software - it connects our gloves and other gestural interfaces (e.g. Kinect, Leap Motion) to anything that listens to MIDI and OSC - freely available soon. The gloves are currently handmade to order, but we hope to have a solution for manufacture by the end of the year.
Do you agree that we are in a golden age of music?
In some respects yes, because almost any piece of music is at our fingertips at any time.
On the creation side of things, the convergence of different media – technology, music, art and film-making – has created a massive melting pot and a huge source of inspiration for musicians to draw on. But artists have very little control over how their music is presented and don't receive much, if any, feedback about a song's journey once it's released. If we can find a way for artists to get feedback about how their music is being used, where and by whom, along with fair remuneration, then we will have truly entered a golden age.
We all enjoy music, whenever and wherever we want to listen to. We can listen freely on YouTube or for a small fee via streaming services. People are paying for music, but when an artist is paid the equivalent of one download for a thousand streams, it needs a rethink. Unless you are in the top one percent, it's not possible to earn a living any more from people simply listening to your music.
It is up to the music community, not the user, to find solutions and to work together to build a sustainable ecosystem for musicians to work in, so that creators are fairly compensated for the use of their work. We need to rethink the architecture of how and where data is stored and the rules governing how it is used and shared. Essentially, we need to make it as simple as possible for people to interact with our music and its metadata on every level and help our songs work for us.
What is the solution?
It's time to put those involved in the creation of work in the driver's seat; a place we've never occupied. We are on the front line and we know what does and does not work for us in this industry. We are the first to invest in music but the last to get paid, sitting at the end of the value chain.
With today's technology, there is no reason why the movement of music, money and information between artists and users of their work cannot be frictionless. When I learned about block chain technology, the foundations of a sustainable music ecosystem came into view. That's what prompted me to start Mycelia, which wants to engage with all parties to move our industry into a positive future for creators. The response has been amazing.
How does it work?
I see Mycelia as a trusted body that brings together all the players – tech companies, labels, collective management organizations, streaming platforms and, most importantly, those at the heart of the industry, its creators – to shape the technical, ethical and commercial standards needed to create a home for artists to flourish in a sustainable music landscape.
Imagine a "kitemark" – a quality certification mark – underpinned by a set of standards that all those involved in making and distributing music agreed on. Many new services would quickly pop up because these standards would clarify the terms under which music could be used. The standards would give tech companies and platforms reliable information about how to develop the systems that we need to do business effectively and the peace of mind that we are getting a fair deal.
Building a database around these standards is a key part of the project. It would be a repository for all the DNA relating to recorded works - what I call a "spore" - that offers artists online services and fans a trusted, verified, online source of information about any given song and its terms of use.
One of the standards would require that all services feed back data to spores. Information about where, when and how our music is interacted with, and by whom, is like gold dust to artists. Put to good use, it allows us to know our audience better and creates opportunities to more effectively promote and monetize our work.
Another standard would involve using smart contracts that outline the legal arrangements surrounding the creation and use of a work in multiple contexts – weddings, publicity campaigns, and so on. With these in place artists would be notified and the relevant royalties paid directly to all those involved in its creation each time the work was used.
So you want to create a new music platform?
No, Mycelia is not a platform, more a catalyst to spur the development of a new, decentralized ecosystem using new technologies to make the music industry sustainable, fairer, more transparent and more fun for musicians and fans alike. A new market for music and its metadata could develop in the same way the iPhone triggered the growth of the apps market. The possibilities are endless. Imagine walking through a city like London, using location data scraped from songs on the Mycelia database to find the spots where your favorite songs were written or that famous riff was produced. Such exciting apps could spring from the rich metadata stored in the Mycelia database.
Realizing the vision of Mycelia will open the playing field up to a broad range of different people and help create new opportunities for artists to earn income and for companies to license and clear rights to use a broader diversity of music.
I would like to see one single official, verified home for each creator's data that other online services could draw on. I don't want to have to do individual deals with, and supply music to, multiple services – I want to put my music up in one trusted place and for that to act as a beacon alerting anyone "looking" for new or updated material.
How does block chain technology fit into all that?
The great thing about block chain technology is that it makes data records tamper-proof even across a decentralized network, meaning you can always rely on the integrity of the system. The combination of distributed payments, smart contracts and decentralized networks is a deeply exciting beginning. Block chain has huge potential to streamline existing processes and create alternative options. We now have to find a way to plumb it into a future music industry.
For all these reasons, last year I decided to experiment with the release of my new song, Tiny Human. I uploaded it to my imogenheap.com website, including a blog, the song, lyrics, inspiration, stems, the video file, the artwork, details of all the musicians involved, and terms and conditions of use, for all to access. I waited to see what would happen. One of the services that uploaded it was Ujo Music, and through them, Tiny Human became the first song ever to distribute payments via a smart contract using block chain technology – in this case, Ethereum.
And who else is working with you on this project?
Mycelia began as one artist's vision of how the music industry could evolve but through sharing the idea, I've found many others who share a similar vision of what needs to be done. Now, an ever-widening circle of people are moving things forward. Key to it, and keeping me on track, is musician Zoe Keating, who first told me about block chain technology when I was sharing the "beacon" idea. After that, author Jamie Bartlett and tech guru Vinay Gupta really helped get things moving. I'm now also working closely with the Featured Artists Coalition, designer Andy Carne and our new project manager, Mark Simpkins.
The time is ripe to have serious conversations about the future of the music industry and musicians' place in it. Creators are the lifeblood of the industry and we need to explore how this and other technologies can grow in our favor. In the end, everyone will benefit if we benefit, because only then is there a guarantee of a sustainable flow of fabulous new music for fans to enjoy.
Are you optimistic about the future of music?
Yes, because I feel like I am doing something about it. We are in a tricky transitional phase at the moment and I want to help move things along so we don't miss out on a generation of great musicians. One day I really hope a Mycelia-like system will exist. It will be huge, beautiful, rich and well-tended. It will store a wealth of information about all music ever recorded, connecting fans and enabling artists to be the best at their job with incredible feedback loops – connecting dots in ways we can barely imagine today.
The WIPO Magazine is intended to help broaden public understanding of intellectual property and of WIPO's work, and is not an official document of WIPO. The designations employed and the presentation of material throughout this publication do not imply the expression of any opinion whatsoever on the part of WIPO concerning the legal status of any country, territory or area or of its authorities, or concerning the delimitation of its frontiers or boundaries. This publication is not intended to reflect the views of the Member States or the WIPO Secretariat. The mention of specific companies or products of manufacturers does not imply that they are endorsed or recommended by WIPO in preference to others of a similar nature that are not mentioned.