Blurred Lines: The difference between inspiration and appropriation
September 2015
By Ben Challis, Legal Counsel, Glastonbury Festivals Limited, United Kingdom
If songwriters were unclear about the line between taking "inspiration" from someone else's work and actually copying it, they may be even more confused following a US federal jury's decision in the "Blurred Lines" case, especially in the era of hip hop and rap, where sampling and referencing are commonplace.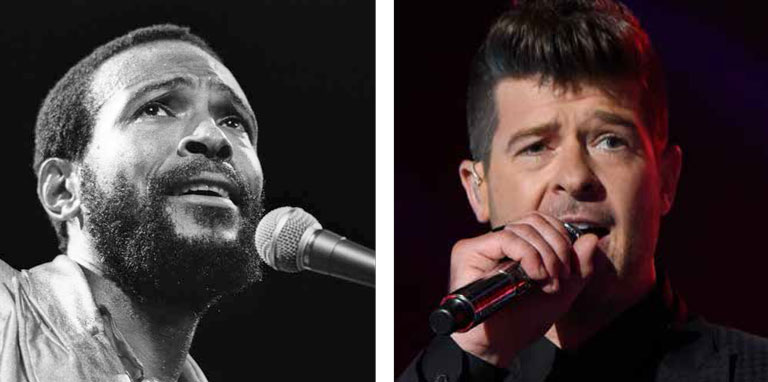 Robin Thicke's massive 2013 hit Blurred Lines will be one of the most talked-about tracks of this decade. Already under a cloud of controversy because of the nature of its lyrics and promotional video, the track triggered a second round of press commentary in February and March 2015 when the family of soul legend Marvin Gaye won a legal victory after a federal jury ruled that the song copied Gaye's 1977 chart topper Got To Give It Up. The jury decided that Robin Thicke and co-writer Pharrell Williams should pay nearly USD7.4 million in damages.
The case
The Blurred Lines case (Williams v. Bridgeport Music, Inc. (No. 13-06004) (C.D. Cal. November 19, 2013)) began when Thicke, Williams and rapper TI (Clifford Harris Jr.), who performed the track, responded to concerns about the similarities between the two recordings and sought a declaratory judgment that there was no infringement.
Pre trial, US District Judge John Kronstadt made a ruling to prevent the Gayes' attorney, Richard S. Busch, from playing the two recordings side-by-side, noting that it was the composition represented by the sheet music, and not the sound recording, that was at the heart of the case. Personally, I find it hard to agree with the jury's decision that there is any substantial similarity between the two songs.
It was interesting that the decision came just two weeks after the Stay With Me settlement, where Tom Petty and Jeff Lynne were given a 25 percent share in that song, performed and co-written by Sam Smith, which allegedly plagiarised Petty's 1989 hit I Won't Back Down.
The difference between "inspiration" and "appropriation" has always been blurred.
It transpired from the evidence given in court (not least by Thicke himself) that although credited as a writer, Thicke had contributed little to the song. But he did at least entertain the jury, singing along to a short mix of tunes that included U2's With or Without You, Alphaville's Forever Young, Bob Marley's No Woman, No Cry, Michael Jackson's Man In The Mirror and The Beatles' Let it Be to demonstrate that songs with little in common can be seamlessly stitched together and that tracks often contain commonplace musical elements.
As lead writer and producer, Pharrell Williams gave evidence that Marvin Gaye and 70s soul were part of the musical milieu that he grew up in. But he claimed he would never seek to "take something of someone else's when you love him".
Following the song's release, Williams said he saw similarities with Gaye's work but said that was not a conscious part of his creative process. Richard S. Busch, representing the Gaye family, asked Williams whether he felt Blurred Lines captured the feel of the era in which Gaye recorded.
"Feel," Williams responded, "not infringed."
Analysis
The law regarding sampling sound recordings in the United States seemed fairly clear after the decision in Bridgeport Music, Inc. v. Dimension Films (410 F.3d 792 (6th Cir. 2005)) where, in another case led by Richard S. Busch, the Sixth Circuit Court of Appeals said "get a license or do not sample." While a recent decision involving Jay-Z may cast some doubt on the rigidity of this approach, songs are always going to be a "grey" area, and courts have traditionally had great difficulty drawing the line between inspiration and appropriation.
Ninety-nine years ago in Haas v. Leo Feist, Inc. (234 F. 105 (S.D.N.Y. 1916)), Judge Learned Hand had to compare two works to determine if there had been copying. Despite denigrating the originality of both works, the Judge noted the identical pitches occurring at the same points in the two tunes. A few years earlier, in his opinion in Hein v. Harris (1910), the Judge had used a similar "comparative method" and found for the plaintiff because 13 out of 17 bars of the works were "substantially the same." In Haas he also favored the plaintiff because of "parallelism which seemed to [his] ear to pass the bounds of mere accident." In 1930, Judge Hand again revisited the line between ideas and their expression. In Nichols v. Universal Pictures Corp. (45 F.2d 119, 121 (2d Cir. 1930)), the Judge pointed out that the line between the idea and its expression is inherently arbitrary, saying somewhat tellingly, "nobody has ever been able to fix that boundary, and nobody ever can." Many people reading about the Blurred Lines case might have thought the same.
Readers may remember the complicated 1976 US case of Bright Tunes Music v. Harrisongs Music et al. (420 F. Supp 177 (1976)), where former Beatle George Harrison was ultimately ordered to pay USD587,000 for "subconsciously" copying parts of The Chiffons' He's So Fine into his song My Sweet Lord.
One commentator said that a comparison of the songs "makes it hard to feel bad for the old Beatle." Well, that's his opinion. At the time, I remember thinking the songs (or the recordings I had heard) were quite different. But District Judge Richard Owen thought otherwise. "Did Harrison deliberately use the music of He's So Fine? I do not believe he did so deliberately. Nevertheless, it is clear that My Sweet Lord is the very same song as He's So Fine with different words, and Harrison had access to He's So Fine. This is, under the law, infringement of copyright, and is no less so even though subconsciously accomplished," he ruled.
In the Blurred Lines case, the Gayes' expert musicologist had studied the sheet music and sound recordings of the two works and identified eight "substantially similar" features which "surpass the realm of generic coincidence." The Gayes argued that it was improbable that a third-party work would contain all of these features in a "similar constellation."
I prefer the pre-trial analysis of the independent musicologist Professor Joe Bennett. Looking at the basslines, Professor Bennett said: "When compared note for note like this, the dissimilarity is obvious. These basslines use different notes, rhythms and phrasing from each other. They're even taken from different musical scales. Thicke's bass notes are all taken from the mixolydian mode; the Gaye baseline is based around the pentatonic minor scale."
In response to the claim that Blurred Lines copies the Gaye bassline, Professor Bennett says: "If this is true, and Thicke's team actually "copied the bassline," then they changed most of the pitches, moved lots of notes around, and deleted some notes. Or put another way, they wrote an original bassline." When it comes to the use of cowbells, Professor Bennett suggests: "Thicke's cowbells (actually a cowbell and another percussion instrument that sounds more like an electronic clave) syncopate on the 16th notes (a semiquaver groove); Gaye's song is very clearly an 8 groove. The only similarity is that each riff plays the first three 8th notes (quavers) of the bar."
Practical significance
Most comments post trial were negative, pointing out that all music is inspired in some way and that genres, feels and grooves should not be copyright protected.
As Time Magazine put it, the decision would have a "chilling effect" on future song writing. Some went further, arguing that sampling should be recognized as an integral part of modern music creation, and that the case showed that copyright law was out of touch with current methods of music production. There are only a limited number of notes on the standard musical scale and surely it was now generally accepted that certain expressions cannot be subject to copyright, they said. Others argued that one of the purposes of copyright is to encourage creativity, not stifle it – hence the position that copyright only protects the expression of ideas, not ideas themselves. And yet others contended that transformative use can, at least in the United States, be protected as fair use. The general feeling seemed to be: "some protection is good – too much protection is not good". As ever, it's all down to where you draw the line.
TI joined Williams and Thicke in a statement saying the ruling "sets a horrible precedent for music and creativity going forward." Their attorney, Howard King, said the verdict "affects the creativity of young musicians who hope to stand on the shoulders of other musicians."
I suspect a British court, even noting "casual connection," may have decided the matter differently – although that decision would be down to one judge's opinion as to whether the song was copied, not that of the eight-person civil jury. And judges do come to different conclusions. Francis Day & Hunter v. Bron ((1963) Ch. 587) is a good illustration of how judges in the same case can approach the same facts somewhat differently, meaning any decision in this grey area is something of a lottery.
Unsurprisingly, an appeal in the Blurred Lines case has already been formally announced. "We owe it to songwriters around the world to make sure this verdict doesn't stand," Howard King told reporters. "My clients know that they wrote the song Blurred Lines from their hearts and souls and no other source. We are going to exercise every post-trial remedy we have to make sure this verdict does not stand. We look at it as being in the seventh innings of a game that could go into extra innings," he told Fox News. The appellate court could set an important precedent here.
In July Judge Kronstadt revised the damages awarded by the jury against Thicke and Williams down to USD5.3 million, and added UMG Recordings, Interscope and Star Trak Entertainment as well as rapper TI as defendants. He refused the Gaye family's request for an injunction, but awarded an ongoing royalty of 50 percent of the music publishing revenues from Blurred Lines to the Gayes.
A version of this article first appeared in the Journal of Intellectual Property Law & Practice (2015) 10 (8).
Ben Challis is a UK lawyer specializing in music and entertainment law. Ben is also a board member for the Institute of Crowd Education, a visiting professor in law at Buckinghamshire New University and a visiting fellow at Sheffield Hallam University. He edits www.musiclawupdates.com and blogs on the 1709 Copyright blog at www.the1709blog.blogspot.co.uk.
The WIPO Magazine is intended to help broaden public understanding of intellectual property and of WIPO's work, and is not an official document of WIPO. The designations employed and the presentation of material throughout this publication do not imply the expression of any opinion whatsoever on the part of WIPO concerning the legal status of any country, territory or area or of its authorities, or concerning the delimitation of its frontiers or boundaries. This publication is not intended to reflect the views of the Member States or the WIPO Secretariat. The mention of specific companies or products of manufacturers does not imply that they are endorsed or recommended by WIPO in preference to others of a similar nature that are not mentioned.