Micromax, Madrid, and the 1.25 millionth international trade mark
September 2015
By Catherine Jewell, Communications Division, WIPO
WIPO's Madrid International Trademark System reached a milestone this summer when leading Indian consumer electronics company Micromax registered the 1.25 millionth international trademark in the System.
Micromax Informatics Limited is one of a growing number of Indian companies that are taking advantage of the Madrid System to support their ambitions for commercial expansion into global markets. Members of the company's management team explain the origins of their brand and why the Madrid System is an important part of their business strategy.
The Micromax mark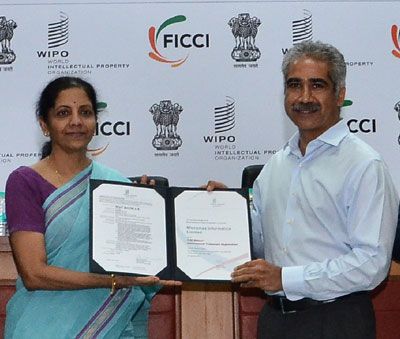 The trademark Micromax was born of a vision to democratize technology in India. "From the outset we wanted to make connective devices – smartphones, tablets, and more recently LED televisions – available at affordable prices for mass consumption," explains company CEO Vineet Taneja.
"When we were forming the company, we were looking for a name that would connect with users in a meaningful way," says cofounder Sumeet Kumar. "Our aim has always been to give more and more value to users by getting the maximum out of micro things. That is what Micromax means – deriving the maximum value from micro things."
Understanding the market
The "micro" in Micromax, however, is not confined to using high performance micro-electronics. It also involves a "microscopic" understanding of what consumers want. "We pay close attention to understanding consumers. We try to solve some of the problems they face and to derive the maximum benefit in terms of the usability and reliability of the technologies we deliver," notes Mr. Kumar.
The company's marathon phone battery is a case in point. Recognizing that intermittent power supplies are a big problem for phone users in India – many have to travel long distances to charge their phones – Micromax produced the marathon phone battery which lasts up to a month on a single charge.
Similarly, responding to the high demand for internet access among young users, the company launched its Canvas range of large-screen mobile phones. "In India, mobile phones, especially smart phones, are the first and only device that the consumer has to connect with the Internet," explains Mr. Taneja. "We have actually been able to grab a big share of the market by enabling young consumers who do not have a laptop to connect to the Internet with their phones."
Micromax's Unite series of phones is another example of how the company delivers innovations that are relevant to its customers. Unite supports 21 different languages spoken in India and "is the first device in the country to help consumers use their local language to connect to the internet," Mr. Taneja explains.
Reinforcing brand value through innovation
By consistently delivering market-relevant technologies and steadily building connection with its customers, the company has seen its credibility as a trusted producer of consumer electronics soar. "The connection we have created with our end-users is fantastic," says Mr. Kumar.
"For people to buy an electronic product in India, in a developing country, where per capita incomes are low, trust is a very important factor," says Mr. Taneja. "Consumers buy our products because they trust the Micromax trademark. They really expect the best from Micromax. They want products that are affordable and relevant to them. Users now understand that Micromax is all about looking for the maximum from our micro offerings."
"We are a company that lives by innovation," explains the company's Chief Marketing Officer, Shubhajit Sen. "We are nimble in picking up insights from the market and developing and delivering solutions that surprise and delight consumers, and that has made us very successful."
The importance of trademarks
In the highly competitive consumer electronics sector, Micromax's trademark enables it to stand out from the crowd. "There is an incredible amount of competition in this sector. New products and new brands launch every day, so our trademark, our brand is critical, because it differentiates us and enables us to communicate with our consumers," says Mr. Sen.
"Trademarks are how consumers recognize us. They trust our products because they trust the Micromax trademark. Our company's most valuable assets, after our people, are our trademarks, notes Mr. Taneja. "Trademarks give us huge business value. Without them there is very little business opportunity for companies like us."
"In the age of the Internet and social media, having a trademark is really important because today consumers learn about brands through social media well before physical products reach them," explains Mr. Sen. "Trademarks protect our identity, they communicate a promise of quality and reliability and they also have emotional value."
The Madrid System is the best platform for companies to make their brand visible worldwide.

Rahul Sharma, cofounder, Micromax
The company's brand also fuels its strong team spirit. "Micromax drives every employee in the company. When we say, 'Micromax: nothing like anything' every employee has to live up to that," notes cofounder Rahul Sharma. "Your brand is your blood. Your commercial survival depends on it."
From India to the world via Madrid
With ambitions to expand into global markets, Micromax is using WIPO's Madrid System to register its trademarks abroad. "The Madrid System is easy, fast and very cost-effective," says Mr. Sen. "It gives us a global reach and is a simple and convenient way to register our trademarks in many countries. The System is managed centrally, so we only have to file one application in one language. There is no need to keep filing separate applications to register or renew our trademarks in the countries we are targeting. This saves us a lot of time and money and means we can focus on innovating and developing our core business."
The Madrid System is a big enabler for businesses. It gives us global reach and covers around 80 percent of world trade.

Vineet Taneja, CEO, Micromax
"The Madrid System cuts through the bureaucracy and is flexible and convenient to use. We found the Madrid Fee Calculator, the Madrid Goods & Services Manager and the International Application Simulator very useful because they gave us a good idea about the fees we would have to pay and helped us plan better."
The Madrid System also allows trademark owners, by way of a single request, to designate additional Madrid member countries after the initial registration, and thereby extend protection of their trademarks to new export markets. "Subsequent designation really helps because it gives us the flexibility to expand trademark protection in new countries as the business expands," explains Mr. Sen.
"We have been using the Madrid System for a little over a year now. Our first point of contact was the Indian Intellectual Property Office, which was very helpful in guiding us through the process and ensuring that we met all the requirements," notes Mr. Taneja.
Global brand visibility
"In today's interconnected world, a company can no longer remain a single-country brand. We want to bring our innovative products to consumers outside of India and the Madrid System is helping us to do that," explains Mr. Sen.
So far, Micromax has 30 trademark registrations covering around 70 percent of its global product portfolio, but the company expects that its use of the Madrid System will "ramp up" as it expands.
A smart business solution
"International trademark registration is an important first step when a company expands abroad, and the Madrid System opens the doors for Indian companies to export by simplifying the process of registering trademarks internationally. I think it is really important for Indian companies to use the Madrid System because it is a really cost-effective, convenient and fast option for anyone planning to expand into markets outside of India," says Mr. Sen.
In the two years since India joined the Madrid System, there are already a growing number of domestic companies taking advantage of it to protect their trademarks abroad. Similarly, the number of foreign companies seeking a foothold in the Indian market and designating India in their international applications is on the rise.
The Indian economy is booming, with a projected growth rate in 2015 of 7.5 percent. As Indian companies eye opportunities in foreign markets and as awareness of the advantages of the Madrid System among India's business community grows, it is not hard to imagine that before long, India will become a major user of this rapidly expanding System.
The Madrid System simplifies
Since 1989, the Madrid System has been governed by two international treaties: the Madrid Agreement Concerning the International Registration of Marks (1891) and the Madrid Protocol relating to that Agreement (1989), which modernized the system.
The accession to the Madrid Protocol of Algeria - the last remaining member of the Madrid Agreement to join the Protocol - in July, means that, as of October 31, 2015, when the Protocol enters into force in Algeria, the Madrid System will operate in practical terms as a single-treaty system. As of that date, all transactions between contracting parties and users will be governed by the Madrid Protocol, making it simpler for trademark owners to register and manage their trademark rights worldwide.
Related Links
The WIPO Magazine is intended to help broaden public understanding of intellectual property and of WIPO's work, and is not an official document of WIPO. The designations employed and the presentation of material throughout this publication do not imply the expression of any opinion whatsoever on the part of WIPO concerning the legal status of any country, territory or area or of its authorities, or concerning the delimitation of its frontiers or boundaries. This publication is not intended to reflect the views of the Member States or the WIPO Secretariat. The mention of specific companies or products of manufacturers does not imply that they are endorsed or recommended by WIPO in preference to others of a similar nature that are not mentioned.