Bringing broadband to Haiti: connecting communities
September 2013
By Catherine Jewell, Communications Division, WIPO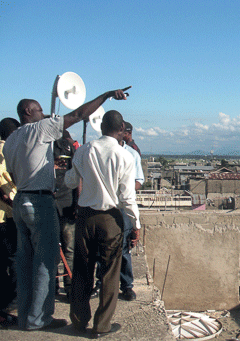 In the devastating earthquake that struck Haiti in January 2010 over 200,000 people died, hundreds of thousands were left homeless, telecommunications and power systems were knocked out and many government buildings destroyed. The country's plight triggered a massive international response to support re-building efforts. Within days of the disaster, Inveneo, a US-based, non-profit social enterprise, set-up a critically important wireless network in the country's capital, Port-au-Prince, enabling all major aid agencies to communicate with each other and the rest of the world. In scoping Haiti's information technology landscape Inveneo found that broadband access was almost entirely concentrated in the capital. In line with its commitment to improve broadband access in poor, underserved communities, Inveneo began thinking about how it could extend broadband to Haiti's rural communities. These efforts culminated in the establishment in 2011 of the Haiti Rural Broadband Initiative (also known as Haiti Connect Cities Program). WIPO Magazine recently met with Bruce Baikie, Senior Director of Broadband Initiatives at Inveneo to find out more about the project and the role that intellectual property (IP) plays in it.
The Haiti Rural Broadband Initiative
The Haiti Rural Broadband Initiative is a collaborative program involving Haitian Internet Service Providers (ISPs), Haitian information technology (IT) entrepreneurs and a broad range of organizations, such as schools and hospitals, that can benefit from access to reliable and affordable broadband Internet. "The overriding goal is to look at appropriate technology and in most cases low power computing that has a low-cost telecommunications infrastructure, so that communities can benefit from access to broadband Internet," Mr. Baikie explained.
Deterred by the high costs and geographical challenges involved in servicing rural areas, Haitian telecommunications operators and ISPs had not ventured into these communities. Through its Haiti Rural Broadband Initiative, Inveneo set about bridging the technology gap facing them. "We identified seven regions that had no Internet connectivity to speak of. It can take up to eight hours to reach these communities. If you calculate the fuel costs and the time required to send a technician to connect clients, it wasn't feasible for national operators to cover these areas, but within a month of running our pilot, we had signed connectivity contracts worth US$100,000. This helped change their mind," he said.
Inveneo's business model eliminated costs associated with sending specialist technicians from the capital out to rural areas. "Our approach is to go in with the appropriate technology and train local partners in the technologies we use," he said explaining that Inveneo has built the wireless network -comprising 31 tower sites and thousands of pieces of equipment – in rural areas and is now sharing it with national telecommunications operations and ISPs. Local Inveneo-trained entrepreneurs are responsible for providing front-end services – marketing, installation and after-sales service – to local clients. "At first we work with them hand in hand to get the projects going and over time we hand them over to our local partners. They own the projects and they maintain them. It's all done locally," Mr. Baikie explained. "Our ability to hand over to our local partners is a benchmark of our success. That's how we ensure sustainability."
Developing local expertise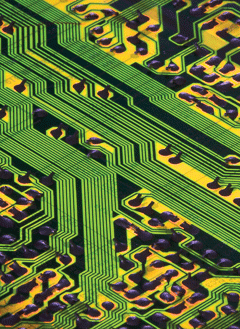 To build up local IT capacity and establish a network of local IT specialists, Inveneo trained young people in rural areas with experience in IT and an interest in becoming entrepreneurs. Participants learned how to use, deploy and support broadband and computers in rural areas and also how to run their own businesses. "We train them in one week to become entrepreneurs. We also train them in the technical aspects of the appropriate technologies we use, so they can offer their clients the best available solution," he said explaining that the needs of a healthcare service seeking to interconnect multiple health centers in different areas are very different from those of a school that wants to set up an Intranet.
To date, 64 individuals have graduated from Inveneo's BATI (Bati Anfòmatik Teknisyen yo ak Inveneo) training programs. Upon graduation, BATI trainees are authorized to resell Inveneo-certified equipment. "As an Inveneo-certified partner we give them the rights to use our technology,"Mr. Baikie noted. Local partners receive a percentage of the revenue generated from each sale. This enables them to secure a reliable income and helps keep skills and IT knowledge in the community. "Usually if you live in a rural area and have a specialist skill you end up moving to a city. The brain drain happens within countries too! Providing the tools needed for connectivity in rural areas makes it possible for BATI trainees to build a thriving business, increase their incomes and generate local employment opportunities. It also opens the door to massive development opportunities within these communities," Mr. Baikie said.
Improving IP awareness
The BATI program introduces trainees to basic information about IP – why it is important, and how to use the system to best effect. "We are working with entrepreneurs in rural areas that have no idea of what IP is. It is important that we offer basic training in IP so they know that when they create something they need to protect it; so they understand the terms of our licensing agreement; and also so they are able to negotiate more favorable licensing deals for themselves," Mr. Baikie said.
"Our approach is to go in with the appropriate technology and train local partners in the technologies we use. Our ability to hadn over to our local partners is a benchmark of our success. That's how we ensure sustainability."
Raising IP awareness among local partners is an important part of maintaining the sustainability of Inveneo's business model. On the one hand, Inveneo needs to protect the value added by its engineers in customizing the software (open source) needed to run and manage low-cost networks supporting multiple companies, ISPs and carriers, in challenging environments. "The open source software that we use needs to be fully integrated with the hardware and we need to put a user-friendly interface in front of it. That requires a 'secret sauce' that needs to be protected," Mr. Baikie said. On the other hand, Inveneo wants to make its software available to local partners both to add their own ideas to improve the system and also to give them a market advantage. An association with the Inveneo brand offers certified partners a market advantage. "Inveneo training gives local entrepreneurs credibility and a market advantage in that clients are assured that our local partner has the backing of highly-trained engineers and will use the right equipment for the project," Mr. Baikie said. BATI trainees also benefit from a range of resources including Inveneo business salons, technical support, mentoring and other additional training. "Mentoring is crucial to the long-term survival of these businesses, that's why we teamed up with MicroMentor to build a mentor-support network that enables the entrepreneurs we train to get advice they need from seasoned business people," he said.
To further support BATI trainees in setting-up their businesses and to help expand the network, Inveneo has brokered partnerships between BATI graduates and ISPs. Many of them are now also being trained by national ISPs and telecommunications companies on the various packages, options and special deals each offers for schools or hospitals, for example. "The ISPs are OK with this because this is business that they never had before," he said. Of the original group, thirty have now been hired by different ISPs as their full-time representative.
Thanks to these match-making efforts, Inveneo-trained ICT businesses are providing access to broadband Internet to over 20 percent of the Haitian population. Over 200 organizations in 20 major rural populations centers, including schools, hospitals, healthcare clinics, businesses and government agencies, now have access to broadband Internet and all the benefits that flow from it. In terms of the impact of broadband connectivity, "the opportunities vary dramatically, depending on whether you are talking about a healthcare clinic that now has access to healthcare information, or a school where students now have masses of information and knowledge at their fingertips," Mr. Baikie said.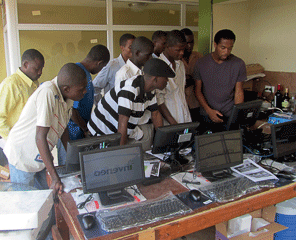 Within the framework of the Connected Schools Program, Inveneo, in partnership with Microsoft, World Vision and Hewlett Packard, is working to set up 40 ICT labs in rural schools across the regions where the broadband network has been rolled out. So far solar-powered computer labs have been installed in 40 schools, in four departments in Haiti and 98 teachers have received IT training. "Now that the materials, processes and qualified local human resources are in place, we anticipate a rapid increase in the number of schools with connectivity in rural Haiti," Mr. Baikie observed. With computer labs in place, local trainers are providing basic computer training to rural communities, transforming lives and creating livelihood opportunities in the process.
Inveneo's focus on deploying appropriate technologies to challenging environments is at the heart of the success of its model. "The hardware part of what we do is fairly easy, what's complex is managing and running the software." Working in some of the poorest, most technology-challenged communities in the world presents special challenges. "If there is no grid power, we have to be sure these technologies are easily powered by solar energy," Mr. Baikie explains. Technologies need to be affordable and capable of functioning in difficult environments "and need to be able to withstand heat, humidity and local wildlife," he said noting that easy maintenance and a user-friendly interface are other hallmarks of appropriate technologies in these environments. By sharing its deep technical know-how with its expanding network of partners, Inveneo is helping to ensure the long-term viability of critical infrastructure investments. Its work is creating new livelihood opportunities for millions of people, supporting the relief effort in Haiti and enabling the country to re-build itself.
The impact of Inveneo's work, however, goes well beyond the borders of Haiti. Its commitment to delivering technologies for sustainable computing and broadband access to underserved communities (together with a splash of "secret sauce") is opening new pathways for the development of a growing number of communities around the world. Since 2006, Inveneo and its 120 certified ICT partners have delivered solutions to almost 1,000 rural and underserved communities in 23 countries around the world from Haiti, to South Asia and sub-Saharan Africa, creating new opportunities for better education, healthcare, and employment for more than 2.8 million people.
The WIPO Magazine is intended to help broaden public understanding of intellectual property and of WIPO's work, and is not an official document of WIPO. The designations employed and the presentation of material throughout this publication do not imply the expression of any opinion whatsoever on the part of WIPO concerning the legal status of any country, territory or area or of its authorities, or concerning the delimitation of its frontiers or boundaries. This publication is not intended to reflect the views of the Member States or the WIPO Secretariat. The mention of specific companies or products of manufacturers does not imply that they are endorsed or recommended by WIPO in preference to others of a similar nature that are not mentioned.