Algeria's anti-piracy campaign
February 2013
By Mr. Ali Chabane, Director, National Copyright Office (ONDA), Algeria
As part of a nation-wide anti-piracy campaign, in early October 2012, over a million pirated CDs and DVDs were seized and destroyed by inspectors from Algeria's National Copyright Office (ONDA) at a public ceremony in Algiers. The event which took place under the watchful eye of music and film celebrities as well as leading government and law enforcement officials sent a clear message about the government's strong commitment to tackling copyright piracy. Algeria introduced its anti-piracy campaign to the December 2012 meeting of the WIPO Advisory Committee on Enforcement (ACE).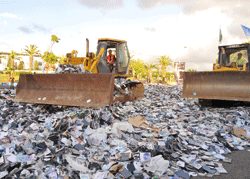 An impressive haul of unauthorized copies of CDs, DVDs,
VCDs and cassettes is a clear indication that Algeria's
anti-piracy strategy has teeth. With an estimated piracy
rate of around 60 percent, piracy is one of the main
challenges facing Algeria's authors, musicians, publishers
and producers (Photos: ONDA, Algeria).
Step-wise implementation of anti-piracy strategy
This impressive haul of unauthorized copies is a clear indication that Algeria's anti-piracy strategy has teeth and is beginning to take effect. "This strategy is an appropriate response to the many different types of copyright infringement suffered by creators and artists," explains Mr. Sami Bencheikh, Director General of ONDA. "It encompasses a series of measures combining the suppression of counterfeiting activities with awareness-raising among consumers".
The scale of piracy, a complex challenge
Piracy is one of the main challenges facing Algeria's authors, musicians, publishers and producers. While difficult to quantify, ONDA estimates that piracy rates are around 60 percent affecting a wide range of creative content, especially music and films, pirated versions of which are available in multiple formats including CDs, VCDs, DVDs and books.
Algeria's anti-piracy challenge, like that of many other countries, is multifaceted and complex. The recent escalation in copyright piracy witnessed in Algeria is attributable to a number of factors. Principal among these is the widespread availability of low-cost technologies which make it easier for infringers to illegally download creative content from the Internet and reproduce unauthorized copies. Infringers do not have to invest hefty sums to be able to generate large volumes of unauthorized creative content with which they can then flood the market via powerful informal distribution networks.
The problem is compounded by low levels of intellectual property (IP) awareness among consumers who are lured by what they think is an attractive deal. They can buy "Best of" collections of their favorite artists at knock-down prices. The fact that purchasing a pirated CD or DVD threatens the ability of musicians and filmmakers to continue to produce new hits and movies and has a far-reaching negative economic impact, is, in general, lost on them. Piracy threatens the livelihoods of creators and if we want to ensure a sustained stream of rich and entertaining content, and to ensure that the country's creative sector continues to flourish, we need to stamp it out.
Heavy losses for authors
In 2011, royalties received by ONDA from recording and reproduction rights were 36 percent lower than amounts received in 2008. During this period, many businesses were forced to close and several record companies ceased trading, leading to major job losses and a heavy loss of income for authors, musicians, publishers, producers and the government. This was an alarming and unprecedented development in Algeria's cultural product distribution sector.
"Although, in 2011, to a certain extent we managed to halt the serious decline in the revenues of authors and music publishers, there is still a great deal to be done to put an end to this scourge," says Mr. Bencheikh.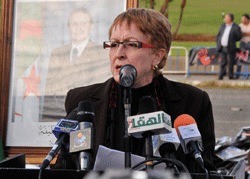 Algerian Minister for Culture, Mrs. Khalida Toumi,
underlines the government's determination to combat
all forms of IP infringement. (photo ONDA, Algeria).
A modern legal framework
Revised in 2003 to bring it into line with international standards of IP protection, Algeria's law on copyright and related rights offers an effective framework for combatting copyright infringement. It gives law enforcement officials as well as ONDA inspectors wide-ranging powers to carry out searches, record copyright infringements and, where necessary, seize and hold counterfeit CDs, cassettes, DVDs and VCDs. The tough sentences that it provides for are designed to deter infringers from continuing their illegal trade.
A renewed strategy
The recent crisis facing Algeria's creative sector – the dramatic decline in the revenues of creators and producers as a direct result of piracy - is fuelling efforts to combat this illegal trade in pirated goods. Algeria is reframing its anti-piracy strategy and stepping up efforts to safeguard the long-term economic interests of the country's talented creative sector. The country's new anti-piracy strategy is aligned with international best practices and is designed to suppress the trade in pirated goods by focusing on:
increased inspection of sales points and markets;
anti-piracy public awareness media and educational campaigns to build respect for IP rights;
the training of law enforcement officials (including judicial authorities and the police) on IP enforcement issues;
the implementation of mechanisms to improve inter-institutional coordination in the fight against piracy.
Improved inter-institutional coordination
With a view to strengthening coordination mechanisms among the various services responsible for tackling copyright theft and piracy, ONDA and the Directorate General of National Security recently formalized their long-standing cooperation. In the wake of the October 2012 public destruction ceremony, the two organizations signed an agreement to strengthen cooperation in the fight against piracy. The agreement was signed in the presence of the Algerian Minister for Culture, Mrs. Khalida Toumi, and a number of national music and film celebrities and personalities.
Speaking at the opening of the ceremony, the Minister for Culture underlined the Algerian government's determination to combat all forms of IP infringement. In this context, the Minister announced that ONDA would be launching a major IP awareness campaign in 2013 to inform users and consumers about the far-reaching negative impact of piracy both in relation to the legitimate interests of authors and artists as well as the long-term social and economic interests of the country.
The WIPO Magazine is intended to help broaden public understanding of intellectual property and of WIPO's work, and is not an official document of WIPO. The designations employed and the presentation of material throughout this publication do not imply the expression of any opinion whatsoever on the part of WIPO concerning the legal status of any country, territory or area or of its authorities, or concerning the delimitation of its frontiers or boundaries. This publication is not intended to reflect the views of the Member States or the WIPO Secretariat. The mention of specific companies or products of manufacturers does not imply that they are endorsed or recommended by WIPO in preference to others of a similar nature that are not mentioned.