Designing for business success
November 2012
In 2011, for the third consecutive year, Procter and Gamble (P&G), the world's largest consumer products company, topped the list of applicants using WIPO's Hague System for the International Registration of Industrial Designs with 167 international design applications.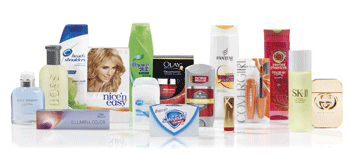 Design adds value across the entire spectrum of a product's development
from concept to shelf. (Photo: Procter & Gamble)
Design plays a key role in the success of the company's extensive product range which includes some of the world's best known household brands, 25 of which each generate over a billion dollars in annual sales. Five years ago, P&G launched its Design Thinking initiative. WIPO Magazine recently interviewed Jean-Jacques Canonici, Director and Patent Manager, Innovation, who oversees P&G's Patent Group in Europe, currently responsible for protecting P&G's design portfolio, and Martha Depenbrock, Design Communications Manager at P&G, to find out more about the company's approach to design.
What role does design play in Procter and Gamble's business?
Design is in P&G's DNA. Our design activities contribute to both innovation and brand building. Design involves bringing a unique perspective and particular skills to the creative thinking that can build innovative brands - brands that create emotional connections with consumers. We adopt a highly collaborative approach involving multifunctional teams from across the product development spectrum - from the front end of innovation through to the shelf.
Design helps improve the form of a product - how it looks, the function of a product - how it works, and its meaning for consumers; in sum, how the brand connects emotionally and engages with the consumer.
Designers bring many capabilities to their work, including empathy, intuition, intense observation, visualization and problem solving. These qualities help them to better understand consumers and bring brands to life.
What factors have influenced the evolution of design within P&G?
Initially, design was more of an afterthought in the product development process. All of that changed when our former CEO, A.G. Lafley, took over at P&G. He understood that technology alone is not enough to remain competitive. He believed that design adds value across the entire spectrum of a product's development - from concept to shelf. In addition to developing packaging, identity assets and artwork, P&G's designers work with the company's research and development (R&D) team at the front end of innovation in conceptualizing consumer needs and creating solutions to fill those needs.
Design has also evolved to help solve tough business challenges by reframing problems, bringing together divergent thinking to find possible solutions and then prototyping and iterating in order to arrive at an optimal outcome.
Can you outline the "Design Thinking" initiative and provide examples of its success?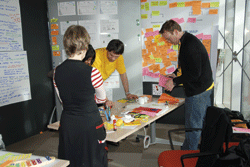 P&G's Design Thinking is underpinned by a belief
that technology alone is not enough to remain
competitive. The company has adopted a highly
collaborative approach to design involving multi-
functional teams from across the product spectrum.
(Photo: Procter & Gamble)
P&G's Design Thinking journey began in spring 2007. Design Thinking is an interdisciplinary approach to solving "wicked" business problems. It helps develop bigger and better ideas, faster and more efficiently. This nonlinear process includes building empathy, reframing problems, and producing a series of low-resource prototypes. The company now has a global, multifunctional network of about 350 employees who volunteer to operate with a "pay it forward" mentality - coaching, facilitating and advocating for Design Thinking in P&G.
In April 2010, we organized a groundbreaking workshop on Design Thinking, to learn how to create products that would appeal to Chinese women with a US$2-a-day lifestyle. The two-day workshop generated over 250 ideas and identified six inspirational design targets via in-home interviews. Seven $2-a-day business models were created during this event.
The award-winning Olay Regenerist Night Resurfacing Elixir, Olay's first daily night-time moisturizer, was also conceived during a Design Thinking session and developed on the basis of consumer insights.
What role do sustainability considerations have in P&G's product design?
P&G has a long-term sustainability vision that includes using 100% renewable or recycled materials for all products and packaging. We believe that replacing nonrenewable materials with renewable ones improves the environmental sustainability of our products and enhances the security of our supply chain.
We have also established a goal of replacing 25 percent of petroleum-based materials with sustainably sourced renewable materials by 2020. A critical component of our renewable materials journey will be ensuring they are sustainably sourced. This is a fundamental part of our Life Cycle Assessment process, a disciplined, scientific approach to understanding a product's full environmental impact across the product life cycle - from raw materials, through to manufacturing, distribution, consumer use and disposal. This approach enables us to understand where to focus our sustainability efforts and to make data-based decisions that genuinely improve the environmental profile of our products. Life cycle assessment also helps inform choices about product design, supply and logistics.
We recognize that just because a material is renewable, it is not necessarily better for the environment. We, therefore, go to great lengths to ensure that the renewable materials we use do not result in destruction of critical ecosystems, loss of habitat for endangered species or have other detrimental impacts on the environment or human communities. This includes assessing potential impacts on food availability and pricing. We work closely with the World Wildlife Fund (WWF) to understand these impacts.
We focus on integrating sustainable product design into our core brands - bringing consumers products that meet their expectations in terms of performance and value, and that deliver an added environmental benefit. To this end, P&G is developing so-called "sustainable innovation products" (SIPs) that demonstrate a meaningful improvement in their environmental profile relative to current products, but for which there are no trade-offs.
Examples of P&G's sustainable innovation products (SIPs)
Pantene Nature Fusion is piloting the use of plant-based plastic in its packaging. This innovative recyclable material made from sugarcane uses over 70% less fossil fuel than traditional petroleum-based plastic. As the material looks, feels and behaves in the same way as regular plastic, there are no "trade-offs" in appearance or performance.
Gillette Fusion ProGlide uses breakthrough packaging in Western Europe comprising a new fiber material made from bamboo, sugarcane and bulrush. It has eliminated PVC from the design, and reduced the amount of plastic by 57% compared with a standard Fusion outer pack and razor tray.
Tide Coldwater and Ariel detergents require less energy and save consumers money, because there is no need to heat the water in the washing machine.
Downy Single Rinse, sold in Latin America and Asia, saves significant amounts of water. Instead of having to rinse clothes the usual three times to remove suds, consumers only have to rinse them once.
What experience does the company have of crowd-sourcing?
P&G's "purpose and growth" strategy seeks to improve more lives in more parts of the world more fully — with an unrelenting focus on innovation. We often say that innovation is everyone's job, not only in developing new products and solutions for consumers, but also in how we do our work and organize ourselves.
With open innovation, we seek to partner with the best innovators everywhere, which is why "Connect + Develop"- our open innovation strategy - is at the heart of how P&G innovates. While this program tends to apply more to finding technology solutions, design does also fall within its scope. That said, P&G does have collaboration agreements with a number of design agencies around the world. P&G's Design + Connect strategy has already resulted in more than 1,000 active agreements. Beyond that, we are constantly benchmarking, exploring and connecting with influential thinkers and other innovative companies to help us open up to new sources of inspiration and ideas.
Why is industrial design protection important for P&G?
Creating iconic assets is a key part of how P&G creates memorable brand experiences for consumers around the world. IP protection is essential to the company in seeking to differentiate its brands in the minds of consumers. This is also critical as counterfeiting increases. P&G is committed to delivering the highest quality products to its consumers.
What is P&G's strategy when it comes to protecting its designs?
Before filing an application, the design team sits down with our IP attorneys to understand the essence of the design and to craft representations of it in order to file for design protection. The aim is to optimize the scope of protection, taking care not to include too much detail but also ensuring not to over-generalize. When it comes to international filing, we adapt our filing strategy to the requirements (e.g., dotted lines, renderings, number of views, colors) of the countries in which we seek protection.
What are the advantages of using the Hague system?
The Hague system greatly simplifies the registration process. Its main advantages are that:
We can file one international application covering a number of countries with one IP office, significantly reducing the administrative work involved;
The international application can feature multiple versions of a design applying to the same product and can be filed in one language with fees payable in one currency;
It also costs less to file an international design application than it does to file separate applications with each national office.
How would you like to see the Hague system evolve?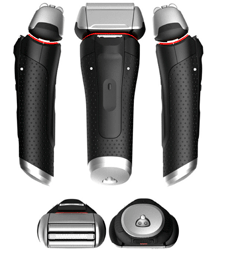 Five views of the design of the Braun Series 5
shaver as registered under the Hague System
for the International Registration of Industrial
Designs (
DM/076875
). (Photo: Procter & Gamble)
We would like to see membership of the Hague system expand to include countries such as the US and China. This would make life easier as it would mean much broader standardization of design registration procedures.
Further development of the online filing procedure would also be useful.
What's the relationship between a product's design and its brand value?
Design adds value across the product development process by ensuring the product meets the often unarticulated needs of consumers. Design is integral to the brand. At its core, a brand encapsulates the emotional and psychological relationship we have with the consumer. Design helps manifest that relationship and ensures that everything about the brand is intentional and has meaning - from the logo, to the typeface, the colors used, the shape and the character of the brand.
Braun is an excellent example of this. Braun has linked technological performance with design to ensure simplicity, ease of use and consumer satisfaction for over 55 years.
Braun's commitment to design is visible in both its products and its sponsorship of the Braun Prize - an international competition to promote the work of young designers and design enthusiasts.
What are the main design challenges P&G faces?
Sometimes it is difficult to break out of established paradigms. That is where design can be an asset. Designers think differently; they envision what could be and then figure out how to create that vision. Innovating is not just about new ideas; it is also about connecting something new with something familiar in a way that resonates with consumers, captures their imagination and makes them think the product will improve their life. That can be a big challenge.
The WIPO Magazine is intended to help broaden public understanding of intellectual property and of WIPO's work, and is not an official document of WIPO. The designations employed and the presentation of material throughout this publication do not imply the expression of any opinion whatsoever on the part of WIPO concerning the legal status of any country, territory or area or of its authorities, or concerning the delimitation of its frontiers or boundaries. This publication is not intended to reflect the views of the Member States or the WIPO Secretariat. The mention of specific companies or products of manufacturers does not imply that they are endorsed or recommended by WIPO in preference to others of a similar nature that are not mentioned.