Pay-as-you-go solar power
August 2012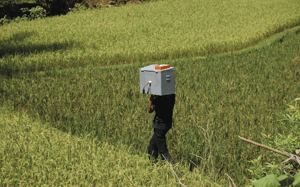 Simpa Networks' technology is the subject of an international
patent application (PCT/US2011/035781) filed under WIPO's
Patent Cooperation Treaty
(PCT).
by Catherine Jewell, Communications Division
While for many people, electrical power is available at the flick of a switch, for some 1.6 billion people around the world without access to grid electricity this remains a dream. An innovative technological and financing solution developed by Simpa Networks, however, promises to transform the lives of some of the world's poorest communities by bringing a clean, low-cost, sustainable energy source into their homes. WIPO Magazine contacted Paul Needham, President and co-founder of Simpa Networks, to find out more about this groundbreaking initiative.
Simpa Networks ("Simpa") was established in March 2010 by Mr. Needham, an infotech entrepreneur and his colleagues, Jacob Winiecki and Michael MacHarg, both experts in microfinance. The inspiration for setting up the company and rolling out its novel business model was the rapid adoption of mobile phones in emerging markets. In the rural areas of Africa and Asia, "you can meet some of the poorest people on the planet with some of the latest telecommunications technologies in their hands, and it's changing lives and improving livelihoods". Mr. Needham notes, "the prepaid mobile phone has made modern communications accessible to nearly 6 billion people over the last decade. We asked ourselves: why not sell solar like a cell phone?"
Many of the world's poorest communities rely on kerosene lanterns (see WIPO Magazine 5/2011: Switching on to solar – goodbye kerosene) to light their homes, spending over US$50 billion annually on a source of lighting that is "dangerous, dirty and dim", Mr. Needham observes. "Simpa's mission is to make modern energy simple, affordable and accessible to everyone", he explains; "it's a bold mission, but the good news is that the technologies to end energy poverty already exist."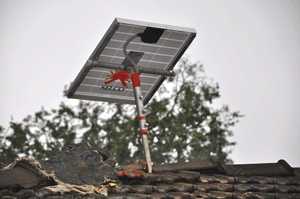 The access challenge
Companies around the world are developing and deploying a range of small-scale distributed solar photovoltaic (PV) systems for use in rural homes and communities where demand for energy is rapidly rising. The high up-front costs associated with these technologies, however, are often a barrier to access, especially for those communities most in need. "Consumers have a proven willingness to pay for energy services, but investors are needed to finance the up-front capital expenditure. To unlock the required capital, investors need to know that their investments will yield the required returns", Mr. Needham explains.
The reality in many rural households is that incomes are meager – sometimes less than US$2 per day - irregular and uncertain. This makes it very difficult to predict cash flows and all but impossible to save. Understandably, these households prefer dealing with purchases that involve small sums of money. "When you think about the profound and tremendous growth of mobile phone services in developing countries, it's really the same pricing model; it's fundamentally, pay as you go. You buy the phone, but the phone doesn't work unless you also by the air time", Mr. Needham explains. "It's a very compelling pricing model and value proposition for people with low, uncertain and irregular incomes."
Changing Lives
Mukesh lives with his extended family in an informal settlement in Bangalore, having resettled from Gujarat following a devastating earthquake. They have no land title and lack access to the electricity grid. The family earns between US$10 and US$15 a day making and selling cricket bats. Mukesh is concerned about his siblings' education. He knows that without light, it is impossible for them to study in the evenings.
The retail price of a solar home system is around US$150, too much for these households to pay on an up-front cash basis. Financing such a purchase was also impossible as these families had no land title. Convinced that a home solar system would perform to meet their needs, they decided to buy a Simpa-powered home solar system. The Simpa pricing model allowed them to try the system and pay on the basis of actual usage in the knowledge that, if the system stopped working, they would not have to pay.
Over the past 12 months, Mukesh and his family have enjoyed access to reliable and clean energy. They use it every day to light their homes, charge their mobile phones (which are essential for their business), listen to the radio and even watch television. Mukesh purchases energy "tops up" from a local agent 2 to 4 times per month when he has cash available.
At the end of April 2012, the family completed its contract. They now own the system and enjoy clean, reliable electricity free of charge. The other families in Mukesh's community have also either paid off their systems or will do so soon.
The company's technology and business model enable the sale of energy as a service. "Simpa has demonstrated that a prepaid, pay-as-you-go pricing model can align interests, decrease risks for the consumers, increase consumer adoption and correctly incentivize vendors and providers to deliver ongoing service", Mr. Needham explains.
How it works
The technology platform consists of low-cost, prepaid meters supported by sophisticated cloud-based software which are embedded in home solar systems. Customers make a small initial down payment for a high-quality solar PV system and then prepay for the energy service, topping up their systems in small, user-defined increments using a mobile phone. Simpa's pricing model, known as "Progressive Purchase™", however, has an important twist. Unlike standard pay-as-you-go models, Simpa's model enables users to pay off their systems progressively with each energy payment contributing to the final purchase price of the system. Once fully paid, the system unlocks permanently and delivers reliable energy free of charge. "It's simple: clean, reliable electricity, and pay-as-you-go convenience that leads to ownership", Mr. Needham explains.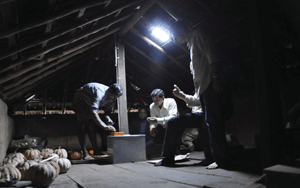 Customers make a small initial down payment for a high-quality
solar photovoltaic system and then prepay the energy service in
small installments. Each energy payment contributes to the
overall cost of the system. Once fully paid the system unlocks
permanently and delivers clean and reliable energy free of charge.
The company recently successfully completed a pilot project with customers in rural Karnataka and Bangalore in India, a country in which some 400 million people lack access to the electricity grid. Simpa worked with its partner, the Solar Electric Light Company (SELCO) India to market and sell Simpa-enabled SELCO home solar systems. In the branches in which Simpa's payment model was used, sales of home solar systems increased between 30 and 168 percent.
The importance of intellectual property
Intellectual property (IP) protection is key to the company's growth. "We protect our IP, because we believe that it is one of the ways to defend and grow our business", Mr. Needham explains. "A patent on our unique and proprietary IP also provides a foundation from which we can earn service and licensing revenue", he adds. Given the enormous demand for clean energy solutions, the company has sought to protect its technology internationally using WIPO's Patent Cooperation Treaty (PCT). "The PCT process has been very easy and straightforward. It has enabled us to rapidly pursue coverage in multiple markets and preserve the option to follow through with specific national offices at a later date", he explains.
Simpa earns revenue in two ways: first, by selling home solar systems to consumers on a pay-as-you-go basis; second, by selling or licensing its payment platform solution (Progressive Payment™) to microgrid operators and vendors of home solar systems and other energy-related solutions. The company sells the prepaid metering hardware and charges for ongoing revenue management services delivered through its software platform.
The company is targeting emerging markets, such as India, where demand for energy is growing rapidly and where clean, distributed energy solutions are particularly advantageous. In light of the scale of energy poverty and growing demand for clean and reliable energy, the company is preparing to expand its operations. "We are considering new customer engagements in three or four Asian and African markets", Mr. Needham notes. The company is also in discussions with other potential clients who are looking to leverage and adapt Simpa's technology "to make other valuable solutions such as power storage and solar-powered irrigation pumps affordable for the mass market", he adds.
Mr. Needham is clearly upbeat about Simpa's plans for the future. "By 2015 Simpa will have helped nearly 5 million people gain access to clean, reliable electricity", he says. "That's a good start, but the need and market opportunity is vastly larger. Our work is just beginning."
The WIPO Magazine is intended to help broaden public understanding of intellectual property and of WIPO's work, and is not an official document of WIPO. The designations employed and the presentation of material throughout this publication do not imply the expression of any opinion whatsoever on the part of WIPO concerning the legal status of any country, territory or area or of its authorities, or concerning the delimitation of its frontiers or boundaries. This publication is not intended to reflect the views of the Member States or the WIPO Secretariat. The mention of specific companies or products of manufacturers does not imply that they are endorsed or recommended by WIPO in preference to others of a similar nature that are not mentioned.