Mapping Desalination Technologies
June 2012
By Irene Kitsara, Consultant, Global Information Service, WIPO
Access to clean water is a basic human need and essential for social and economic development. In a global context of population growth, urbanization, and climate change, effective water resource management is becoming a key political priority. Many countries around the world are facing the challenge of making more fresh water available for domestic, agricultural, industrial and environmental uses.
Desalination - whereby salts and other minerals are removed from seawater and brackish water - will play an increasingly critical role in addressing the long-term water needs of many communities, especially in coastal areas. The high energy costs associated with powering legacy desalination plants, however, mean these technologies are often beyond the means of many developing countries. Using renewable energy technologies to power these plants, could provide a more affordable (and environmentally sound) source of fresh water.
Patent landscape reports offer a useful way to visualize and make sense of who is doing what in the area of desalination, especially in relation to renewable energy-powered systems. WIPO recently teamed up with the International Renewable Energy Agency (IRENA) and the Global Institute for Water, Environment and Health (GIWEH) to map these technologies. Using the desalination technology sector as an example, this article considers the types of data and analysis patent landscape reports can generate and how they can provide many useful insights into, and support the development of, more effective innovation policies and patenting strategies.
Uses of Patent Landscape Reports
Patent landscaping is useful for:
developing IP strategies and identifying innovation opportunities;
identifying emerging technologies, trends and markets;
understanding the activities of competitors;
improving targeting of investment, innovation and industrial policies and impact assessment;
identifying potential collaborators, and knowledge flows within industries and across countries, and facilitating technology transfer decisions.
Patents: A Technological Goldmine
Patents are an extremely valuable source of technical information. In 2010, an estimated 7.3 million patents were in force worldwide. These, coupled with the record 1.98 million patent applications filed in the same year, represent a global technology library – a goldmine of technical data. As part of the patent-granting process, applicants must describe how their inventions work. These descriptions are eventually published and made freely available to the public. This is one of the most important aspects of the patent system. Patent documents also contain legal and business information, such as the inventor's name and address, and the application date, which can be invaluable in identifying technology partners and determining a company's freedom to operate.
The WIPO Patent Landscape Reports Project
In the context of the its Development Agenda and in collaboration with a number of international partners, WIPO is preparing a range of patent landscape reports that highlight the essential technologies, processes and methods required to meet the basic development needs of developing and least developed countries (LDCs). The reports, which vary in scope, cover technologies relating to public health, food and agriculture and climate change and the environment. Six reports have been completed and another three are under way.
Mapping the Patent Landscape
The increasing availability of patent data through searchable online databases is fuelling interest in patent landscape reports (PLRs) in order to analyze technology trends, understand development hot spots, identify key suppliers and partners for further technology development and improve patenting, R&D and investment strategies. By analyzing the information in the relevant aggregated patent documentation – both patents granted and patent applications – and in some cases combining it with non-patent data, such as market analysis, it is possible to acquire a better understanding of the dynamics of innovation in a given technology sector. Patent landscape reports thus filter and make sense of raw patent data to provide a snapshot of technological innovation in a particular industry.
| | |
| --- | --- |
| Desalination overall: Office of first filing | Desalination overall: Office of first filing - last 5 years |
| Desalination overall: Office of second filing | Desalination overall: Office of second filing - last 5 years |
Analysis of patent filings by geography for desalination: office of first filing (usually where an invention is being developed) and office of second filing (the most
important geographical areas of patent protection).
Patent landscaping involves the development of a relevant patent dataset, specific to a particular technology space, application or problem. The dataset is created by searching patent documents – both patent applications and granted patents - using a range of tools.
The Patent Landscape Report on Desalination Technologies and the Use of Alternative Energies for Desalination (WIPO Publication No. 948/2E) provides an overview of patenting activity in relation to desalination technologies, with a special focus on those powered by renewable energies. The report aims to support policymakers in identifying and assessing cost-effective alternatives to existing fossil-fuelled desalination systems and in highlighting feasible options for use in regions rich in renewable energy sources but where no desalination infrastructure yet exists. As such, it seeks to promote technology transfer to developing countries and accelerated uptake of renewable energy.
About Patent Families
Patent documents are geographically specific - patents have a legal effect only in the country in which protection is sought - while technologies can flow across countries. An inventor will usually file an initial patent application in a single country – normally the country in which the invention is developed – and protect the technology through the filing of subsequent patent applications in other jurisdictions. In this way, an applicant may end up having multiple patents – constituting the simplest form of a patent family – to protect the same technology. Analysis of these families makes it possible to better understand a company's patent strategy in different regions.
The PLR on desalination identifies key technologies, including those at the research, development, pilot and commercial stages of development. It identifies opportunities for innovation such as the need to lower energy costs, reduce CO2 emissions and improve brine output management. Innovation – for example, relating to mobile and modular desalination systems integrated with renewable energy – can help reduce the high up-front cost of deploying desalination plants, making it possible for operators to add capacity as required. The development of low-cost components including membranes or energy recovery devices can help reduce operating costs and improve efficiency, thus making investment in desalination infrastructure a more feasible and attractive option. In many instances, when new technologies come to market, the key barrier to entry is related more to competitive pricing than to technical feasibility.
Innovation in the field of desalination has intensified in the past 30 years. Increased interest in the use of renewable energy, better understanding of the environmental impact of desalination technologies and a growing market for these technologies are just some of the factors that account for this.
The report identifies 921 patent families related to direct desalination- renewable energy integration, representing some 20 percent of the desalination dataset as a whole. The largest number of such patents relate to solar thermal technology, with wind energy integration demonstrating higher growth rates than either wave or tidal energy integration. One quarter of the 4,551 desalination technology patent families identified and 31 percent of those relating to desalination-renewable energy integration have originated during the last five years, reflecting the growing imperative to find greener, more cost-effective desalination solutions.
Key players
The report highlights the dominance of Japanese companies in the desalination technology space over the last 20 years, despite a marked overall decline in Japanese desalination patenting activity over the last five years. Mitsubishi Heavy Industries (Japan) holds the most patent families reflecting its major role in the construction of large desalination plants, such as the reverse osmosis (RO) desalination plant in Madina-Yanbu (Saudi Arabia) (8,530 m3/day) and the world's first three-stage RO plant in Rabigh on the Red Sea (Saudi Arabia) with a capacity of 192,000 m3/day. It also holds patents in the solar thermal/ waste heat space, most of which date from the 1970s and 1980s. General Electric (United States), the University of Tianjin (China) and Germany's Siemens AG are relatively new players with the majority of their patent families originating during the last five years. Interestingly, two individual inventors from the Republic of Korea (ROK) – Suh Hee Dong and Lee Sang Ha – are also active in this technology area.
Geographical Analysis
A breakdown of the offices in which a patent application is first and subsequently more widely filed offers some interesting insights. The so-called office of first filing (OFF) is located in the country in which an invention is typically being developed and patent protection is initially sought, while the offices of second filing (OSFs) reflect those countries in which patent protection is subsequently sought.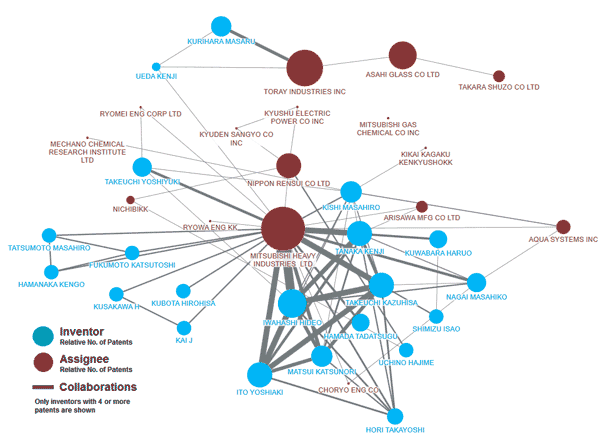 This diagram offers a partial view of the complexity of Mitsubishi's inventor network, illustrating the company's intensive collaboration
with a number of partners, each occupying a different part of the desalination technology value chain.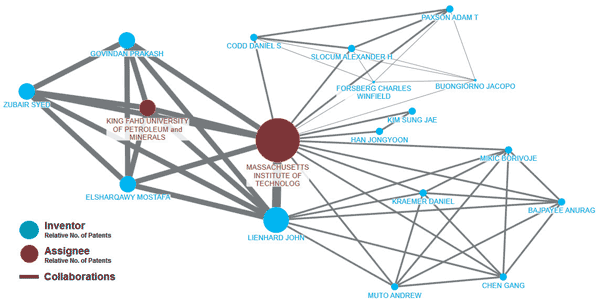 This diagram shows that there is collaboration between the Massachusetts Institute of Technology (MIT) and King Fahd University
of Petroleum and Minerals (Saudi Arabia) through one research cluster. There are also other distinct clusters at MIT working on
desalination technology, although two of these are linked though John Lienhard, professor of mechanical engineering.
Data for the last 20 years show that Japan, followed by patent offices in Europe, the US and China were the most popular OFFs. A very different picture emerges for the last five years, however, with the Chinese patent office topping the list having almost doubled its share of desalination technology patents, followed by offices in the US, Europe and Japan. China is clearly becoming an important industry player with considerable and above-trend growth in desalination patenting.
Africa, the Middle East and Asia are of particular policy interest in that they cover a large number of LDCs and offer high potential for the deployment of desalination technologies. Moreover, while desalination plants exist in the Middle East, many of these are fossil-fuelled legacy systems. Patenting activity in Africa and the Middle East is marginal compared to North America, Europe and Asia. In Africa patents have been filed only in South Africa, Morocco and Egypt in the last five years. In the Middle East, over 90 percent of all desalination-related patents have been filed in Israel.
Trend Analysis
The report reveals a general decline in desalination patenting activity in Japan. The number of desalination-renewable energy integration-related patents varies according to technology. For solar photovoltaic (PV) energy integration, for example, European offices are popular OFF destinations accounting for over 50 percent of applications although this has decreased slightly to 43 percent over the past five years. The US and China, conversely, have increased their shares of such filings, alongside a considerable decrease in Japan. A similar pattern occurs in relation to wind energy integration. For wave and tidal energy integration, the US and Europe are the most popular OFFs, with Europe's share slightly decreasing over the last five years along with Japan's. China, however, is an increasingly popular OFF. In the area of geothermal energy integration, the US, China and Europe are the only OFFs, with the US losing a large share of this activity to China in the last five years. With the exception of Israel, there is no such patenting activity in the Middle East and North Africa (MENA) region in spite of acute water insecurity and an abundance of renewable energy sources to fuel desalination technologies.
Mapping Knowledge Flows
While patents are a strong indicator of technological progress and innovation, they do not provide a complete picture. It may take years for a patented technology to be commercialized, if it ever is. Many products are protected by multiple patents, or involve third party technology that may (or may not) be protected by patents or other IP rights. Patent holders differ significantly in their capacity or wish to commercialize a patented product.
A patent landscape report can support the commercialization process by making it possible to analyze relevant patent data in various ways, for example, by using a patent-based inventor network diagram, to identify research clusters and visualize knowledge flows within and across companies. In some instances, complementary market analysis is the only way to identify active players, especially if their commercial offering integrates technologies patented by third parties.
Patent landscaping filters and makes sense of raw patent data offering a useful snapshot of innovation in a given technology sector. The valuable insights this generates can support policymakers and the business community in optimizing their innovation strategies.
The WIPO Magazine is intended to help broaden public understanding of intellectual property and of WIPO's work, and is not an official document of WIPO. The designations employed and the presentation of material throughout this publication do not imply the expression of any opinion whatsoever on the part of WIPO concerning the legal status of any country, territory or area or of its authorities, or concerning the delimitation of its frontiers or boundaries. This publication is not intended to reflect the views of the Member States or the WIPO Secretariat. The mention of specific companies or products of manufacturers does not imply that they are endorsed or recommended by WIPO in preference to others of a similar nature that are not mentioned.