Nigeria's Anti-Piracy Drive Yields Results
June 2012
By Afam Ezekude, Director General, Nigerian Copyright Commission
Nigeria is home to a rich and dynamic creative sector. Star among these is Nollywood, the world's third largest film industry with annual revenue in the region of US$200 to 300 million. Nigeria's creative industries, however, stretch far beyond the film industry, and include activities ranging from music and publishing, to computer software and media broadcasting – each with enormous potential for growth. Preliminary data indicate that while Nigeria's copyright-based industries already contribute as much as 1.2 trillion naira (US$ 7.5 billion) each year to the Nigerian economy, they have the potential to contribute between 5 and 10 percent annually.. If we are to fully realize the potential of our creative industries and if Nigerians are to reap the multiple benefits this promises, we need to create an environment in which the rights of creators are respected – an environment with zero tolerance for piracy.
The far-reaching consequences of piracy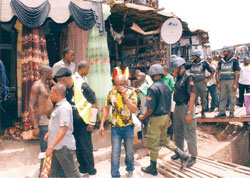 Copyright inspectors and policemen during an
anti-piracy operation. (Photo: NCC )
In spite of this enormous growth potential, widespread piracy is undermining the growth of Nigeria's creative sector. Right owners who have invested enormous energy, time and money in producing sound recordings, films, books and computer programs suffer huge losses in revenue. As a consequence, creators of genuine copyright-protected products are discouraged from setting up their operations in the country. The government loses much-needed tax revenue to fund public services, and the country as a whole loses out on its ability to attract foreign direct investment, and to harness opportunities for technology transfer.
Causes of piracy
The causes and motives for piracy are many and varied. In Nigeria, its prevalence is attributable to a number of significant contributory factors - the scarcity and high cost of genuine products, poverty, poor distribution networks, a slow judicial system, poor cooperation in some quarters of the creative sector and inadequate funding of regulatory agencies, including the Nigerian Copyright Commission (NCC). These enduring problems are further compounded by the challenges posed by new digital technologies which, themselves, create opportunity for illegal mass reproduction of copyright-protected works.
Zero tolerance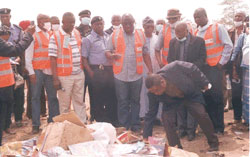 Chief Tony Okoroji, Chairman, Copyright Society of
Nigeria (COSON) examines some of the pirated materials.
(Photo: NCC )
Given the economic importance and growth potential of Nigeria's copyright sector and in light of the far-reaching negative economic impacts of piracy, the Nigerian government has adopted a policy of zero tolerance with regard to piracy. It falls to the NCC, the country's top regulatory and enforcement agency for copyright, to put this policy into practice.
Efficient enforcement of copyright is a critical element in enabling the future development of Nigeria's creative industries. Since its establishment in 1989, following implementation of Copyright Decree No. 47 of 1988, the NCC has worked tirelessly to clamp down on piracy. Campaigns such as the Strategic Action Plan against Piracy (STRAP) and the Copyright Litigation and Mediation Program (CLAMP), launched in 2005, are testimony to this (WIPO Magazine 2008 issue 5). Since December 2010, however, the NCC has intensified its copyright enforcement and anti-piracy activities. The underlying objective is to minimize piracy levels in order to provide an environment conducive to the growth of legitimate copyright industries in Nigeria, an environment in which the rights of creators are respected.
"Intellectual property is where the future of our country lies."
While domestic production of pirated works has been significantly reduced - thanks to the adoption in 2007 of a regulatory framework for registering and monitoring optical disc replicating plants - there is an international element to the high level of copyright piracy in Nigeria, with the influx of significant numbers of infringing works from Asian countries.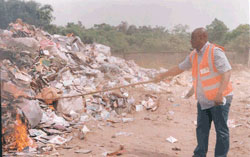 Director General of the Nigerian Copyright Commission,
Afam Ezekude, ignites confiscated pirated works sending
a strong message to piracy syndicates that it is no longer
"business as usual" in Nigeria. (Photo: NCC )
In December 2010, the NCC launched a campaign for collective action to tackle piracy on all fronts. Our aim is to send a strong signal to piracy syndicates around the world that it is no longer "business as usual" in Nigeria. The broad-based program seeks to build a proactive, intelligence-based copyright enforcement and regulatory system by creating an expanding network of strategic partnerships and alliances with key stakeholders at home and abroad. These include private sector stakeholders, the right holder community and sister regulatory and enforcement agencies.
On the domestic front, the NCC's close cooperation with the Nigeria Police Force (NPF) is critically important, especially in terms of ensuring the safety of the Commission's unarmed Copyright Inspectors during anti-piracy raids across the country. The Nigeria Customs Service (NCS) also plays a key role in tracking down infringing goods at entry ports and land borders, making it possible to identify and seize large consignments of imported, pirated works that would otherwise flood the market and undermine legitimate business interests. Joint anti-piracy operations are also carried out with the Economic and Financial Crimes Commission (EFCC), whose invaluable intelligence enables us to more effectively target our operations.
Partnerships with national and international rights groups and stakeholders such as the Nigeria Publishers Association (NPA), the National Association of Recording Industries (NARI), the Music Label Owners and Recording Industries Association of Nigeria (MORAN) and the International Federation of the Phonographic Industry (IFPI), as well as various private sector actors including Multichoice Nigeria, Ltd. and Microsoft, are also yielding positive results.
In line with the NCC's mandate to enhance awareness and enforcement of copyright, we are rolling out the Copyright Marshal Scheme, whereby individuals drawn from different creative industries act as copyright marshals supporting the NCC's efforts to boost awareness and efficiently regulate and enforce copyright in Nigeria.
Participants in the Copyright Marshal Scheme
Film Image Professional and Motion Picture
Practitioners Association (Kannywood)
Nigerian Publishers' Association
Association of Movie Producers
Nigerian Music Industry Coalition
Music Label Owners and Recording Industries
Association of Nigeria (MORAN)
National Association of Recording Industries (NARI)
Association of Nigerian Theatre Practitioners
United Movie Producers' Association of Nigeria
Microsoft (Anglophone West Africa)
Although the scheme has not yet been formally launched, we are already working closely with appointed marshals and relying on them for information on piracy syndicates and their operations. These individuals play a key role in mobilizing the support of stakeholders, identifying seized goods and broadly disseminating information and publicity materials.
The NCC has also established strategic alliances with a number of development agencies and international organizations such as the Swedish International Development Agency (SIDA), as well as with WIPO, the United Nations Conference on Trade and Development (UNCTAD), the United Nations Educational, Scientific and Cultural Organization (UNESCO), the African Regional Intellectual Property Organization (ARIPO) and the World Customs Organization (WCO) to enhance the scope and effectiveness of its anti-piracy operations and awareness drive.
Thanks to our expanding network of collaborators, the NCC has been able to step up prosecution of copyright infringement and to give real bite to its enforcement interventions. In the course of 2011, the Commission undertook 26 anti-piracy raids, made 145 arrests and seized over 6 million pirated works – including films, sound recordings, books, software and broadcast equipment – with a street value of some US$ 4.6 million. Of the 39 criminal cases brought by the NCC following these raids, 19 convictions relating to pirated books, CDs, software and broadcasts have been secured. A number of these convictions are notable in that they involve the most stringent sentences ever handed down by Nigerian courts for copyright infringement. This is all part of our endeavor to render piracy a high-risk, unprofitable business with tough penalties.
Review of Legal Framework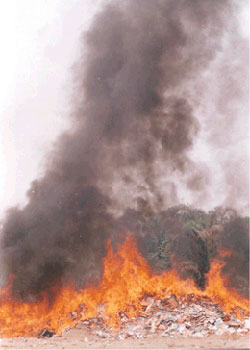 In January 2012, the NCC publicly destroyed some 722
million pirated works confiscated in anti-piracy raids
between 2007 and 2011. (Photo: NCC )
In addition to these hard-hitting practical measures, the Nigerian Copyright Law is also undergoing a process of review to bring it into line with current international standards designed to mitigate the copyright challenges that digital technologies present.
Proposed amendments include provisions that will make it an offense to circumvent technological protection measures (TPMs) and to manufacture and distribute circumvention devices. Similarly, any alteration of rights management information on a copyright-protected work, or trafficking of such works with the knowledge that this information has been altered or removed, will be considered an offense. Provisions concerning the take-down of infringing materials by Internet service providers will help address the issue of online piracy.
The review also proposes higher penalties as a deterrent to committing offenses under the Act. For instance, the fine per copy of infringing material has been increased from 100 naira to 500 naira. Similarly, serious offenses under the Act will carry terms of imprisonment ranging from 2 to 7 years. Such offenses include making, causing to be made or being in possession of equipment for the purposes of making an infringing copy; as well as unauthorized distribution of works by way of rental, lease hire or similar arrangements. Moreover, the authority to apply to court for the destruction of seized infringing materials, hitherto reserved for the right owner and the Attorney General, will be revised and vested in right owners and the Commission's Copyright Inspectors. This will enable the NCC to expedite disposal of infringing materials seized in the course of anti-piracy activities, saving time and money.
Provisions relating to copyright infringement by corporations are also under review. The aim is to give courts the authority to close down any corporation convicted of copyright infringement under the Act, and thereby discourage the involvement of organizations in piracy.
Beyond criminal provisions, the amendment also seeks to improve rights management by providing for the registration of copyrighted works. The establishment of a national database of authors and right holders in Nigeria offers an additional means of combating piracy by making it easier to prove (or disprove) ownership of a copyright-protected work.
In sum, the proposed amendments seek to render copyright infringement unattractive to prospective infringers, further support the creation of a piracy-free environment and boost the growth of legitimate creative businesses.
Challenges
Intellectual property (IP) has enormous potential in terms of promoting wealth creation, alleviating poverty, generating employment and boosting economic development in general. While we recognize the blight that piracy inflicts on legitimate business and are tackling this head on, low levels of IP awareness among key economic and political actors continue to inhibit progress in translating the promise of the nation's creativity and innovative capacities – its IP - into concrete economic benefit. We can ill afford not to invest in our creative industries. We need to create a piracy-free environment in order for our creative industries to flourish. As recently observed by Chief Tony Okoroji, Chairman of the Copyright Society of Nigeria, "oil will end, while intellectual property is where the future of our country lies."
The WIPO Magazine is intended to help broaden public understanding of intellectual property and of WIPO's work, and is not an official document of WIPO. The designations employed and the presentation of material throughout this publication do not imply the expression of any opinion whatsoever on the part of WIPO concerning the legal status of any country, territory or area or of its authorities, or concerning the delimitation of its frontiers or boundaries. This publication is not intended to reflect the views of the Member States or the WIPO Secretariat. The mention of specific companies or products of manufacturers does not imply that they are endorsed or recommended by WIPO in preference to others of a similar nature that are not mentioned.