In the News
February 2012
Reinventing the passenger experience
Goodbye backseat boredom! General Motors (GM) recently announced a new concept that promises to re-invent the backseat passenger experience. Under a project called Windows of Opportunity, GM Research and Development is working with students from the Future Lab at the prestigious Bezalel Academy of Art and Design in Israel to turn car windows into interactive displays "capable of stimulating awareness, nurturing curiosity and encouraging a stronger connection with the world outside the vehicle."
"Traditionally, the use of interactive displays in cars has been limited to the driver and front passenger, but we see an opportunity to provide a technology interface designed specifically for rear seat passengers," Tom Seder, GM R&D Lab Group Manager for Human-Machine Interface, said in a company press release. "Advanced windows that are capable of responding to vehicle speed and location could augment real world views with interactive enhancements to provide entertainment and educational value," he added.
The apps include:
Otto, an animated character projected over passing scenery that responds in real-time to car performance, weather and landscape. It offers passengers a playful way to learn about the environment they are travelling through;
Spindow offers passengers a peek into other users' windows around the globe in real time; and
Pond allows passengers to stream and share music and messages with other cars and passengers on the road.
GM has no immediate plans to put these interactive display windows into production.
_______________________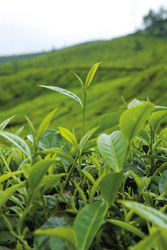 Some 10 million kilos of Darjeeling are
produced each year in an area covering
over 17,500 acres in the hills of India's
West Bengal region.
(Photo: istock © Maxwell Attenborough)
EU protects Darjeeling
Darjeeling, the black tea originating from India's West Bengal region, became the first Indian product to acquire Protected Geographical Indication (PGI) status within Europe. It is the 7th non-EU product to be recognized as such, after Colombian coffee and five Chinese products.
Some 10 million kilos of Darjeeling tea are produced on 86 tea estates (covering over 17,500 acres) each year according the Darjeeling Tea Association (DTA). Industry officials estimate, however, that significantly more Darjeeling tea is sold as such on international markets as many packets of tea contain blends of teas from many other origins.
In the EU, existing blends that mix Darjeeling with non-Darjeeling tea can continue to use the term for a five-year transitional period but will, thereafter, have to change their name. The EU accounts for 60 percent of Darjeeling tea exports.
_______________________
YouTube seeks World's Best Story-tellers
In a global search for the world's best story-tellers, video-sharing site, YouTube, is launching an international online film competition on February 2, 2012. The main prize is a US$500,000 grant to make a film with British film director Sir Ridley Scott. The closing date for submissions is March 31, 2012. Fifty semi-finalists will then be selected by Mr. Scott's production company. Films can be of any genre but should be no longer than 15 minutes and must not have been distributed before January 1, 2010. Audiences around the world will select the 10 final films in June. These will then be screened at the Venice Film Festival in late August.
_______________________
Peru to boost development of science and technology
In line with the plans of Peru's recently elected President Ollanta Humala Tasso to boost science, the Peruvian government recently unveiled its Innovation for Competitiveness project. It will provide US$100 million to finance and promote the development of science and technology (S&T) links between the private sector, universities and public and private research centers. A further US$36 million will be provided by the Inter-American Development Bank, according to an article from SciDev.Net. The project will run for seven years. The government also announced 1,000 new S&T postgraduate fellowships for study in Peru and another 1,500 at foreign universities by 2016.
_______________________
Jordan evolves into a regional hub for S&T research
In late 2011, the Economic and Social Commission for West Asia (ESCWA) announced the establishment in Jordan of a center to monitor and support technology research and innovation opportunities in its 14 member countries. The role of the Center, according to its Executive Director, Mr. Fouad Mrad, cited in a SciDev.Net article, is "to contribute to strengthening national science, technology and innovation systems in ESCWA countries and help to develop problem-solving and policy formulation capabilities in the region." The Center will also help to identify and develop the best technologies for local conditions in the fields of construction, industrial technology, energy, agriculture, water and telecommunications, according to the report. Its other roles will include facilitating networking between local and international scientific researchers, forming links with industry and promoting successful technology transfer to the region.
Jordan is also to become the hub for new regional science collaborations following the launch of an initiative to integrate existing Arab e-infrastructures. The platform will link up all existing National Research and Education Networks (NRENs) in Arab countries. Not only will this make it easier for scientists in the region to collaborate, it also promises to reduce research costs by sharing resources and reducing duplication. The development was announced at the first annual meeting of the Arab States Research Network (ASREN) in Amman in December 2011.
The WIPO Magazine is intended to help broaden public understanding of intellectual property and of WIPO's work, and is not an official document of WIPO. The designations employed and the presentation of material throughout this publication do not imply the expression of any opinion whatsoever on the part of WIPO concerning the legal status of any country, territory or area or of its authorities, or concerning the delimitation of its frontiers or boundaries. This publication is not intended to reflect the views of the Member States or the WIPO Secretariat. The mention of specific companies or products of manufacturers does not imply that they are endorsed or recommended by WIPO in preference to others of a similar nature that are not mentioned.