Design in Poland – Transition to Modernity
December 2011
Polish design is alive and kicking. This was evident at a recent exhibition displaying the groundbreaking work of some 30 Polish industrial designers and featuring products ranging from household appliances to medical equipment and from vehicles to furniture and toys. The event, organized on the sidelines of this year's annual meetings of WIPO Assemblies, offered delegates a taste of Polish creativity at its best. Entitled "Design in Poland – Transition to Modernity" the exhibition was organized by the Patent Office of the Republic of Poland and the Permanent Mission of Poland to the United Nations (UN) Office at Geneva, in cooperation with WIPO.
The importance of design
The exhibition was opened by His Excellency Ambassador Henczel of the Permanent Mission of Poland to the UN Office at Geneva, Dr. Alicja Adamczak, President of the Patent Office of the Republic of Poland, and WIPO Director General Francis Gurry.
Ambassador Henczel underlined the "enormous importance" of industrial design "for the economy and culture as well as its influence in all spheres of our lives." He said that Polish design was synonymous with "modernity and growth," and that the "originality", "ingenuity" and "sense of form" displayed by Polish designers made them "advocates of the Polish culture and artistic creation," contributing to a "new perception" of the country.
Dr. Adamczak pointed to the importance of design in knowledge-based economies, saying it "is undoubtedly one of the stimuli for economic growth." She underlined the importance of design in influencing consumer choice and explains, in the foreword of the exhibition brochure, that "the legal protection of a product within the area of industrial designs should be an indispensable strategic element of each company" in commercializing its products. "Such protection … will stimulate and protect innovation and creativity ensuring economic profits as well as the exclusiveness and uniqueness of the results of creative ideas and activity." Dr. Adamczak said that "investing in design in Poland as a national brand" is a priority of the Polish Government, noting that the exhibition "is not only proof of the great progress that has occurred in our country in the transformation period which started 20 years ago, but also of the extraordinary role of design in that transformation, influencing the image of Polish projects and the Polish economy."
Applauding the "rich and varied display of Polish design, WIPO Director General Francis Gurry said that the exhibition, "demonstrates why the 'Made in Poland' label has earned such international recognition and respect." He underlined the commercial importance of industrial designs, noting that, "when the functional elements of an object do not differ significantly from product to product, their design or appearance is likely to be one of the major determinants of success in the marketplace." Some 700,000 applications for industrial designs are filed around the world each year in many areas of industry and commerce. WIPO's Hague System for the International Registration of Industrial Designs offers designers and companies a rapid, cost-effective route for protecting their designs against unauthorized copying and imitation in international markets.
A voyage of discovery
A centerpiece of the exhibition was the spectacular Whaletone piano, presented by its creator, pioneering designer Robert Majkut.
Inspired by a dream, the elegant form of the Whaletone resembles a whale arching its body as it breaks the waterline. An advanced digital piano, the Whaletone offers an "interpretation of the shape of a classic grand piano in the language of modern design."
About Whaletone
Whaletone offers a wide range of musical possibilities in terms of musical parameters, individual selection of acoustic equipment and sound control. It combines technologies that are available commercially, including Super Natural Piano technology allowing for the creation of authentic piano tones, a PHA III Ivory Feel keyboard emulating the feel of a classical grand piano keyboard, and high-end B&W loudspeakers. A range of additional options are also available including a CD player, piano card upgrades, additional sound software modules, LED display and internal sound processor with equalizer.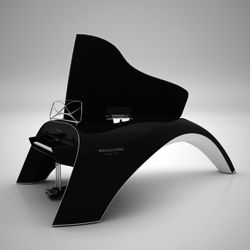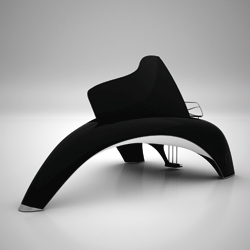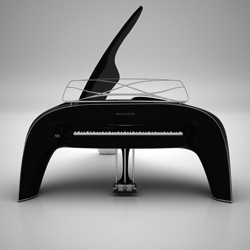 (Photos: Robert Majkut)
"I saw this very strange and beautiful form in my dream – a whale rising from the water in a strange form resembling a piano," Mr. Majkut told WIPO Magazine, drawing a parallel between the melodious calls and majestic beauty of marine mammals and that of a classical grand piano whose form has changed little over the years. "When I saw this form in my dreams, I decided I had to build it," Mr. Majkut said.
After three years of hard work, Robert Majkut's dream became reality. The Whaletone is a bespoke musical instrument combining "high-end musical components" with "exquisite beauty of form." First launched during Design Week in Milan, Italy, in April 2011, it has attracted widespread attention and is fast becoming "the new icon of Polish design". "We didn't expect such a warm reception," the designer revealed, "but I think people like this product because there is a romantic and poetic story behind it. I think that is the power of this product."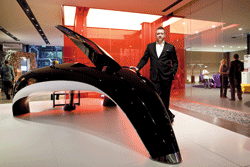 Pioneering designer Robert Majkut presents the Whaletone.
Mr. Majkut noted that the conceptualization of the Whaletone was one of those rare occasions where "the idea found me; I did not find the idea." The typical work of a designer, he noted, involves careful analysis of a range of elements, including function, form, technology and economic aspects which are "put together in a better way to make the next best step towards what you are focusing on."
The designer is keenly aware of the importance of protecting his work through the intellectual property (IP) system. "If you establish something original," he noted, "you have to protect it … to protect your business interests." As a seasoned interior and industrial designer, Mr. Majkut has had firsthand experience of others copying his work. "If I see a good copy, a result of inspiration" he confesses, "I am a little proud, because I was the first. It means my work was important and influential for somebody else." But, "when I see a bad copy, I am absolutely furious. It is unacceptable – copying is a waste of people's creativity. Everyone has the ability to find their own creative solutions," he explained. Stressing the importance of "design honesty," the designer acknowledged that there are situations in which "ideas and forms develop at the same time in different parts of the world," observing, however, that "a work undertaken with an intention to be original is always a little different."
For Robert Majkut, design is about developing pioneering and progressive solutions to "change our reality for a specified, meaningful and good purpose." It is a "mission to shape the world that surrounds us, making it more comfortable and aesthetic and positively influencing our emotions." Design, he notes, "has an enormous influence on people's lives. It enriches our lives and makes them more interesting, safer and better."
Other designers featured in the exhibition included: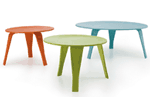 Noti is a family business born of a passion for modern design. Noti creates user- and environmentally-friendly furniture that is "simple and elegant, multifunctional, comfortable and durable".

Grzegorz Sowinski of Otus Design Studio believes design is much more than shape. He strives to break design stereotypes and to "promote the vision of design as an interdisciplinary domain that reaches far beyond the mere stylization of the product." His goal is "to improve the environment that surrounds a human being by creating innovative products." The stairwalker is a type of exoskeleton that reduces the load on knee joints and legs using pneumatic actuators that create dynamics similar to those of human muscles.

The Puff-Buff brand, developed by Anna Siedlecka and Radek Achramowicz in 2005, is known, in particular, for its air-filled lamps and chandeliers made from inflatable elements and LEDs which "bring a sense of humor to life and a little bit of poetry." A unique advantage of the Puff-Buff lamps is their exceptionally low mass and minimum energy consumption.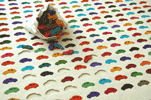 For Joanna Rusin, design is a way of life. The company aims to ensure that carpets become a "meaningful element of any interior design" that moves the imagination of users.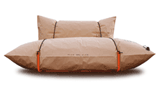 The Malafor company's "blow sofa", made from 100 percent recyclable air bags, is inexpensive and easily transportable. "One only has to inflate the bags to start using it, and when the cushions get dirty, they are simply replaced with new ones."

Trzy Myszy believes that good design "emerges from the beauty of simple and little things." The company strives to make toys that inspire children to discover the world in a creative way. For them, "good design is an attractive appearance, user-friendliness and perfect quality."
The WIPO Magazine is intended to help broaden public understanding of intellectual property and of WIPO's work, and is not an official document of WIPO. The designations employed and the presentation of material throughout this publication do not imply the expression of any opinion whatsoever on the part of WIPO concerning the legal status of any country, territory or area or of its authorities, or concerning the delimitation of its frontiers or boundaries. This publication is not intended to reflect the views of the Member States or the WIPO Secretariat. The mention of specific companies or products of manufacturers does not imply that they are endorsed or recommended by WIPO in preference to others of a similar nature that are not mentioned.