WIPO Re:Search - IP at Work for Social Benefit
December 2011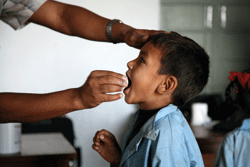 WIPO Re:Search promises to accelerate the
development and delivery of new and more
effective drugs to treat NTDs, malaria and TB
(Photos: WHO/NTD/Henrietta Allen).
A pioneering WIPO-led initiative that promises to transform the public health landscape in developing countries was launched at WIPO on October 26, 2011. WIPO Re:Search is an open innovation research platform that brings together a broad coalition of public and private-sector partners to catalyze research into the discovery, development and delivery of drugs, vaccines and diagnostics for neglected tropical diseases (NTDs), malaria and tuberculosis (TB). According to the World Health Organization (WHO), NTDs are largely a symptom of poverty and disadvantage and blight the lives of over a billion people around the world. Hardest hit are the poorest of the poor often living in remote rural areas, urban slums, shantytowns or conflict zones. These diseases maim, disfigure, debilitate and often claim the lives of those affected. Lacking political clout and the means to buy treatments, the needs of afflicted communities have largely been ignored. WIPO Re:Search endeavors to fill the gaps in much-needed research by putting IP to work for social benefit. WIPO Magazine explores the promise this groundbreaking platform holds in reshaping the global public health landscape.
The objective
The prime objective of WIPO Re:Search is to boost research into NTDs, malaria and TB – to accelerate the discovery, development and delivery of better and more effective therapies for those who need them. For a number of these diseases, effective and safe medicines are available, although increasing drug resistance is a problem. For many others the available treatments are archaic, even toxic. Against this backdrop, there is a huge need for continued research into more effective therapies to treat these diseases.
WIPO Re:Search is an unprecedented collaboration bringing together a broad coalition of public and private-sector institutions, including leading pharmaceutical companies, publicly-funded medical research institutes and councils, and universities. All partners have agreed to make valuable intellectual property (IP) assets and know-how available to the global research community on a royalty-free basis to help accelerate the development of new and improved therapies. This brings the energy typically expended on diseases affecting the developed world to bear on NTDs. WIPO Re:Search is "a groundbreaking example of how a multi-stakeholder coalition can put IP to work for social benefit," observed WIPO Director General Francis Gurry at its launch.
How it works
WIPO Re:Search has three main components:
A fully searchable public database, hosted by WIPO, containing information about available IP assets, information and resources;
A Partnership Hub managed by BIO Ventures for Global Health (BVGH) to foster partnerships between providers (e.g., pharmaceutical companies) and NTD researchers, and provide information about available licensing and research collaboration opportunities, networking possibilities and funding options;
Services to support and facilitate licensing negotiation, and to identify research needs and opportunities with technical advice from the World Health Organization (WHO).
To become a member of WIPO Re:Search – as a user, provider or supporter – an organization must adhere to the project's Guiding Principles. These include a commitment that IP accessed through WIPO Re:Search will be licensed on a royalty-free basis for research and development (R&D) on NTDs in any country; and on a royalty-free basis for the sale of NTD medicines in, or to, least developed countries (LDCs).
The database includes a wide variety of contributions relevant to NTDs, malaria and TB, including:
Compounds and compound libraries;
Unpublished scientific results;
Regulatory data and dossiers;
Screening and platform technologies (i.e., tools used in the drug discovery process);
Expertise and know-how; and
Patents and patent rights.
WIPO Re:Search also offers NTD researchers in developing countries access to the research facilities of and scientists working in leading pharmaceutical companies and laboratories. "This is an extremely important step in the technology transfer process," noted Mr. Gurry.
In sum, with WIPO Re:Search, researchers working on a new drug for TB, for example, that hit a roadblock can access the resources and know-how of scientists working in pharmaceutical companies and benefit from their experience and insights. "This can significantly reduce some of the error in the trial and error" that characterizes the drug development process and lead to breakthroughs more rapidly, noted Don Joseph, Chief Operating Officer of BVGH.
Advantages
WIPO Re:Search offers great promise in terms of accelerating R&D of more effective therapies to cure or treat these diseases. While many have tackled NTDs in the past with significant breakthroughs, WIPO Re:Search is unprecedented in terms of the broad range of partners it brings together from across the globe. At its launch, WIPO Re:Search counted 20 members from both developing and developed countries, including 8 leading pharmaceutical companies. Additional members are expected to join in the future. "It is a powerful mechanism for trying to enable cross-connections that we hope will generate innovation," Mr. Gurry observed. "With that scale comes more information, more critical mass that the consortium can therefore develop," noted Duncan Learmouth, Senior Vice-President for Developing Countries and Market Access at GlaxoSmithKline (GSK).
A second clear advantage of WIPO Re:Search is the access that it offers NTD researchers. This initiative is not just about formal IP such as patents. It makes available a wide range of information, studies and data on clinical trials providing researchers with invaluable insights into what has worked and what has not. Sharing research means that "some of the things that have been learned by trial and error can be better understood by people who want to further the research," noted David Brennan, CEO of AstraZeneca and President of the International Federation of Pharmaceutical Manufacturers and Associations (IPFMA).
WIPO Re:Search breaks new ground in that it is designed to foster connections, facilitate new research partnerships and unlock valuable information for use by the global research community. "Great science is all about making the right connections to the right knowledge," noted Mr. Learmouth. WIPO Re:Search is an "enabling mechanism" that seeks to leverage the collaboration offered by coalition partners. Through WIPO Re:Search "we can support collaborators and … really harness much greater innovation in this area," Dr. David Jefferys, Senior Vice President, Global Regulatory Affairs, Eisai Pharmaceuticals, said. "It is the wide range of supporters, partners and potential collaborators in this initiative that really differentiates it… and can make the greatest difference," observed Ms. Geralyn Ritter, Vice President, Global Public Policy and Corporate Responsibility at Merck & Co., Inc.
The Partnership Hub managed by BVGH will guide researchers through available materials, match them with available resources and help foster new partnerships. "This is terribly important, because we all know that innovation comes not from a single person operating in isolation but from the combination of forces and the connections that are established," Mr. Gurry observed, "the Partnership Hub will be extremely important in this regard."
NTDs and conditions covered by WIPO Re:Search
Buruli Ulcer
Chagas disease (American trypanosomiasis)
Cystericercosis
Dengue/dengue hemorrhagic fever
Dracunculiasis (guinea-work disease)
Echinococcosis
Endemic treponematoses (yaws)
Foodborne trematode infections

Clonorchiasis
Opistorchiasis
Fascioliasis
Paragonimiasis

Human African trypanosomiasis
Leishmaniasis
Leprosy
Lymphatic filariasis
Onchocerciassis
Rabies
Schistosomiasis
Soil transmitted helminthiasis
Trachoma
Podoconiosis
Snakebite
Malaria
Tuberculosis
Pharma's commitment
Highlighting the commitment of the pharmaceutical industry to WIPO Re:Search, Mr. Brennan (AstraZeneca) said, "the innovative pharmaceutical industry really does have a significant role to play in addressing unmet medical needs and to increase access to proprietary information that will help advance NTD Research."
"I think that WIPO Re:Search has the potential to have a very real impact on global health," and "shows that IP and in particular patent rights … do not have to be a barrier to access to healthcare," he said.
AstraZeneca has agreed to make available to WIPO Re:Search its entire patent estate comprising some 1,400 patent families and over 25,000 patents granted or pending, and associated know-how. Mr. Brennan explained, "our view is that by contributing as much as we can from our patent estate, we are more likely to contribute to an ultimate solution." He added, "while some of our IP is not intuitively oriented towards NTDs, it may be that some researchers will find some value in it that we would not necessarily find because we weren't looking for it."
Dr. Robert Sebbag, Vice President, Access to Medicines, Sanofi, explained that the pharma industry's role was not simply to be "a provider of drugs, but a partner of public health". The industry's expertise and know-how make it an important and "mandatory partner". He elaborated that the industry was also driven by enlightened self-interest and pragmatism, in terms of its image, corporate social responsibility and future growth prospects. "There is nothing wrong with self-interest as long as it is enlightened and in the interests of global health and … of improving equity," noted WHO Director General Margaret Chan, who welcomed the WIPO Re:Search initiative.
Pfizer's Chief IP Counsel Roy Waldron said, "access to information through collaboration is the only way that we will get to the next generation of drugs." For him, WIPO Re:Search is "a testing ground for the next stage of innovation and how we look at the innovative process of drug discovery. If this is a successful model, it can be broadened to other fields… to the field of drug discovery in general."
The potential for WIPO Re:Search to stimulate innovation within the pharmaceutical industry was also hinted at by Mr. Brennan who said that his company's goal, "is always to try to improve health for patients and to try to bring the benefits of that health improvement to our stakeholders, to our business and to society, and I think that WIPO Re:Search is going to help us as a company, as well as an industry in reaching that goal."
WIPO Re:Search currently includes the following providers:
Alnylam Pharmaceuticals
AstraZeneca
California Institute of Technology
Center for World Health & Medicine
Drugs for Neglected Disease initiative
Eisai
Fundação Oswaldo Cruz (Fiocruz)
GlaxoSmithKline
Massachusetts Institute of Technology
Medical Research Council (South Africa)
Medicines for Malaria Venture
MSD (Merck & Co., Inc.)
Novartis
PATH
Pfizer
Sanofi
Swiss Tropical and Public Health Institute
University of California, Berkeley (USA)
University of Dundee (UK)
U.S. National Institutes of Health
Building R&D capacity in developing countries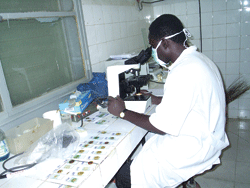 Technician analyzing sample in a schistosomiasis survey
in Mauritania, 2008 (Photo: WHO/NTD/Lester Chitsulo).
In the spirit of WIPO's Development Agenda, WIPO Re:Search promises to strengthen the R&D capacity of medical research institutes in developing countries, enabling them to set their own research agendas to meet urgent local health needs. As noted by Mr. Learmouth, Africa, for example, bears 24 percent of the world's disease burden with just 3 percent of the world's healthcare resources and just 1 percent of the world's healthcare budget.
Highlighting the opportunities presented in terms of improving regulatory frameworks and the approval of new medicines, Dr. Ali Dhansay, President of South Africa's Medical Research Council, said, "what is important for Africa… is the process. It's a question of information sharing, skills development, knowledge generation and knowledge integration," he explained. Greater access to knowledge and expertise will enable researchers in developing countries to become more efficient, broaden their own R&D efforts and develop "leads they don't always have the capacity to pursue," he said.
WIPO Re:Search has, from the outset, involved institutions from emerging and developing countries. "It is very important that the people who are going to be using this facility are involved right from the beginning and that you also … get their perspective with a view to improving in the future," noted Ambassador Mboya Okeyo of Kenya. He and Ambassador Lumbanga of Tanzania urged others to participate and support WIPO Re:Search in its mission to promote R&D in relation to NTDs, malaria and TB and to get new and improved treatments to those who need them. WIPO Re:Search, they said, is a critical first step, but cannot offer "a complete solution", as much depends on what recipient countries themselves do in improving public health capacity.
Managing expectations
The process of discovering, developing and delivering drugs is a notoriously risky affair, taking up to 15 years or more and costing billions of dollars. In spite of the huge R&D investment made by research-based pharmaceutical companies, just a few new therapies ever reach the market; hence the need for IP protection to enable them to try to generate a return on their investments and to fund future R&D. Amid the strong commitment and enthusiasm expressed in terms of the platform's potential to expedite work on new therapies for NTDs, malaria and TB, many urged caution. "We must avoid the temptation to look for instant results," counseled Dr. Chan. Similarly, Roy Waldron (Pfizer) cautioned that outcomes "will be guided purely by science, and we will need to exercise patience and persistence in our quest for new and improved therapies for NTDs, malaria and TB."
The way forward
The initiative's future success will hinge on the sustained, long-term engagement of all partners, as well as a commitment to transparency and accountability which are key to inspiring confidence and trust in the mechanism. Dr. Chan underlined the need for "timelines and markers" to measure WIPO Re:Search's contribution to "the overall R&D landscape."
WIPO Re:Search represents a new approach to fostering R&D and promises to "become central to attracting R&D interest in NTDs that will eventually lead to new therapies and prophylactics," noted Alissa Harbin, Head of Group IP Counsel at Novartis.
Notwithstanding the undoubted challenges ahead, as expressed by Mr. Gurry, WIPO Re:Search "is a wonderful opportunity for capacity-building in R&D and innovation, sharing and creating connections which can in turn lead to the advancement of knowledge and discoveries.
by Cathy Jewell
The WIPO Magazine is intended to help broaden public understanding of intellectual property and of WIPO's work, and is not an official document of WIPO. The designations employed and the presentation of material throughout this publication do not imply the expression of any opinion whatsoever on the part of WIPO concerning the legal status of any country, territory or area or of its authorities, or concerning the delimitation of its frontiers or boundaries. This publication is not intended to reflect the views of the Member States or the WIPO Secretariat. The mention of specific companies or products of manufacturers does not imply that they are endorsed or recommended by WIPO in preference to others of a similar nature that are not mentioned.