Ideas need industry as industry needs ideas
August 2011
Ideas are the lifeblood of business. In today's evolving and highly competitive commercial landscape, industry depends on a steady flow of ideas for better ways to develop products and services, present brands and interact with users. These tasks are not rich in research and development (R&D); they are creative in nature and usually generated by highly skilled solution-led innovative individuals and microenterprises from within the creative industries and academia. In this article, Maxine Horn, CEO of Creative Barcode, explores the challenges confronting innovative thinkers in an economy increasingly focused on open innovation, and explains how open protection mechanisms, such as Creative Barcode®, can support a more efficient and rewarding open innovation environment.
The source of innovation
Innovation generally starts with an individual – a designer, inventor (independent or otherwise), scientist, engineer or entrepreneur. These individuals, however, rarely have the funds or the skills to single-handedly bring their ideas to market. For this, they rely on the expertise and resources of the business community. Their primary interest is to trade their knowledge, co-creating or collaborating with route-to-market partners rather than commercializing it themselves. This might seem to make for a complementary and natural union. In reality, the relationship is often fraught with problems.
The journey to market is full of twists and turns. For new ideas or knowledge to have any chance of commercial success, the individual behind them has to engage with industry early on in the process. However, disclosing early stage ideas to potential industry partners pre-contract can be a risky business. All too often, creators are unceremoniously cut out of the commercial loop as their concepts, ideas and propositions are taken up and used by business investors without permission or recompense.
This is largely attributable to a widespread belief that "ideas" are bountiful, free, and have no value until they are commercialized. In the era of open innovation, professional creators compete with the crowd for work and are feeling under threat. While open innovation and crowd-sourcing create opportunities for professional creators and business, they also raise important issues about models of remuneration in sectors traditionally engaged on a fee-for-services basis.

<
For many, the client pitch has given way to a kind of mini-crowd-sourcing, controlled by the client who sees openness as a mechanism for cost reduction. This creates a trust problem. If open innovation is to thrive, business trading models between these two communities must ensure that professional creators are equitably remunerated.
Safe disclosure at an early stage of innovation is crucial to support collaborative engagement with business partners. Professional creators, however, are extremely vulnerable pre-contract, where disclosure of in-depth proposals is a necessary part of new business activity.
Many in the creative industries and academia are looking for a new, more protective open innovation culture that promotes ethical, trust and permission-based trading of professionally produced ideas. Without commercial respect for knowledge-based ideas, experience and the know-how of professional creators, there is little incentive for them to participate in open innovation activities.
Many companies are reluctant to sign non-disclosure agreements (NDAs), fearing a negative impact on their own intellectual property (IP). However, without such a contract, the ideas and concepts of professional creators are essentially unprotected. This leaves them vulnerable to their ideas being misappropriated and risks creating barriers to innovation in the areas of open innovation and crowd-sourcing.
… and IP protection?
Traditional IP protection mechanisms and laws do not protect ideas as such. When creative firms find that work submitted in response to a genuine business enquiry has been misappropriated by another party, they are often surprised to find themselves in a very weak position with regard to copyright. Even if the offending party admits they were "influenced" by a proposal submitted by a creative firm, proving copyright infringement can be difficult, time-consuming and expensive. Changing the title of a work and the look and feel of visuals weakens a copyright infringement claim even if the core strategic ideas the visual works represent are used. It is often such core ideas that contain value, and yet they are not protected under copyright law. This is often misunderstood by creative professionals.
As for patents, an estimated 75 percent of all innovation does not qualify for patent protection. An invention must meet the conditions of patentability as defined in national patent laws in order to qualify for such protection. Generally speaking, the claimed invention must be novel, involve an inventive step (be non-obvious) and must have an industrial application (utility). An alternative, however, may be to protect such innovations as trade secrets (see box).
About trade secrets
Trade secrets can be protected for an unlimited period of time. While conditions vary from country to country, generally speaking, to be considered a trade secret, information must:
be secret (i.e. it is not generally known among, or readily accessible to, circles that normally deal with the kind of information in question);
have commercial value because it is a secret;
have been subject to reasonable steps by the rightful holder of the information to keep it secret (e.g., through confidentiality agreements).
Clearly, ownership of ideas per se could act as a brake on innovation and social progress. How then can professional creators protect their interests? They could potentially seek to differentiate their solution-led ideas from the notional ideas of members of the public. They could also argue that their work is as valuable as any other creative expression or interpretation and make a legal case for enjoying the same economic and moral rights as other creators. But changing IP law is a complex and lengthy process.
A faster and more realistic approach is for the creative industries to unite under a system that denotes fair and non-complex terms of engagement based on agreed principles of trust and permission-based use – in other words, to create an ethical trading standard that becomes the norm by creating a critical mass of users.
If every creative person barcoded their work, it would be possible to record the name of the creator, the date of creation, a description of the creative solution and its visual interpretation as well as when, why and how it was communicated to a third party. If it transpired that another party had indeed presented the very same or a nearly identical solution to a third party, offering a more advantageous deal, that transaction would also be traceable and provable. Such a system promises to help eliminate disputes and eradicate disingenuous misappropriation of works in commercially competitive environments. By reducing creators' vulnerability, many more opportunities for buying and selling solution-driven creativity are generated.
Creative Barcode®, the world's first digital "open protection" system, offers creators, co-creators and brand owners a digital means of identifying creation date, creation source and ownership and tracking use of conceptual works that are not in the public domain. Designed to reduce the vulnerability of creative professionals, it facilitates safe disclosure of creative concepts, proposals and ideas when pursuing new business, entering open innovation competitions, or developing concepts to present and negotiate a commercialization license with another party pre-contract. Its very simple usage terms mutually protect the creator and the third party. The creator declares to the recipient that the barcoded works are original and theirs to disclose and on that basis the recipient agrees not to disclose or use them in any commercial or non-commercial capacity without the permission of the creator. It is balanced, fair, ethical, and mutually protective.
With over 300,000 freelance operatives and some 30,000 small and medium-sized enterprises (SMEs) operating in the creative industries in the U.K. alone, Creative Barcode® aims to create a critical mass of users operating under safe and ethical trading terms. This will support the continuous flow of ideas to businesses seeking creative solutions to marketing, new product and service development processes, brands and advertising.
Creative Barcode®: how it works
An innovative software application, Creative Barcode® enables users to generate unique digital barcodes that record the date and source of creation, ownership and permission-based usage of a work. These are embedded into proposals, concepts, visuals, films and videos. Underpinned by a Trust Charter agreed between the originator and any third party before disclosure, both parties are protected. The originator guarantees that the barcoded concepts are original, and it is on that basis that the recipient agrees not to disclose or use any of the concepts without permission. The barcode also enables recipients to easily and swiftly deflect any potential challenges from other parties as to the source of a concept. In the event of a dispute, legal action no longer relies on potentially weak copyright infringement claims, but on breach of the trust agreement.
Barcoded files are delivered through the Creative Barcode® file transfer system, which records the date on which a file is sent, and to whom, and the download date. Files are only accessible when the box indicating acceptance of the Trust Charter is checked.
Creative Barcode® also offers its members free access and use of licensing agreements to support deals going forward.
Dispute resolution
In the event of a dispute arising between Creative Barcode® members and file recipients, an adapted dispute resolution service, offered by the World Intellectual Property Organization's (WIPO) Arbitration and Mediation Center is now available.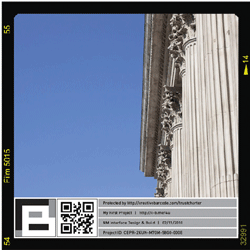 Project detail showing Creative Barcode. (Photo: Creative Barcode)
The Creative Barcode Trust Charter Agreement states:
"Should any dispute arise in relation to an alleged breach of Creative Barcode® terms, we recognise that resolution under the WIPO Mediation Rules would be a more appropriate and cost and time-effective approach than court litigation. We therefore pledge that if a dispute arises, we are prepared to consider resolution through WIPO mediation."
Alternative Dispute Resolution (ADR) procedures, such as mediation or arbitration, allow parties to resolve their disputes in a timely, cost-efficient and confidential manner outside of court. These procedures are consensual, which is why the above pledge in the Trust Charter Agreement aims to facilitate submission of disputes to mediation. Mediation is an informal procedure in which a neutral intermediary, the mediator, assists the parties in reaching a settlement of the dispute, based on business interests and commercial solutions.
Parties can also select other ADR procedures under the service, such as WIPO expedited arbitration. This is a more formal procedure in which the dispute is submitted to an arbitrator who issues a decision that is binding on the parties in a short time frame.
Parties can also opt for a combination of mediation and expedited arbitration1. They thereby first try to settle their dispute through mediation and, if no settlement is reached within a certain time frame, the dispute is submitted to expedited arbitration. Combining procedures increases the chances of settlement. Experience shows that some three out of four WIPO mediation cases are settled and that more than half of WIPO arbitration cases settle, while the remaining arbitration cases conclude with a final award.
The benefits of the Creative Barcode Open Protection System are that it:
forms a permission-based trust agreement between creators, their clients and co-creation partners;
enables creators to retain ownership until permission-based usage and terms are agreed;
identifies all related files and correspondence associated with the proposal from the pitching stage, through to negotiation and development – one barcode per project;
enables the original source to be identified and corroborated should a challenge or dispute arise;
provides total security when the file transfer service is used to record the dispatch, receipt and download of files;
provides a transfer of ownership certificate once the concept has been sold;
makes available an adapted dispute resolution service by the WIPO Arbitration and Mediation Center.
Creators and content, knowledge and solution providers are weary of being used to build value for others with no guarantee of remuneration when commercial success leads to revenue shares for all but an idea's originator. By attaching digital barcodes to original concepts, Creative Barcode® offers a simple and cost-effective way for creators to claim and retain ownership, and to grant permission-based usage rights for their works. The system enables early and safe disclosure to third parties, reduces the vulnerability of creators and promises to lead to a more efficient and rewarding open innovation environment.
It's that simple.
How it all began
The founder of Creative Barcode®, Maxine Horn, has over 20 years of experience in the design, innovation and knowledge transfer sectors of the creative industries. From 1993 to 2011, Ms. Horn founded and ran British Design Innovation (BDI), a trade association for designers and innovators. Her extensive experience of the creative industries and the challenges professional creators face prompted her to conceive of Creative Barcode® which was launched in September 2010.
__________________________
1 The different ADR options available are explained in detailed Guidance Notes on the Creative Barcode® website.
The WIPO Magazine is intended to help broaden public understanding of intellectual property and of WIPO's work, and is not an official document of WIPO. The designations employed and the presentation of material throughout this publication do not imply the expression of any opinion whatsoever on the part of WIPO concerning the legal status of any country, territory or area or of its authorities, or concerning the delimitation of its frontiers or boundaries. This publication is not intended to reflect the views of the Member States or the WIPO Secretariat. The mention of specific companies or products of manufacturers does not imply that they are endorsed or recommended by WIPO in preference to others of a similar nature that are not mentioned.