A Tribute to the Man behind the Swatch: Mr. Nicolas G. Hayek
August 2010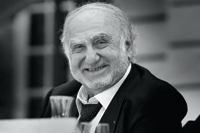 Photos: The Swatch Group Ltd.
The world famous Swiss watch industry lost a leading figure recently with the death of Mr. Nicolas G. Hayek on June 28, aged 82. Mr. Hayek was born on February 19, 1928, in Lebanon and at the age of seven emigrated to Switzerland, where he became a Swiss citizen.
A pioneering and charismatic entrepreneur, Mr. Hayek, co-founder and former Chairman of the Swatch Group, is widely credited with reviving the Swiss watch industry in the 1980s when it was under threat from mass-produced, low-cost electronic timepieces. The innovative strategies he implemented in the early 1980s breathed new life into the entire Swiss watch industry, enabling it to regain its leading position worldwide. The industry, Switzerland's third largest exporter after the machine and chemical industries, sells nearly 95 percent of its production to overseas markets.
A decisive force
Mr. Hayek was a decisive force in the launch in 1983 of the Swatch watch, an icon of popular culture.
In developing the Swatch phenomenon, Mr. Hayek's unique entrepreneurial talent combined "disposability, affordability and reliability" to deliver a range of colorful, trendy and low-cost plastic watches for every occasion. The Swatch's innovative mechanism has only 51 parts compared to the over 91 parts in a conventional watch. Its avant-garde designs made Swatch a fashion statement. Its low cost means that fashion-conscious consumers can own several Swatches to suit mood and occasion. In a recent interview, Mr. Hayek said, "I am not making watches only to look at the time. I am making jewels! They are jewels!"
Today Swatch launches some 300 designs a year and is one of the largest users of WIPO's Hague System for the International Registration of Industrial Designs which offers a cost-effective way to protect designs internationally by filing a single application, in one language (English, French or Spanish) and in one currency (Swiss francs). About half of the designs Swatch launches each year are phased out after six months, making them highly collectible. A 1988 fake-fur Swatch is reported to have been recently valued at £18,500 (approx. US$28,316).
A master of marketing
Mr. Hayek was a master of marketing, introducing simple ideas to leverage the reputation, prestige and exclusivity of the Swatch Group's stable of 19 watch brands, including Breguet, Calvin Klein, Longines, Tissot and Omega. In a recent interview with the Indian daily MINT, Mr. Hayek outlined the company's approach to branding. "We have a unique message for each of our brands. This is a very strong part of how we operate". For example, the message for the Jaquet-Droz brand is "Eternity - the Ultimate Luxury". The Swatch Group is a regular user of WIPO's Madrid System for the International Registration of Marks, a user-friendly and cost-effective option for registering and managing trademarks internationally.
Swatch is now the biggest watch-manufacturing firm in the world, with more than 700 Swatch shops worldwide and earnings of at least CHF 5 billion in 2009. An estimated 300 million Swatch timepieces have been sold worldwide.

Mr. Hayek launched his business career on August 1, 1957, as a management consultant. He quickly made his mark as a skillful entrepreneur and trusted business figure. In the early 1980s he was asked by a group of Swiss bankers to oversee the liquidation of ASUAG and SSIH, the two main Swiss watchmakers that were reeling from heavy Japanese competition. Mr. Hayek, however, was convinced that the Swiss watch-manufacturing industry had a future and could regain its competitive edge. The merger between ASUAG and SSIH to form SMH (Swiss Corporation for Microelectronics and Watchmaking Industries Ltd.) in 1983 was a critical step in turning the industry around. Equally important was the launch of the low-cost, high-tech, creative and iconic Swatch watch - the "S" stands for "Switzerland" and "second" reflecting where it is made and the fact that its low cost means customers can afford more than one. With Mr. Hayek at the helm, SMH - renamed Swatch Group in 1998 - became, within a period of five years, the most valuable watchmaker in the world.
The company said in a statement, "Mr. Hayek's extraordinary vision enabled him to realize and ensure the sustainability of a strong watch-making enterprise with high Swiss added value".
Mr. Hayek's dynamism and influence, however, went far beyond the watch industry. He helped create the SMART car, a small, stylish city car now produced by Mercedez Benz. He also had various other commercial interests including Belenos Clean Power, an alternative clean energy company based in Bienne, Switzerland. An advisor to the World Bank, the International Olympic Committee and many governments, he helped create opportunities and employment for hundreds of thousands of people. By his own admission, "in Europe, I think I have created around 250,000 jobs." In a recent interview with MINT, Mr. Hayek's message to young people was, "You create things by being an entrepreneur, creating new ideas and products and new jobs and wealth." This, he said, was the best that young people could do for the future.
This modest, practically-minded man has, without doubt, left an impressive and lasting legacy. In a recent TV interview, he said, "We must never forget that we are all… very small entities in the huge universe. So we must not think we are more important than that."
Under his stewardship the Swatch Group came to be known as the "crown jewel of the watch-making industry." He was passionate about creativity and loved his work, noting in a recent interview, "I wrote a book once in which the first line was that I have never worked a moment in my life. I have merely enjoyed it. Every moment."
The Swatch Group and its brands
Collectively, the Swatch Group owns 19 watch brands encompassing "a fascinating world of diversity, beauty and quality" along with a high level of craftsmanship and industrial know-how. Each brand has its own distinct cachet and positions its products to appeal to different and complementary audiences.
Brands include: Breguet, Blancpain Glashütte Original, Jaquet Droz, Léon Hatot, Omega, Tiffany & Co. (in the prestige and luxury range); Tissot, ck watch and jewelry, Balmain, Certina, Mido, Hamilton (in the middle range); Swatch and Flik Flak in the basic range; and Endura in the private label segment. The latter produces customized watches for companies and brands and is also involved in producing models under license for companies in various markets. A number of the Group's brands have also recently launched collections of branded jewelry designed, developed and produced by Dress Your Body (DYB), the Swatch Group's jewelry production company.
The Swatch Group, the world leader in manufacturing finished watches, produces nearly all components needed for the watches it sells under its own watch brands and the multi-brand Tourbillon retail label, as well as for the Swiss watch-making industry as a whole. It also operates its own worldwide distribution network and is a key player in the electronic systems sector.
While not part of its core business, the company is involved in sports timing and measurement technologies. This plays a key role in terms of brand and group visibility. A number of Swatch Group companies are official timekeepers at various international sports events, including the Olympic Games.
The WIPO Magazine is intended to help broaden public understanding of intellectual property and of WIPO's work, and is not an official document of WIPO. The designations employed and the presentation of material throughout this publication do not imply the expression of any opinion whatsoever on the part of WIPO concerning the legal status of any country, territory or area or of its authorities, or concerning the delimitation of its frontiers or boundaries. This publication is not intended to reflect the views of the Member States or the WIPO Secretariat. The mention of specific companies or products of manufacturers does not imply that they are endorsed or recommended by WIPO in preference to others of a similar nature that are not mentioned.