Artist, Illustrator, Creator – Bob MacNeil
April 2010
Biodata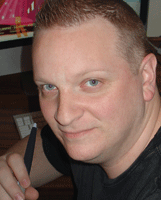 Bob MacNeil

Born: 1971, New Jersey, U.S.
Media: Professional work: digital (Adobe Photoshop and Illustrator); leisure work: watercolor and acrylics
Education: Graduate of Newark School of Fine and Industrial Art; self-taught in digital media
Awards: (alone and jointly as part of teams) American Corporate Identity 20 for Skippy Brand Redesign; Creativity 33 for Skippy Peanut Butter Brand Redesign; American Graphic Design Awards for Dofino Cheese Brand Design; American Graphic Design Awards for Mott's Fruit Blasters; Art Director's Club of New Jersey for Mott's Fruit Blasters Brand Design; America Corporate Identity for The Roll; America Corporate Identity for Popsicle Redesign; and America Corporate Identity for Skippy Squeeze Stix Package Design
Hobbies: Black belt in Taekwondo
Website: www.taminglight.com
The award-winning brand and product designer Bob MacNeil drew an illustration of a "Patent Troll" (see WIPO Magazine 1/2010) for a well-known magazine that proved so popular he found it illegally copied and used by the very defenders of intellectual property (IP) rights themselves. A bit ironic, but they did immediately remedy the situation when he contacted them. In this interview for the WIPO Magazine, he talks about his first childhood experience as an artist; how the Internet has become an indispensable tool, linking him to the wider world and broadening the market for his work; and gives stern recommendations to young people seeking to follow in his footsteps.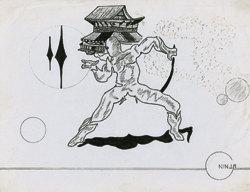 Pencil and marker, circa 1977-78. The drawing
Mr. MacNeil pinned all his hopes on at age seven.
When did you start drawing? When did you start making a living from it?
My earliest drawings are from when I was about six years' old. A year or so later, I took a test through a mail order art instruction course I saw on TV – funnily enough, the advertisement still runs today. After I completed the test, I anxiously awaited praise. But the greats who sat atop that artistic throne unfortunately informed me my work wasn't good enough; I did not have what it took to be an artist. I guess at age seven my dreams were bigger than my ability, but the results inspired me to prove them wrong.
My family is made up of artists – professionals and hobbyists alike – so I was fortunate enough to be surrounded by people who were supportive of my creativity. It was evident to them that I would one day pursue a creative career. My first official job as an illustrator was to produce a series of pen and ink images for a relative who owned a print shop. The experience was invaluable. I was able to work directly with a client while still in art school. Eventually, I built up my portfolio to a reasonable level and landed my first job without the aid of family or friends – designing kiosks for store installations and shopping malls.
How do you make a living as an artist?
I work full time in a studio that designs and develops land-based slot machines and freelance in animation and video games. Simply put, I don't sleep. But I'm not complaining, it is work I truly enjoy. Over the last 19 years, it has allowed me to take part in almost every type of creative outlet imaginable, though I'm mostly centered on the entertainment industry.
I'm now focusing my attention on the children's market. Hopefully, one day I will be a published illustrator/author. Until then, I'll continue to get no sleep.
Where do you find inspiration?
My daughter is a huge source of inspiration and motivation. She allows me to act like a child and, as a result, I'm finding my ideas are being refreshed and revived.
Other artists have always been a source of inspiration. Having said that, I firmly believe if you are too "inspired" by another artist, your work can unintentionally take on qualities of that artist's work. I try not to pigeonhole myself that way, so to mention anyone specifically is kind of hard to do. I do have a penchant for animation art and lately have been following a lot of the up and coming artists in France.
Is copyright important to you? Why?
Of course. I think it's important, because it recognizes and protects artists. The Copyright Act of 1976 gave artists some semblance of security in their work. However, the reintroduction of the bill defining orphan works* has made copyright important – a necessity – in protecting my creations. Artists work hard at trying to make a living from their craft. I couldn't walk into a furniture store and walk out with a couch because no one claimed it as theirs. Why should someone be able to do that with my artwork?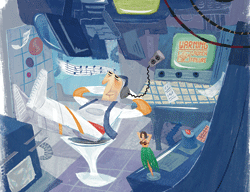 Digital. Since his site went live in 2006,
Mr. MacNeil has received over 100,000 visitors.
How do you view new media such as the Internet?
I absolutely love the Internet as a tool. I am located in the eastern U.S., in New Jersey. It's not much of a hotbed for the video game and animation industries, so the Internet has been invaluable in developing my portfolio – even beyond what I thought possible. It has also opened up my demographic and target audience, because I am able to see what people respond to in my online presence. The traditional method of taking out expensive ads in circulated directories has been replaced by the ease of the Internet. It seems to be the preferred vehicle for getting your voice out there. If you know how to design an appealing web presentation, and post it to an online store or YouTube, you can reach millions of people. And if you are consistent and professional in your presence, opportunity will find you.
Whether the Internet is also a threat dangerous enough to affect my bottom line remains to be seen. It does demand vigilance to sustain one's online assets, presence and professional relationships.
Has any of your artwork ever been used without your authorization?
Ironically enough, my illustration of a Patent Troll has been used without my permission. I contacted the respective "rule breakers" and asked that they take the work down or appropriately acquire usage rights. All those I contacted have cooperated and removed the image, or compensated me for its use. Yes, "all" – there have been more than one.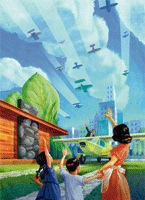 Digital. Mr. McNeil works in a
variety of styles, which he blends
seamlessly together.
To see my work used this way made me feel ambivalent, both good and bad at the same time. It's flattering that my work is seen as being better than some of the other examples available online. However, it also bothers me that I put time and effort into an image and someone feels they can just use it for their own needs with no permission granted whatsoever.
Where would you set the border between inspiration and plain, simple copying?
A boundary should exist to stop one artist from taking work away from another more established one, because he/she can produce similar work at a much cheaper rate. These lines are often broken, because those who commission copyrighted works promote and support this sort of practice. The only thing that can be done to stop or control these situations is to educate or inform those that perpetuate this use.
Do you have any recommendations for budding illustrators?
Prepare yourself for what could be a long and arduous road of hard work. For a small number of people intent on becoming illustrators, things may come quite easily; unfortunately that is not the norm.
The typical development of an illustrator is slow and steady as you learn to master your technique and to handle the business side of things, which can be the worst part of it. Creative people want to create. They do not want to worry about whether they're being taken advantage of financially, how to manage taxes, budget their work and personal time or even their lives and the money they make – money that unfortunately does not arrive in your bank account on a regular basis.
These pitfalls tend to be determining factors in whether or not you succeed. Once you get a good grasp of business issues – and you will – you will have to learn to deal with insensitive critiques of the work you poured your heart and soul into, and the never ending lineup of "Nos" you'll receive that can break the strongest character. It sounds like a lot, and it is, but anyone who can say I don't care about all the red tape and difficulties because I love to paint, draw and create... that individual is well primed to become an illustrator.
I recommend that anyone crazy enough to take this journey begin with baby steps. There is no need to jump into anything massive at first; start out small and find your own artistic voice. Illustration is not only a profession that demands you be a skilled artisan, but also an exercise in humility. An illustrator is often looked at as a cog in a much bigger machine, especially when starting out. Respect and recognition come with experience; do not expect it early on!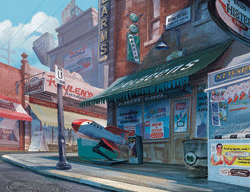 Digital. Mr. McNeil's work is primarily digital,
but knowledge of basic principles – how to draw
and paint in traditional media – is what makes
his work stand out.
Another important aspect is that, with the emergence of digital media, there is an inclination to forgo learning the foundations of art and jump directly to the computer – don't! First learn how to paint and draw. Those basic principles will set you apart from the masses and, in the long run, your work will be much more rewarding. I work digitally for the speed that it provides; however, I began my career without ever having touched a computer. I did so because I made it a point to learn the basics. You can't build a house without a proper foundation.
How do you feel about your work?
I love what I do. I love it because it's who I am. There aren't many jobs that allow you to constantly grow and improve your skills. And there aren't many jobs that allow you to work in your pajamas! In fact, illustration and creating art in general are, in my opinion, the best way to make a living.
It's a serious business, so treat it as such, but it can also be a lot of fun. It's very rewarding to see your art after it's been printed and circulated. I often walk into stores and feel like my portfolio has followed me. I'm paid to create; it's what I enjoy doing. What could be better!
*Works whose authors or right holders are unknown and impossible to identify or locate.
By Sylvie Castonguay, WIPO Communications Division
__________________________________
The WIPO Magazine is intended to help broaden public understanding of intellectual property and of WIPO's work, and is not an official document of WIPO. The designations employed and the presentation of material throughout this publication do not imply the expression of any opinion whatsoever on the part of WIPO concerning the legal status of any country, territory or area or of its authorities, or concerning the delimitation of its frontiers or boundaries. This publication is not intended to reflect the views of the Member States or the WIPO Secretariat. The mention of specific companies or products of manufacturers does not imply that they are endorsed or recommended by WIPO in preference to others of a similar nature that are not mentioned.