A Decade of Celebrating Creativity
April 2010


The exhibition "Creativity by Children – A Chinese
Experience" featured a collection of drawings made
by Chinese children for the celebration of the first
World IP Day in 2001.
It seems like yesterday that Algeria and China tabled a proposal at the WIPO Assemblies to establish April 26 as World Intellectual Property Day. It was September 2000 and the theme of the first celebration, to take place on April 26, 2001, was "Creating the future today".
Despite the short notice for that first celebration, Member States were enthusiastic in their response. Over 50 reported having held events – from simple open-door days at national intellectual property (IP) offices to full weeks of activities with concerts and gala celebrations to award outstanding inventors and creators.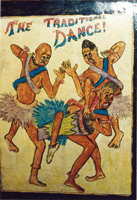 Kenya organized a week of
activities in 2002, including
an IP Day march by Boy Scouts,
a traditional dance evening with
music and poetry and a
symposium on the
Encouraging Creativity theme.
The following year, the theme – "Encouraging creativity" – would be a recurring one, repeated in different ways in 2004 and 2007. Requests from Member States and observers for ideas on how to make the most of World IP Day inspired WIPO to propose potential IP outreach activities that could help to generate public and media interest in IP issues. Some 70 Member States took up the challenge. IP was in newspapers from Bhutan to Uruguay, on radios from Cuba to Kazakhstan, on television sets from Antigua and Barbuda to Mauritius, on the Internet, in the streets of Kenya and Zimbabwe…
"Make IP your business," the theme for 2003, was an appeal to entrepreneurs to fully capitalize on their intellectual assets and to use the tools of the IP system to further their business goals. It was also a wider call for civil society to recognize that respect for IP rights benefits not only creators but society as a whole. WIPO dispatched some 800 World IP Day kits containing the publication IP – A Power Tool for Economic Growth (Overview). Many events that year focused on anti-piracy campaigns, including the actual destruction of counterfeit goods.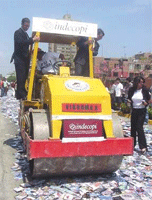 Counterfeit CDs were destroyed
publicly on April 26, 2003, in Peru
as part of an anti-piracy campaign.
It is never too soon to start learning about the importance of creativity and innovation in building a better world, and young people were the focus of many celebrations in 2004, including outreach activities by IP offices in local schools. WIPO distributed 78 copies of the "Creative Planet" video series for broadcast in 44 countries, and also released three television spots on the theme "Encouraging Creativity", which were aired by CNN. It was also the occasion to launch two new guides in the "IP for Business" series for small and medium-sized enterprises (SMEs).
"Think, imagine, create", the theme of the fifth World IP Day, encouraged young people everywhere to recognize the creator, the problem-solver, the artist within themselves. WIPO's "Striving for Excellence" exhibition, inaugurated on World IP Day, aimed to stimulate the young to think about the presence of IP in their everyday lives – and to create their own – by looking at the world of sports. Many offices geared their IP message and activities towards children, organizing special competitions and other events to give them a first glimpse at how their own creativity can make a difference in the world.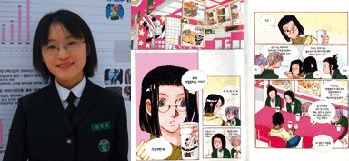 In 2006, Jisoo Kim won first prize in the Korean IP Day essay
competition based on the Korean comic, Copy and paste: What's wrong?
The extensive worldwide press coverage of the 2006 World IP Day – "IP: It all starts with an idea" – confirmed growing recognition of the annual event and its role in conveying the importance of IP. Events to mark the day ranged from large-scale gala evenings with live concerts and awards ceremonies, to local folkloric music and dance festivities, to exhibitions at IP offices. Many IP offices held activities for specific IP right holders, and themes of respect for IP were at the forefront. Some countries celebrated the event for the first time, while others built on technology and innovation promotion programs dating from before the first World IP Day celebration.
For many people, the connection between IP and creativity is far from obvious. The word "creativity" conjures up a world of artists and musicians, of poets and problem solvers; whereas, IP summons images of lawyers and courtrooms. But it is the IP system that sustains those creators and the "Encouraging Creativity" theme in 2007, underscored this. WIPO hosted a discussion on "Making IP Work for Development" that generated input for the Development Agenda. World IP Day also brought together those who question the IP system: various blogs debated the validity of the patent system, and others tackled issues of copyright and the public domain.
With the growing popularity of World IP Day, public and private-sector organizations turned their creative talents to finding new ways to attract attention to the slogan in 2008: "Innovation – Respect it!" National IP offices increasingly produced their own messages and posters, targeting their specific needs for increasing IP awareness. Many focused on the importance of fostering innovation in solving global problems and improving well being, and of respecting the fruits of that innovation by promoting respect for the related IP rights.


2009 posters from MAWHIBA, Saudi Arabia; U.K. Intellectual Property Office; Asociación Argentina de Intérpretes; Universidad de Guadalajara, Mexico; Universidad Ricardo Palma, Peru; State Patent Office, Uzbekistan

"Green innovation", the theme in 2009, hit a mark with IP stakeholders and engaged a broader public. The message from WIPO Director General Francis Gurry, "human ingenuity is our best hope," struck a positive note in audiences preoccupied by dismal economic forecasts and looming environmental problems. Never had there been such an outpouring of creative IP posters from around the world, not to mention the many and varied activities to promote interest in the theme. WIPO published a Green Innovation Special Issue of the WIPO Magazine, reinforcing the IP Day message with articles that highlighted the links between innovation and the IP system. In keeping with the spirit of the theme, WIPO made its IP Day materials available for download, and also launched an organization wide Carbon Neutrality Project.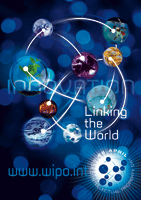 To mark the 10th anniversary of World IP Day, WIPO will host an exhibition showing the event's evolution over the years. Tapping into the heart of creativity, this year's IP Day theme focuses on "Innovation – Linking the World." Advances in, for example, information and communication technologies, have progressed by leaps and bounds in recent years, bringing information and services to more and more people worldwide. Rapid technological changes coupled with pressing global challenges (such as climate change, food security, access to health care) mean that innovation, and the infrastructure that enables it, are increasingly important. New approaches such as open innovation take advantage of the benefits of the IP system and ensure that vital know-how and ingenuity can be shared with other solution seekers. All of this means that an understanding and awareness of IP and the need for its protection is increasingly critical.
Looking back over the last 10 years is also a time for looking forward, to the next 10 – and to what the future of IP might bring.
By Sylvie Castonguay and Heidi Schrott, WIPO Communications Division
__________________________________
The WIPO Magazine is intended to help broaden public understanding of intellectual property and of WIPO's work, and is not an official document of WIPO. The designations employed and the presentation of material throughout this publication do not imply the expression of any opinion whatsoever on the part of WIPO concerning the legal status of any country, territory or area or of its authorities, or concerning the delimitation of its frontiers or boundaries. This publication is not intended to reflect the views of the Member States or the WIPO Secretariat. The mention of specific companies or products of manufacturers does not imply that they are endorsed or recommended by WIPO in preference to others of a similar nature that are not mentioned.