Climate Change: Hot Property – IP Strategies in the Solar Tech Sector
June 2008
Every day, the sun radiates down onto the earth a thousand times more energy than we could ever use. The demand for technologies capable of tapping into that energy is booming as pressure mounts to find solutions to climate change and sustainable development. Solar photovoltaic (PV) systems - which convert light energy from the sun directly into electricity – produce no greenhouse gases in their operation, have no moving parts, require virtually no maintenance, and have cells that last for decades.
PV systems are not new. A nineteen year old French physicist, Edmond Becquerel, is credited with having first described the photovoltaic effect in 1839. But it was not until the 1950s, when American researchers at the Bell Telephone Laboratories developed silicium solar cells, that the modern technological era of PV began – and even then only haltingly. U.S. government support for PV technology was initially tied to the space program, where it was used in 1958 to power the Vanguard satellite. Terrestrial commercialization was subsequently spurred by the 1970s oil crisis, and in the 1980s small markets began to appear, specializing primarily in stand-alone systems for rural areas.
The turning point for the industry was the development in the 1990s of the market for grid-connected PV systems. Figures published by the Earth Policy Institute indicate that, since 2002, global PV production has been increasing by an average of 48 percent a year, making it the world's fastest-growing energy technology. The growth has created a flourishing industry which offers a wide range of applications, while investing major resources in R&D with the primary aims of reducing cost and increasing efficiency.
Inside Isofoton
One of the world's leading companies in PV and thermal solar energy technologies is Isofoton in Spain. The company was created in 1981, initially as a spin-off to develop and produce two patented bi-facial solar cells invented by Professor Antonio Luque at the Polytechnic University of Madrid. Today, Isofoton manufactures modules, cells, trackers, inverters, regulators, lighting, batteries and pumping systems, and develops new products and processes for attracting, transforming, storing and using the sun's power. It has a commercial presence in over 60 countries, with subsidiary offices in China, Ecuador, U.S., Italy, Morocco, the Dominican Republic, Algeria, Bolivia and Senegal.
As an innovation-driven company, intellectual property (IP) is central to Isofoton's business and R&D strategies. Jesús Alonso, Isofoton's R&D Director has been working in the field of solar energy for 20 years. Interviewed for the WIPO Academy, he offered the following insights into how the company uses IP to achieve its goals and to maintain a leading edge.
Isofoton: Facts and figures (2007)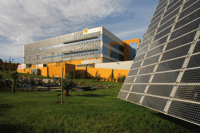 Isofoton aims to generate and own all its IP. (Photos: Isofoton)
Established: 1981
Headquarters: Malaga,Spain
Number of employees: 950
Turnover: €297 million
Investment in R&D: €18 million
PV production: 85 megawatts
To acquire or to invent?
In the PV solar energy sector, explains Sr. Alonso, there are broadly two categories of companies: those, like Isofoton, which come from the semiconductor and microelectronics sector and those which historically belong to the energy sector, particularly to the oil industry. The former are generally technology developers, while the latter tend to buy in technologies from outside. "Bear in mind," Sr. Alonso notes, "any good scientific book will tell you how to make a solar cell. What is complex is the know-how required to make it efficient, at a lower price, in higher quantities, and with a better quality."
For Isofoton, the basic goal is that the company should as far as possible generate and own all its IP as a result of its internal research and development activities, so as to be independent from the competition in generating new technology and ahead of competition in the applications market. The guiding principle is to take advantage of being the first with a new technology, or in a market, and to use IP to make the most of that competitive advantage. The strategic backing of innovation has enabled Isofoton to become a pioneer in concentration technology – i.e. the use of optical systems to concentrate solar energy a thousand times in one point.
Which IP rights?
Isofoton has a small - but strategically important - patent portfolio, including two patent applications filed under the PCT. The type of IP protection used by the company depends on what is to be protected and why. For specific products already in the development phase, and above all in the application phase, it becomes crucial to patent, says Sr. Alonso.
On the other hand, patents are not necessarily used to protect the development of new technological processes within the company. Sometimes, Sr. Alonso explains, it is better to focus on protecting know-how, particularly in view of cost reductions that can be achieved through know-how protection compared to patenting.
The protection of Isofoton's trademark is handled and monitored separately by the Marketing Department.
Where to protect?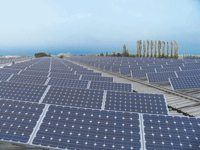 A solar PV roof top installation by Isofoton has cut costs at the Torelli Pierluigi cheese factory in Parma, Italy. (Courtesy Isofoton)

Decisions as to which applications should be protected where, are linked to the specific type of application and the markets in which it is used. Isofoton divides its strategic markets into two main segments:
(a) The market for PV applications connected to the electric grid. This is mostly in Europe, Japan and the U.S. Here, Isofoton takes a broad approach, seeking to protect everything related to these types of applications.
(b) The market for isolated PV installations. This is strong and growing fast in developing countries, where Isofoton aims to reach the markets before its competitors with solutions – such as for water pumping or lighting systems - which are best adapted to local needs. Being the first company to offer an appropriate technological application brings a long lasting competitive advantage in these markets, Sr. Alonso emphasizes. Here, patenting decisions are made on the basis of actual and potential local use of each application with a view to maintaining the competitive advantage and facilitating further expansion. North Africa, for example, is a strategic market for Isofoton, where all its applications are used and therefore need to be protected by IP rights, together with the R&D associated with these applications.
Any good scientific book will tell you how to make a solar cell. What is complex is the know-how required to make it more efficient, cheaper, in higher quantities, and better quality.
Licensing-in and R&D partnerships
There are a few cases where Isofoton does license-in technology for development or jointly develops technologies in cooperation, for example, with a research center or university. In such cases the key for Isofoton is that its own personnel should be directly involved in all phases of the R&D. This way, says Sr. Alonso, the company has the option of continuing research beyond the specific project objectives, in order to create or develop technologies independently from the original partners.
In its R&D contracts with external partners, Isofoton works with two models of IP rights ownership:
(a) When the company contracts with universities or other companies for a specific technology development, Isofoton insists on retaining 100 percent ownership of the IP rights in order to have first call in any subsequent exploitation. The company does, however, leave open to its partners the possibility of exploiting the development themselves, provided this does not cut across Isofoton's own strategic interests, and subject to Isofoton's prior consent.
(b) For R&D activities undertaken in the context of national programs or under the European Union Research Framework Programs, Isofoton requests free access to any IP generated for its own R&D purposes, but not necessarily for direct use or licensing.
Licensing-out and technology transfer
The PV manufacturing process, explains Sr. Alonso, can be divided into the manufacture of the solar cell and that of the module. As a strategic policy, he notes, it is central for Isofoton to retain complete control over the solar cell technology.
While Isofoton never assigns its IP rights to third parties, it does license out technologies for manufacturing the module. This is an option that the company would normally adopt in its second level priority strategic markets, with the aim of building a strong local partnership with the licensee and so securing a dynamic presence in the country. The technology transfer is also linked to sales of Isofoton solar cells, i.e. the leading company product.
Enforcing patents – Avoiding conflict
Isofoton has experienced few problems of patent enforcement. Sr. Alonso believes that this is due largely to the fact that there are relatively few competitors in the solar energy sector and each knows its own and each others' strong points, including in different geographical markets. "So rather than fighting with our competitors, the objective is to reach amicable agreements that safeguard Isofoton's interests in its strategic markets."
As Isofoton is a cutting edge technology company, IP policy sits at the crossroads between technology, marketing and finance. All IP-related policy and strategic questions, therefore, are handled collectively by the management board, which includes the directors of all company departments from engineering and applications, to marketing, commercial operations, finance and research.
"Having been born as a spin-off," Jesús Alonso concludes, "an IP-oriented mind-set comes naturally within Isofoton. IP is at the heart of the company culture."
Harnessing the Sun for Sustainable Development
Isofoton's management holds that going green is not only an obligation toward future generations, but is also key to boosting development in a world where, according to International Energy Agency estimates, a quarter of the population has no electricity. Among its many rural electrification projects, the company highlights the following achievements:
It has installed over 150 PV powered water pumping systems in African and Asian countries, and is now researching new applications focused on high powered pumps to supply water for agricultural use, for example in Ghana.
With financing from the Moroccan national electricity office, it is installing 34,500 PV energy systems in remote

villages in Morocco beyond the reach of the national electricity network.

In Senegal, Isofoton has brought electricity to 10,000 homes, and has begun installing the first PV-powered plant for water desalination through reverse osmosis, which aims to produce three cubic meters of drinking water per day.
It has supplied 17,000 homes, schools and health centers in Bolivia with solar electricity. 85 percent of the project is financed by the World Bank, and the remaining 15 percent by users through taxes and a microcredit system.

A rural electrification project in Bolivia has brought solar electricity to 17,000 homes, schools and health centers. (Courtesy of Isofoton)
Top PV Producers
The top five PV-producing countries are Japan, China, Germany, Taiwan and the US. Recent growth in China has been particularly dramatic: after almost tripling its PV production in 2006, it is believed to have more than doubled output in 2007.
With more than 400 PV companies, China's market share has rocketed from 1 percent in 2003 to over 18 percent today. China dislodged Germany from the number two spot in 2007, while the U.S., which gave the world the solar cell, has dropped from third to fifth place as a solar cell manufacturer since 2005.
Source: Earth Policy Institute and Prometheus Institute for Sustainable Development
By Elizabeth March, WIPO Magazine Editorial Team, Communications and Public Outreach Division.
Based on an interview conducted for the WIPO Academy by WIPO consultant Laurent Manderieux in June 2007.
The WIPO Magazine is intended to help broaden public understanding of intellectual property and of WIPO's work, and is not an official document of WIPO. The designations employed and the presentation of material throughout this publication do not imply the expression of any opinion whatsoever on the part of WIPO concerning the legal status of any country, territory or area or of its authorities, or concerning the delimitation of its frontiers or boundaries. This publication is not intended to reflect the views of the Member States or the WIPO Secretariat. The mention of specific companies or products of manufacturers does not imply that they are endorsed or recommended by WIPO in preference to others of a similar nature that are not mentioned.