Invention Awards
April 2008
Saudi Arabia, Switzerland and Thailand were just three countries to host major invention exhibitions in recent weeks. At each of these events, WIPO presented awards for notable inventions selected by independent juries. The WIPO Awards program, which celebrates the achievements of inventors, creators and innovative companies around the world, aims to help foster a culture in which innovation and creativity are encouraged at all levels.
Inventive women in Saudi
Women inventors were prominent at the Ibtikar Fair in March - billed as the first Saudi Innovation Exhibition - which drew some 35,000 visitors.
The WIPO Award for the best invention by a woman – a category introduced to the WIPO Awards program some years back to help address a lingering perception that inventing was a man's game – was won by the dynamic young Reem Ibraheem Khojah. Based on her experience as a laboratory technician, she devised a fully automated process for microscope analysis of liquid samples. It took her just two months to build the prototype for her "automated cylindrical slide microscope," which, she say, will save time, save resources and reduce health hazards for laboratory workers associated with the disposal of biological material.
The top prize at the Ibtikar Fair, awarded by co-organizers Aramco and the Mawhiba foundation, also went to a woman. Faten Abdul Rahman Khorshid had combined her medical training with traditional knowledge to develop an anti-cancer agent from an unlikely source – camel's urine. The active ingredient has proved successful in eradicating leukemia cells in mice and lung cancer cells in humans.
The WIPO best invention award at the same event was won by Mr. Ahmed Basfar for halogen-free flame retardent compounds for wires and cables.
Striking deals in Switzerland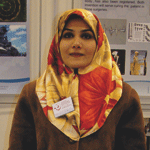 Maryam Eslami. Mending bones. (Photo: courtesy of M. Eslami).

In April, the 36th International Exhibition of Inventions, New Techniques and Products in Geneva, brought together 720 inventors from 45 countries, all hoping to attract the eye of an investor. According to the organizers, licenses totaling more than US$40 million were negotiated at last year's Exhibition. "Companies are now looking for ideas outside their own R&D department," explains the fair's founder, Jean-Luc Vincent. Added to which, he believes, as the attractions of the stock market wane, more investors are looking to back inventions which they assess could be commercially successful.
A jury of international experts selected the award winners, including the two WIPO laureates:
A young Iranian researcher, Ms. Maryam Eslami, won the WIPO Award for the best invention by a woman for an apparatus used in bone related ailments.

Mr. Wan Tarmeze, of the Forest Research Institute Malaysia, won the WIPO Award for the best invention by a developing country national. His engineered wood, POPS™ Lumber, uses waste biomass from oil palm plantations, so relieving the burden on forests as a source of timber. His was among many notable innovations inspired by climate change challenges at this year's Exhibition.
 
Fire-fighting in Thailand
Without inventors, no invention; without innovation, no development. - So ran the slogan of the First International Inventors Day Convention, which was held in Bangkok in February by the National Research Council of Thailand and the International Federation of Inventors Association.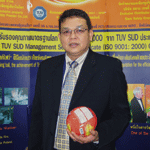 Woradech Kaimart. Fire-extinguishing ball. (Photo: WIPO/ R.Paguio)

WIPO presented an Outstanding Inventor medal to Mr. Woradech Kaimart. He had set about inventing an easy-to-use fire extinguishing device after he witnessed a tragic fire at a hotel eleven years ago, resulting in the deaths of 91 people. His chemical-filled Elide Fire Extinguishing Ball, patented and now on the market, is reportedly able to put out a fire with a radius of about 1.3 meters when simply thrown at the blaze. It can also self-activate if a fire breaks out close by.
The WIPO Award for the best invention by a woman went to Princess Maha Chakri Sirindhorn for a technique using digital high resolution imagery to aid map accuracy in the study of land use. The Thai royal family is known for its active encouragement of inventors. Thai National Inventors Day was established on February 2 to mark the date on which King Bhumibol Adulyadej received a patent on his low speed surface aerator for agricultural use.
Report by Elizabeth March, WIPO Magazine Editor, Communications and Public Outreach Division.
Related Links
The WIPO Magazine is intended to help broaden public understanding of intellectual property and of WIPO's work, and is not an official document of WIPO. The designations employed and the presentation of material throughout this publication do not imply the expression of any opinion whatsoever on the part of WIPO concerning the legal status of any country, territory or area or of its authorities, or concerning the delimitation of its frontiers or boundaries. This publication is not intended to reflect the views of the Member States or the WIPO Secretariat. The mention of specific companies or products of manufacturers does not imply that they are endorsed or recommended by WIPO in preference to others of a similar nature that are not mentioned.