IP and Business: IP Strategies in the Textile Industry - An SME faces the challenge
April 2008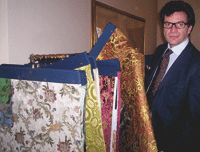 Gustavo De Negri with the textile samples from his last collection displayed at the 2008 Proposte fair. (Photos WIPO/S. Castonguay)
The last issue of the WIPO Magazine discussed industrial design protection in Europe's fashion and textile industry (Design Law in the European Fashion Industry). This article picks up the theme by looking at the IP strategies of a small textile company in San Leucio, Italy. Gustavo De Negri & Za.Ma faces a huge challenge from Asia's silk-producers. Their answer: innovation and quality.
The silk fabrics of Gustavo De Negri & Za.Ma grace the homes of the rich and famous, presidential residences, royal palaces and luxury yachts. De Negri makes the fabrics which are presented by renowned interior decorators at the prestigious Maison & Objet fair in Paris as their own. De Negri's client list includes Ralph Lauren Home and Christopher Hyland Inc. – the largest purveyor of luxury European textiles in the world.
Gustavo De Negri, who founded the company in 1998, is the fifth generation of his family in the silk-making trade. WIPO Magazine asked Signor De Negri how his small enterprise of 42 employees is competing with inexpensive, attractive Asian fabrics that are flooding the European market.
The company's strategy is threefold: a constant self-renewal by creating new fabric designs; technical innovation in the mill's mechanical, chemical and finishing processes; and the creation of a strong collective trademark for silk fabrics from San Leucio.


Rich silks for home furnishing designed by Gustavo De Negri & Za.Ma. (Picture 3) Silk filaments twisted into thread are combed onto the loom for weaving into textile.
Dress for the house
The previous generations of the De Negri family made silks for the ceremonial robes of popes and cardinals at the Vatican as well as for Europe's royal families. Without disrupting this service, Gustavo has extended the range – and with it the reach of his company – by branching into high end decorative fabrics for home furnishing. He offers what he calls "a tailor-made dress for the house." Every De Negri design is unique and produced in limited edition.
De Negri uses no standard weaves. Every creation results from months of research and development into the design, colors, weaving and finishing. Gustavo De Negri launches the creative process by studying both interior decoration and fashion trends. He then discusses his ideas with his two designers to choose a direction. Over the months that follow, the designers research past designs, works of art, coats of arms, etc. in order to create two or three novel designs, which De Negri tests with his client base. From their feedback, a design is selected and a prototype produced to test different qualities of fabric, color and weaving.
The company launches its new prototype designs every January at the Proposte trade fair in Como, Italy, where the world's interior decorators select the fabrics that they would like to make their own. De Negri then works with them to individualize the designs to their needs in time for the September Maison & Objet fair in Paris.
"It can take up to three years for a prototype to come to Proposte," Gustavo explains. "And sometimes, when it gets there, it is ahead of its time. It may take another two to three years for designers to catch on, before it becomes a must have item." But he remains firm in his belief that innovative designs are a key part of the De Negri success.
Technical innovation
The other main element is technical innovation. De Negri uses trade secrets to protect its modifications, improvements and customization of the production chain from twisting to dying and weaving as well as finishing.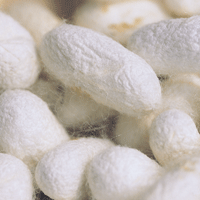 A four gram silkworm cocoon yields a 1,000 meter silk filament. (Photos.com)

Each four gram silkworm cocoon produces a 1,000 meter super fine silk filament. Five to eight filaments are twisted to make a thread, which can be woven into fabric. De Negri buys cleaned and purified Chinese cocoons in Como, where some 80 percent of Europe's silk is produced. But the process from silk filament to textile in the De Negri mills is unique. Machines have been modified – some even been built from scratch – making it virtually impossible for imitators to reproduce the same process and quality product.
Gustavo De Negri works with a Milanese loom maker to improve their machines and modify them to suit his company's requirements. In a unique cross-licensing agreement the manufacturer makes the changes for free and Gustavo De Negri authorized them to incorporate the improvements in their new machines. He says it is a good deal for him, "I get machines manufactured to my specifications for free and I am first on the market with this new technique. By the time imitators come out with a copycat product, we have already moved on to something better." What he does not mention are the further modifications he makes to the loom once it enters his mill.
He has also worked with local university researchers to develop new techniques for finishing fabrics. One innovation made it possible for heavy brocades to drape like a light silk. Another resulted in an embossing effect on silk – much like embossed leather. Another produced a new watermark effect. He is now working with a university on a nano-technology that he says will revolutionize the industry. As to how, we will have to wait to find out.
"By the time imitators come out with a copycat product, we have already moved on to something better."
San Leucio collective mark
In 2006, four San Leucio silk textile makers, G. De Negri & Za.Ma, Tesseci & Cicala, Bologna & Marcaccho and A.L.O.I.S., announced the founding of a consortium to unite their strengths and consolidate their position in the textile industry in view of the threat from China's textile makers. Their goals:
to establish an organizational structure for joint activities to promote their industry and product;
to create synergies with universities to innovate and stay ahead of foreign competition; and
to register and manage a San Leucio Textile Silk Quality collective trademark (see box).
Gustavo De Negri is one of the consortium's driving forces. He describes the trademark consortium as "a necessity" in view of the competition. He sees the trademark as a symbol of the San Leucio heritage in making rich, high quality silks. Only the four members of the consortium – whose families have been part of San Leucio's silk industry for generations – are authorized to use the trademark for tailor-made silk fabrics, produced in San Leucio for the business to business sector.
Keeping a step ahead
De Negri & Za.Ma may be a small company, but they have kept ahead by thinking big. What is on Signor De Negri's wish list for the future? He would like a more even playing field where Asian textile imports would also be under obligation to enforce the strict – and costly – European and North American regulations in the area of dyes and finishing. He would like to be able to stop his clients from turning around and getting his designs and fabrics reproduced more cheaply in Asia – the quality is not the same, and the weave and design are slightly different, but few end users notice. And finally, yes, he would like people to know that the exclusive textiles they buy from well-known fashion houses are Gustavo De Negri & Za.Ma fabrics. Time to register that trademark?
From Royal Colony to Quality Mark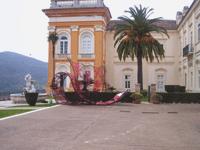 A monument to silk in the Belvedere courtyard. Today, the Belvedere houses a silk museum. Both the Belvedere and the borough of San Leucio are on the UNESCO World Heritage list.
San Leucio is a small hamlet that runs a few short streets downhill from what was once a royal hunting lodge. But what it lacks in size, it makes up in history and prestige. San Leucio has a rich heritage in the creation of exclusive tailor-made silk fabrics - a reputation for excellence that its founding families are seeking to protect by creating a collective mark for the village.
In 1750, King Ferdinand Bourbon selected San Leucio for an experimental model of production. He transformed his royal hunting lodge, the Belvedere, into a silk production site with industrial buildings, residences for the workers and a public school – the first in Italy – for their children. The King's project was to create a vertical system that went from the silk cocoon to the finished product – the very best Europe could offer. He sought the most advanced technologies and artisans and brought them to San Leucio: brocade makers from Lyon; loom makers from Milan, expert silk makers from Tuscany.
In 1789, a Royal edict established San Leucio as the "Silk Weavers Royal Colony" with its own code of law. Its members had a privileged status, a modern social security system and compulsory schooling from the age of six. Dowries were abolished and parents were forbidden to interfere in their children's love lives, but with one limitation: only those who could work silk could get married. Thus the art was handed down from one generation to the next.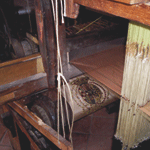 So was born San Leucio's reputation for excellence. A standard of quality maintained after the industry was privatized and became family-owned in the 19th Century. It is for this high standard that the San Leucio's silk makers are creating the San Leucio Textile Art Innovation collective mark.
The consortium managing the collective mark expects to begin using it in 2009. In the vertical system set-up by King Ferdinand, the tailor-made textiles of San Leucio went to end product manufacturers, not to the end user. This tradition will remain – at least for now. The San Leucio Textile Art Innovation collective mark is exclusively for the business to business silk textile sector. It will appear in the border of the meters of fabric which are made to order and sold directly to the world's top interior decorators.
By Sylvie Castonguay, WIPO Magazine editorial team, Communications and Public Outreach Division
The WIPO Magazine is intended to help broaden public understanding of intellectual property and of WIPO's work, and is not an official document of WIPO. The designations employed and the presentation of material throughout this publication do not imply the expression of any opinion whatsoever on the part of WIPO concerning the legal status of any country, territory or area or of its authorities, or concerning the delimitation of its frontiers or boundaries. This publication is not intended to reflect the views of the Member States or the WIPO Secretariat. The mention of specific companies or products of manufacturers does not imply that they are endorsed or recommended by WIPO in preference to others of a similar nature that are not mentioned.