Green Design – From Cradle to Cradle
April 2007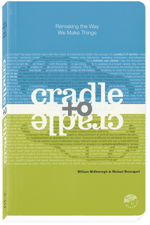 The book embodies the authors' philosophy: It is printed on a 'paper' made from plastic resins and inorganic fillers, which is waterproof and rugged, but can be completely recycled. (Courtesy W. McDonough & M. Braungart)
Sustainability is today's buzzword in design. The green market is expanding rapidly and eco-friendly design is helping companies to stand out from the competition. Green designers – a new breed of environmentally conscious engineers and architects – are rethinking entire product life cycles, from the industrial manufacturing processes, to what happens at the end of the life of the product. They aim to build non-polluting factories, which make products that are safe for the environment and 100 percent recyclable, by designing new industrial methods and scrutinizing every raw material that goes into fabrication. Some products created according to these principles now carry a new certification mark: Cradle to CradleTM (C2C).
The C2C certification mark is the brainchild of one of the leading lights of the movement, the architect and industrial designer William McDonough, who co-wrote "Cradle to Cradle" in 2002 with his business partner, German chemist Michael Braungart. Mr. McDonough's vision differs from that of traditional environmentalist. Rather than seeking to reduce consumption, he wants to help bring about a new Industrial Revolution: the reinvention of industrial processes to produce clean solutions and create an industry where "everything is reused – either returned to the soil as nontoxic 'biological nutrients,' or returned to industry as 'technical nutrients' that can be infinitely recycled."
The goal is to remodel industry and architecture to emulate the balance found in nature's ecosystems. It may sound an impossible dream, but hard-headed Fortune 500 companies are already working with him.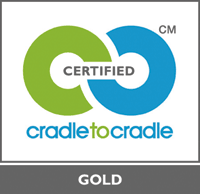 The C2C certification trademark (silver, gold or platinum level) distinguishes products the entire life cycles of which are based on sustainable design. (Courtesy W. McDonough & M. Braungart)
Fabric "safe enough to eat"
In 2002 the Swiss textile manufacturer Rohner Textil made headlines, cut costs and won new business when the company teamed up with Mr. McDonough and U.S. textile design firm Designtex to produce a biodegradable upholstery fabric that they describe as "safe enough to eat."
While Rohner's textile mills already complied with Swiss environmental regulations, its fabric trimmings had been declared hazardous waste. To produce the new fabric, Climatex® Lifecycle™, a fundamental re-design took place in every aspect of production, from the factory work space, to the elimination of all toxic dyes and chemicals, to the sourcing of raw materials. It is woven from the wool of free-range New Zealand sheep and from ramie, an organically grown fiber from the Philippines. The manufacturing process generates no pollutants. Extensive testing identified just 16 out of 1,600 color dyes that met the consortium's sustainability criteria. As a result, Rohner claims that its factory waste water now tests cleaner than the water coming into the plant. The fabric trimmings are recycled with a consortium of strawberry farms, which use the biodegradable scrap as mulch for ground cover and plant insulation. Moreover, the elimination of regulatory paperwork reduced production overheads by 20 percent.
William McDonough notes: "Not only did our new design process bypass the traditional responses to environmental problems (reduce, reuse, recycle), it also eliminated the need for regulation, something that any businessperson will appreciate as extremely valuable."
Sustainable building
Mr. McDonough is also working with the China Housing Industry Association, which has a commission from the Chinese Government to build homes for 400 million people over the next 12 years – seven new cities. He is working with them to identify environmentally safe building materials, such as a polystyrene from BASF which uses no noxious chemicals and can be used "to build walls that are strong, lightweight and super-insulating," he told Newsweek Magazine. "The building can be heated and kept cool for next to nothing. It's so silent, if there are 13 people in the apartment upstairs, you won't hear them."
And that is just one of his home solutions. He has designed a new luxury toilet bowl that requires only a light mist to flush, and has included bamboo wetlands in the project planning to purify the waste and provide wood. He is making rooftops into farmland, such as the "living roof" on the Ford Company's Rouge Factory, which cleans storm water and cuts down on energy costs.
Living Roof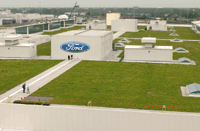 The roof on the Ford Rouge Factory is a 4.2 hectare garden, filled with birds and butterflies. (Courtesy Ford Motor Company)

Planted with sedum, the living roof on the Ford Company's Rouge Factory helps reduce the urban "heat effect" created by acres of tarred and paved surfaces. It also insulates the building, reducing heating and cooling costs by up to 5 percent. The sedum traps air-borne dust, absorbs carbon dioxide, and creates oxygen. By protecting the under-lying roof structure from ultraviolet radiation and the thermal shock caused by warm days and cool nights, the roof is expected to last over twice as long as a conventional roof, so potentially saving millions of dollars in replacement costs.The sedum is planted in a four-layer, mat-like system, which collects and filters rainfall as part of a natural storm water management system. Combined with other elements, such as porous pavements, underground storage basins and natural treatment wetlands, this reduces the amount of storm water flowing into the Rouge River, while also improving water quality. Even when soaked with water, this innovative vegetation blanket weighs less than 15 pounds per square foot.

(Source: www.thehenryford.org)
In the office
Office cubicles have also been built in accordance to C2C standards. The evidence that PVC (polyvinyl chloride) – ever present in construction materials, furniture finishing and wiring – is a carcinogen and that its disposal is harmful to the environment, ruled out its use in any C2C certified product. So PVC laminated work surfaces were replaced by wood, and suppliers of non-PVC-coated wiring were identified.
Many paints contain volatile organic compounds (VOC), which cause paint to release toxins in the air for years after application – the principal reason why indoor air tested by the Environmental Protection Agency was three times more polluted than outdoor air. Green designers had to work with industry to develop environmentally friendly zero-VOC paints for their office space. ]
Accepting the challenge
Many companies are accepting the cradle to cradle challenge. From diapers to artificial turf, from pre-fabricated building exteriors to office chairs – the list is long and growing.
By Sylvie Castonguay, WIPO Magazine Editorial Staff, Communications and Public Outreach Division
______________________________
The WIPO Magazine is intended to help broaden public understanding of intellectual property and of WIPO's work, and is not an official document of WIPO. The designations employed and the presentation of material throughout this publication do not imply the expression of any opinion whatsoever on the part of WIPO concerning the legal status of any country, territory or area or of its authorities, or concerning the delimitation of its frontiers or boundaries. This publication is not intended to reflect the views of the Member States or the WIPO Secretariat. The mention of specific companies or products of manufacturers does not imply that they are endorsed or recommended by WIPO in preference to others of a similar nature that are not mentioned.