IP and Business: A Tale of Two SMEs
August 2006
Many a small business owner feels swamped by IP-related information from websites, newsletters, publications and IP offices. Yet relatively little of it is well-tuned to the needs of small and medium-sized enterprises (SMEs).
A joint initiative from the European Patent Office (EPO), the Danish Patent and Trademark Office, the French Industrial Property Office, the German Patent and Trade Mark Office and the United Kingdom Patent Office responds to the need for more specific information about how real SMEs manage their IP. Together they have compiled a series of case studies based on extensive interviews with SMEs, and, drawing from these studies, have formulated twelve key recommendations.
The following two case studies have been adapted by WIPO Magazine courtesy of the EPO. The full versions and further case studies are available at www.epo.org/sme.
NYCOMED, Denmark: Competing against pharmaceutical giants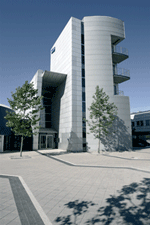 Nycomed headquarters. In-licensing novel products from U.S. pharmaceutical companies has proved a profitable niche. (Photo - Nycomed)
Back in 1874, a Norwegian pharmacist, Morten Nyegaard, founded Nyegaard & Co. with the aim of improving health education. Along the way, he introduced some 900 products from Norway to the rest of Scandinavia and created a pharmaceutical research center to produce new drugs. Today, the privately owned company, renamed Nycomed and based in Roskilde, Denmark, employs 3,300 people (small compared to the 64,000 employed by Astra Zeneca in neighboring Sweden) and operates in 20 European markets, Russia and the CIS. Net sales in 2005 were Euros1,747.5 million (US$2,234.5 million). Its key products include drugs to combat osteoporosis and acid-related gastrointestinal diseases, drugs designed to stimulate wound healing, and an anticoagulant used in cardiology.
Unlike many of its competitors, Nycomed focuses less on creating new products, and more on marketing to expand the reach of its products, including those that it licenses in from other companies. It favors products that can be marketed in multiple countries and with a sales potential of over Euros150 million (US$192 million). Rather than trying to compete across the board with the big pharmaceutical companies, it has chosen to compete in particular markets and with carefully selected products. The strategy is working. The company's best-selling product, CalciChew, (a combination of calcium and vitamin D3), is the top calcium product in Europe with a 40 percent market share. Pantoloc/Zurcale (for gastro-intestinal diseases), which it licenses from another company, is the number one seller in its class in Austria and number two in the Netherlands and Belgium.
Most of the company's in-licensing partners are U.S. pharmaceutical companies, unfamiliar with Europe's complicated markets. "Helping foreign companies bringing their novel products to Europe has proven to be a very good niche," says Aase Helles, head of the Nycomed IP team.
Money well spent
Marketing products successfully also means protecting the company's associated IP rights in them. In 2003, Nycomed estimated that 46 percent of its turnover came from patent-protected products. Today that figure has risen to between 55 and 60 percent and will continue to rise as all newly introduced products are patented.
Managing IP is complicated and costly with a portfolio consisting of some 510 patents, plus some 800 or so registered trademarks which provide some protection from generic competitors once patents covering the products expire. The company budgets Euros12.3 million (US$15.7 million) per year to file, protect and exploit patents. Litigation is especially expensive. A single action in a single country costs roughly Euros1.5 million (almost US$2 million), and much more for litigation covering several countries and appeals. But Nycomed considers the money well spent and has yet to lose a lawsuit.
Patents serving business needs
Nycomed has a clearly articulated patent strategy, which is formally approved by the CEO. The patent policy serves as a mission statement and guides the company's decision-making.
The company has a set procedure on patenting new products. The patents are first filed in Denmark, where costs are low and the procedures familiar. This gives a year to decide whether to expand the reach of the patent. If so, Nycomed then typically files patents in all European countries, Russia and the CIS, Canada, China, Japan, the US and other selected countries.
Nycomed also protects its products in other ways. Sometimes, it simply tries to keep processes secret, although it is difficult to prevent employees who join competitors from divulging secrets. At times Nycomed takes the opposite approach, publishing information about processes to put them in the public domain and keep them from being patented by others.
Each year the company conducts a major IP review. Any patents in its portfolio that are no longer generating revenue are checked for their licensing potential. If there is none, they may be abandoned by the company or assigned to a university. "We [don't] spend where we don't have business," says Ms. Helles. Competitors' patents are also scrutinized to ensure they are not infringing the company's patents and vice versa. The annual patent review can also identify new technologies and ideas to pursue.
Nycomed's experience shows how a well thought-out and executed IP strategy can keep a relatively small company competitive in a market dominated by much larger rivals. "Our patent strategy today is very much linked to our business strategy," explains Ms.Helles. "We treat our patents like money."
IP Profile
Patent protection: 510 patents in 39 patent families
Filing order: Denmark, then all European countries, Russia and CIS, Canada, China, Japan, US and others.
IP department: Internal team of 9 specialists. External patent attorneys are also used.
Budget: Euros 12.3 million (US$15.7 million)
Success factors: Clear link between IP and business strategy.
Challenges: Litigation costs. Translation costs.
For more information on Nycomed see www.nycomed.com/
__________________
INTELLIGENT TEXTILES, UK: Smart use of fabrics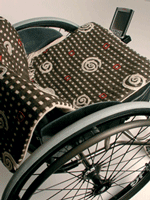 Pressure sensors in a wheelochair cover to prevent pressure sores. (Photo Intelligent Textiles)
A few years back, two university academics, Stan Swallow and Asha Peta Thompson, created a process of weaving electrical circuits into fabrics such as cotton, wool and polyester. Whereas previous technologies involved fusing multiple layers of cloth, their fabric is a flat piece of cloth that looks like any other. Woven with conductive fibers and connected to an energy source such as a battery, the fabric can, for example, incorporate heating elements to warm a glove; or sensors that respond to pressure transforming a piece of cloth into a computer keyboard. Having patented their technology, the inventors set up a company.
Intelligent Textiles is a tiny fish in a huge ocean. It operates out of a two-room studio near London, with sewing machines on the desks and a wooden loom in the corner. Three part-time staff do technical, administrative and sales work. Its handful of customers includes a clothing company, which makes a jacket with Intelligent Textiles' technology in the sleeve to control an MP3 player. The technology is also used in an easy chair that reclines at a squeeze of the armrest; and in foot-warming insoles for shoes and ski boots. The founders also sell their know-how through consulting contracts to a range of industries in Europe and the US. While sales volumes are modest, the potential is large.
The gamble pays off
Dr. Swallow, a design engineer, was a lecturer at Brunel University. Ms. Thompson, a weaver by training, was a research fellow at the same university, designing educational toys for disabled children. From the start, they viewed IP as crucial enough to handle much of the patent filing work themselves. Even though the university supplied a patent attorney, they spent some six months drafting the 30-page U.K. patent application, conducted their own novelty search for conflicting patents in addition to searches by professional providers, and consulted outside patent attorneys to be sure they were getting the best advice from the university's expert.
Originally, the university owned the patent. In 2000, Dr. Swallow and Ms. Thompson took a gamble and bought back the rights, emptying their savings accounts and borrowing from family and friends to do so. It was not an easy decision. While the university could provide further research and development, they worried that the technology's potential might prove too big for the institution to handle. They needed to commercialize the product quickly. "That is notoriously difficult from inside a university," says Dr Swallow.
Shortly after establishing the company, they took a road trip to approach potential customers. A technology manager at a major toy company warned that they were sure to end up fighting for their IP rights in a court of law. Encouraged, they decided to expand the patent's reach by filing under the PCT and with the EPO.
The filing with the EPO gave them an unexpected advantage during negotiations with their first customer, Australian Wool Innovation. "It was stated in no uncertain terms that had our patent only been granted by Australian authorities instead of the European Patent Office, it wouldn't have been valued nearly as highly," says Ms. Thompson. The resulting contract was large enough to fund further development and to pay back family and friends. The company has been operating on cash flow ever since.
Growing sales organically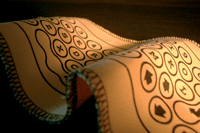 A piece of cloth transformed into a
computer keyboard. (Photo Intelligent Textiles)
Although venture capitalists have offered money to expand the company, the two have preferred to keep the business small and grow sales organically. This has meant outsourcing what they do not have time to do themselves. Having cut, sewn and tested the first 10,000 units themselves, they now outsource manufacturing to an English firm. A patent attorney was among the first of their external recruits. After interviewing six candidates, they opted for the patent attorney originally assigned to them by the university, because of his enthusiasm for the technology and his familiarity with a wide range of industries and IP filings.
Today, they own 17 patents in two families, as well as a few trademarks. Four companies hold options to license Intelligent Textiles' technology. Not everything is patented; some know-how is kept secret. They have spent more than £100,000 (US$185,000) on IP filings and protection, not including the initial cost of buying the patent from the university. Annually they continue to spend as much as £40,000 (US$75,000) on IP-related issues.
They still do much IP work in-house to save money, and because they prefer to remain closely involved in this critical part of their business. Dr. Swallow drafts the documents, while the patent attorney checks and files them. Dr. Swallow also spends time each month scanning the EPO's database by keywords, inventor names and company names to check for infringement of his patents, the movements of competitors, and for inspiration. As the market grows, policing patent infringement becomes trickier, especially in markets such as China, says Dr. Swallow. "As soon as you file, you have a time bomb ticking," says Ms. Thompson.
To date, a first-to-market strategy, strong IP, and good fortune have kept the company from being swept away by larger rivals. But they are conscious that this situation cannot last forever, and in the meantime, they work around the clock. They hope one day to hire apprentices, but say they will continue to keep a tight rein on IP. "Without our patents," says Ms. Thompson, "we probably wouldn't have a company."
IP Profile
Patent protection: 17 patents in two families.
Patent filing order: UK, then the PCT and EPO.
IP department: The founders manage their own IP.
Budget: Approx. £40,000 ((US$75,000) per year.
Success factors: First-mover advantage.
Challenges: Infringement risk
For more information see www.intelligenttextiles.com/
_______________
Key recommendations based on interviews with SMEs
Develop an IP strategy: define your goals and know the level of patent protection you need at each step.
Get professional help: use a patent attorney if you do not have the skills in-house.
Choose the right patent attorney: (s)he should know your technical field well; and give sound, efficient advice taking into account your resource constraints.
Do not underestimate the cost of attorney charges, translation costs, renewal and other fees.
Demand information: ask your attorney for a clear overview of the filing process, waiting periods and costs involved in a patent application.
Adapt your filing strategy to your business needs: do not patent everything and everywhere. Be selective about which ideas and markets are worth protecting.
Do not view licensing as failure: it can be a lucrative alternative to manufacturing your own invention.
Revise your patent portfolio continuously: filter out patents with no business perspective for exploitation or licensing.
Watch the technology and the competition: use free patent information and other sources (e.g. scientific publications, trade journals) both to inspire yourself and to identify potential infringers.
Communicate pro-actively: communicating the protection of your IP is a cost-efficient means to reduce the potential risk of infringement
Keep in touch with your licensee: regular contact provides you with information on your licensee's activities and thus can prevent default.
Be sure of your case: if you are planning to fight an infringement make absolutely certain that you are in the right. Otherwise a lawsuit could be a quick route to bankruptcy.
The WIPO Magazine is intended to help broaden public understanding of intellectual property and of WIPO's work, and is not an official document of WIPO. The designations employed and the presentation of material throughout this publication do not imply the expression of any opinion whatsoever on the part of WIPO concerning the legal status of any country, territory or area or of its authorities, or concerning the delimitation of its frontiers or boundaries. This publication is not intended to reflect the views of the Member States or the WIPO Secretariat. The mention of specific companies or products of manufacturers does not imply that they are endorsed or recommended by WIPO in preference to others of a similar nature that are not mentioned.