IP and Business: The Synergy of Trademarks and Marketing
June 2006
This article was written by James A. Dimitrijevs, chair of the Intellectual Property Practice Group of the McDonald Hopkins business law firm Ohio, USA; and Annette Schaffer, trademarks specialist in the Legal Department of Pfizer Inc., USA. It first appeared in the INTA Bulletin of April 15, 2006.
While trademark lawyers and marketers approach the development and use of a mark from different perspectives, it is the synergy of the relationship between the two that results in a successful marketing effort.
Different jobs, different goals
Beginning in law school, lawyers are evaluated on their ability to spot issues. To "issue spot" is to identify problems that may arise from a client's acts or intended acts. This ability to spot issues demonstrates a lawyer's legal acumen, showing the quality of a lawyer's legal education and the breadth of a lawyer's professional experiences. Clients are most pleased with lawyers who not only identify problems but also are able to provide options for overcoming or minimizing those problems.
Marketers, on the other hand, have different concerns. Marketers help consumers understand the benefits of a product. Marketers are closer to the front line of competition, charged with making good products - and even some not-so-good products - successful. David Ogilvy, a U.S. advertising executive, once said:
"It has taken more than a hundred scientists two years to find out how to make the product in question; I have been given thirty days to create its personality and plan its launching. If I do my job well I shall contribute as much as the hundred scientists to the success of the product."
By the time the marketer is engaged, several business and technical personnel may have already decided that the product should be successful. The pressure is on the marketer to facilitate this success through his or her creativity. When the trademark lawyer's involvement comes long after the marketer's initial involvement, the marketer may have already evaluated and eliminated several possible marks and been subjected to criticism about the selected mark. After having defended the creation to others, a marketer may not be willing to surrender easily to the risks or concerns the trademark lawyer communicates after conducting a search.
Where do tensions between marketers and lawyers arise?
According to Amy Cohen Heller, senior trademark counsel for JohnsonDiversey Inc., the two biggest issues between marketers and trademark lawyers are timing and objectives.
While Mark Gale, chief operating officer and creative director of Charleston/Orwig Advertising, advises marketers not to underestimate the cost and disruption that can come about when the full evaluation of a proposed mark is not done, trademark lawyers are concerned about not having enough time to conduct appropriate diligence to assess the strength and availability of a mark. Erick Estrada, senior product manager for Pfizer Inc., points out that once a product has been developed, any delay in launching the product could forfeit an opportunity and result in the loss of money to the company. Therefore, planning-ahead for the final trademark is needed to achieve a successful launch.
An in-house trademark lawyer for a major consumer products company explains that marketers want to use descriptive marks because they are easier to market, while trademark lawyers tend to insist on selecting unique and "own-able" marks. However, Sondra Schol, in-house trademark counsel for Eveready Battery Company Inc.'s Schick Shaving Division, acknowledges that in some circumstances, such as when a product has a small marketing budget or is expected to have a short life, a descriptive or laudatory mark is more beneficial than a suggestive, arbitrary or fanciful mark. That is because the descriptive or laudatory mark will more quickly convey to consumers the product's benefits. Ms. Schol cautions her marketing contacts that one problem with selecting descriptive or laudatory marks for what are expected to be short-term products is that successful short-term products may become long-term products. Once a product becomes successful, others are more likely to want to compete with it or even copy it. Having committed to the use of a weak mark with such a product, the trademark owner may find that it is unable to stop competitors from using similar marks for similar products.
An in-house trademark lawyer for a major vehicle manufacturer explains that the trademark lawyer's responsibility is to identify the long-term impact a marketing campaign may have on the brand. However, the same lawyer acknowledges that, in an attempt to satisfy the internal expectations of short-term success for a product, a marketer may not be focused on the long-term effects on the brand. A creative marketer may want to corrupt a strong character logo mark, for example, by displaying the character in an uncharacteristic manner. While this conveys an effective short-term message to consumers, it is counter to the principle of maintaining a brand by consistent use.
Working together to manage the brand
As described by Richard Biribauer, Johnson & Johnson's chief trademark counsel, a company should manage a brand like a savings account. While the company may make occasional withdrawals from the savings account, the goal is to grow the account. A brand is replenished by use consistent with the intended brand image. When evaluating whether to use an existing brand with a new product, Mr. Biribauer suggests that the trademark lawyer and the marketer evaluate together "whether use of the brand will bring more to the project than to the brand."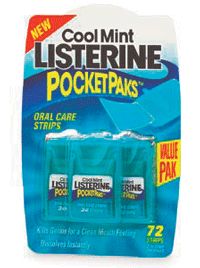 Lawyers and marketers at Pfizer worked together to develop the PocketPaks mark for these breath-fresheners. (Credit: Pfizer Inc.)
Mr. Biribauer encourages trademark lawyers to understand that the client may be willing to accept some risk in exchange for greater sales. If the marketer insists on a descriptive mark as a product identifier to allow consumers to understand the product more readily, the trademark lawyer should suggest truncating the proposed mark or adding some other element to make it sufficiently distinctive. Richard Friedman, Pfizer Inc.'s senior corporate counsel for trademarks, recommends that when a marketer accepts the risks and selects a descriptive term, the trademark lawyer should educate the marketer on how to use the term properly as a trademark (i.e., as an adjective identifying or modifying the generic term for the product). Mr. Friedman touts the development and use of the POCKETPAKS mark for "oral care strips" as one example of how the efforts of the trademark lawyers and marketers at Pfizer combined to develop an effective and protectable mark.
The senior counsel for a major media company recommends that the marketing team invite the trademark lawyer to early brainstorming sessions. This can allow the lawyer to conduct and evaluate preliminary searches before the team gets too committed to a specific mark. Mr. Biribauer agrees, and adds that "the lawyer can help to engineer the mark, trade dress and advertising at an early stage" to avoid potential concerns of an examiner or another trademark owner. In support of getting the trademark lawyer involved early, Ms. Heller asserts that the trademark lawyer, after having worked with all of the divisions within a company, can help to identify the company's overall risk tolerance and how the company is using and defining its brands. To minimize conflicting objectives, Mr. Estrada works with the trademark lawyers to identify and update standard protocols and timelines.
Despite the different perspectives of trademark lawyers and marketers, it is the combination of input that ultimately nurtures and grows the brand while products enjoy short-term success. As Mark Twain explained, "Synergy [is] the bonus that is achieved when things work together harmoniously."
This article was reprinted with permission from INTA Bulletin, Vol. 61, No. 8 - April 15, 2006
Copyright © 2006 the International Trademark Association
The WIPO Magazine is intended to help broaden public understanding of intellectual property and of WIPO's work, and is not an official document of WIPO. The designations employed and the presentation of material throughout this publication do not imply the expression of any opinion whatsoever on the part of WIPO concerning the legal status of any country, territory or area or of its authorities, or concerning the delimitation of its frontiers or boundaries. This publication is not intended to reflect the views of the Member States or the WIPO Secretariat. The mention of specific companies or products of manufacturers does not imply that they are endorsed or recommended by WIPO in preference to others of a similar nature that are not mentioned.