Putting Africa on the Animation Map: The Story of Pictoon, Senegal
September 2005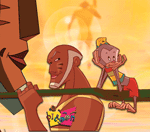 "Unless we know how to sell our culture, others will sell it for us." - Pierre Sauvalle, founder and co-director of Pictoon.
Africa's traditional heritage is rich in storytelling. So it seems altogether fitting that the first animated film series to come out of the continent is about Kabongo the griot, a West African storyteller. Kabango strides through the countries of the world, his singing monkey Golo at his side, searching for a worthy pupil to whom he can pass on his art and skills. In each country he encounters misfortune and adventure, and through his storytelling reveals the magic in the myths and legends of the country's past.
The 13-part cartoon series, the first to be entirely made in Africa, is the work of a small animation studio, Pictoon, based in Senegal's capital Dakar. Broadcast on the Canal France International (CFI) satellite service in December, 2003, Kabongo was an instant hit. "It's a magnificent series, very ambitious, and very African," CFI's programming director, Pierre Block de Freiberg, told TIME Europe Magazine.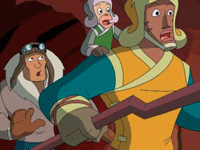 Images from Pictoon's Kabongo le griot, soon to be released in English.
Kabongo was the brain child of Pierre Sauvalle, who set up Pictoon in 1998 together with his co-director, Senegalese businesswoman Aïda Ndiaye. Mr. Sauvalle had worked for eight years in French production companies after graduating from the renowned animation school, Les Gobelins, in Paris. But he had always nursed the desire to return to Africa in order to start creating genuinely African productions. He engaged both African and French writers to work on the screenplay for Kabongo, but the storyboards, the animation, the colorization and the editing were all done by Pictoon in Dakar. Only post-production work (i.e. sound) was done in France.
With Kabongo, Pictoon has put Africa on the map of the animation industry and proved that Africa can produce seamless, high-quality cartoons. But that is just the start of Pictoon's ambitions. While the company could earn more than enough by producing local television commercials to keep it in business, its real aim is to attract some of the US$75 billion global animation industry its way.
Home grown talent
Mr. Sauvalle and Mrs. Ndiaye are unfazed by the challenge. So far they have found solutions to every difficulty they have encountered, be it a shortage of qualified artists, the power outages, or the problems of obtaining computer equipment and software appropriate for their use and sturdy enough for their environment.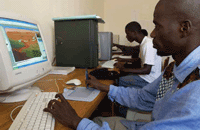 Young Senegalese artists receive cartoon animation training in Pictoon's studio.
Unable to find trained cartoon artists, Mr. Sauvalle began training them himself. He set up a two-year drawing and computer-animation apprenticeship for promising young artists whom he talent-scouted locally. As the apprentices gain experience and master the necessary skills, they in turn teach new arrivals. During busy periods, Pictoon now employs up to 120 people, all of them trained on site.
"The art industry is really important to Africa because it creates an image of us." – Pictoon co-director, Aïda Ndiaye.
Other problems that Pictoon could not resolve, they worked around. "You can put in all the surge protectors you like, but it doesn't change a thing," says Mrs. Ndiaye, the company's managing director. "Every year we have to replace the entire computer system."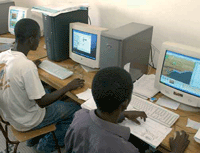 Competing globally
The wages paid to the art apprentices in Senegal, which is classified as one of the world's least developed countries, allow Pictoon to compete on cost grounds with Asian countries, such as South Korea, to whom European and U.S. animation production firms currently outsource much of their artwork. Combining low costs with high quality – which Mr. Sauvalle notes has impressed animation professionals around the world – Pictoon is shaping up to be a serious competitor in the global marketplace.
But Pictoon does not want business at any cost. Its founders are determined to continue producing their own films in order to remain true to their cultural heritage. They plan to create more African cartoons, inspired from legends and stories that have been passed from father to son for generations. Such stories, they believe, hold a universal appeal. Following the success of Kabongo in France and across francophone Africa, Sauvalle is confident that the soon-to-be released English version will capture the world market.
Registering intellectual property
Pictoon understands the value of its intellectual property and has registered Kabongo with the French collective management society, the Society of Authors and Composers of Dramatic Works. But Mr. Sauvalle is deeply concerned that the costs involved in protecting intellectual property are proportionally so much greater for developing countries. "The cost of registering creations and applying for patents is often simply beyond the means of creators from African countries," he observes. He would like to see fees waived for the poorest countries like Senegal, so that creators could register their works for free, "just as a father registering the birth of his new child."
Coming soon…
Soon to hit television screens is Pictoon's next series, The Invincible Lions of Africa. With, again, a winning combination of good story-telling and wisdom, the series weaves moral messages through the adventures of its football-playing animal stars, while projecting a positive image of Africa. Pictoon fans eagerly await its arrival.
______________
The WIPO Magazine is intended to help broaden public understanding of intellectual property and of WIPO's work, and is not an official document of WIPO. The designations employed and the presentation of material throughout this publication do not imply the expression of any opinion whatsoever on the part of WIPO concerning the legal status of any country, territory or area or of its authorities, or concerning the delimitation of its frontiers or boundaries. This publication is not intended to reflect the views of the Member States or the WIPO Secretariat. The mention of specific companies or products of manufacturers does not imply that they are endorsed or recommended by WIPO in preference to others of a similar nature that are not mentioned.