Young Iranian Talent at the Geneva Inventions Fair
May 2005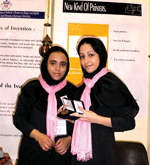 Student inventors Shima Rezaeian and Sadaf Alirezaey. Shima's printer had won her a bronze medal at the 2004 IENA inventions fair in Germany. (Photo Maria Icaza)
It is not every day that you meet a 20-year-old with 23 patented inventions to his name, which he manufactures and sells from his own factory. So WIPO Magazine was intrigued to come across Seyed Hossein Khabbazi at the April 2005 International Exhibition of Inventions in Geneva.
Hossein, an engineering graduate from Mashad, Iran, began inventing at the age of 7. His first idea was a "closed circuit sound camera." But at the Geneva Fair, Hossein was exhibiting his "trickle irrigation micro processor machine," designed to deliver to agricultural crops precisely the amount of water needed by each plant. He recounted how, having spent four years investigating variations in the electromagnetic fields given off by plants according to their water needs, he had produced a sensor, which was able to detect and respond to a plant's "water me!" signals. He cited data gathered from tests on 40,000 trees in Mashad indicating that his system could dramatically decrease water wastage compared to other trickle and timing-based irrigation systems.
Hossein described his factory, employing 21 staff, financed by the sales of his inventions. His best-selling product, the "Mild Wave Machine," removes bacteria from milk using a "cold pasteurization" method. And where do all his ideas come from? "From what I see around me. [For example], my sister suffers from diabetes, which gave me the idea I am working on next for a new diabetes testing method."
Sharing Hossein's passion for problem-solving were other young Iranian inventors exhibiting at the Geneva Fair. 17-year-old student Shima Rezaeian, frustrated by the limitations of conventional printers, showed us her patented printing machine, able to print directly onto any smooth surface. Rather than paper passing through the printer, her printer moves across the surface. Shima described her decision to seek patent protection as motivated by the satisfaction of having her achievement recognized rather than by prospects of financial gain.
Pourya Roozban, from the Azad University of Qazvin, has already attracted local investors in his invention, a pocket-sized vibrating alarm for deaf people. Inspired by the needs of the deaf mother of a friend, the device is programmed to recognize 36 specified sounds – from a doorbell, to a smoke alarm, to a baby's crying – and to translate these into a digital display accompanied by a vibrating alert. Pourya was looking to license his certified technology to companies outside Iran.
The tireless Ali Reza Rastegar, 27, who had organized the Iranian group's participation at the Fair, had 10 inventions to his name. He was exhibiting an eco-friendly alternative to plastic, based on cellulose from the cotton plant.
Some 735 inventors from 42 countries participated in Geneva's annual International Exhibition of Inventions, most hoping to find investors. And not without reason: According to the Fair's president, Jean-Luc Vincent, approximately 70 percent of the inventions first shown in Geneva are subsequently commercialized.
The WIPO Magazine is intended to help broaden public understanding of intellectual property and of WIPO's work, and is not an official document of WIPO. The designations employed and the presentation of material throughout this publication do not imply the expression of any opinion whatsoever on the part of WIPO concerning the legal status of any country, territory or area or of its authorities, or concerning the delimitation of its frontiers or boundaries. This publication is not intended to reflect the views of the Member States or the WIPO Secretariat. The mention of specific companies or products of manufacturers does not imply that they are endorsed or recommended by WIPO in preference to others of a similar nature that are not mentioned.