Unfolding a new generation of storytellers: Meet the winners of the WIPO Photography Prize for Indigenous Peoples and Local Communities Youth 2023
November 2, 2023
Three talented young photographers from Colombia, Guatemala, and Nigeria stand as the distinguished winners of the second edition of the WIPO Photography Prize for Indigenous Peoples and Local Communities Youth.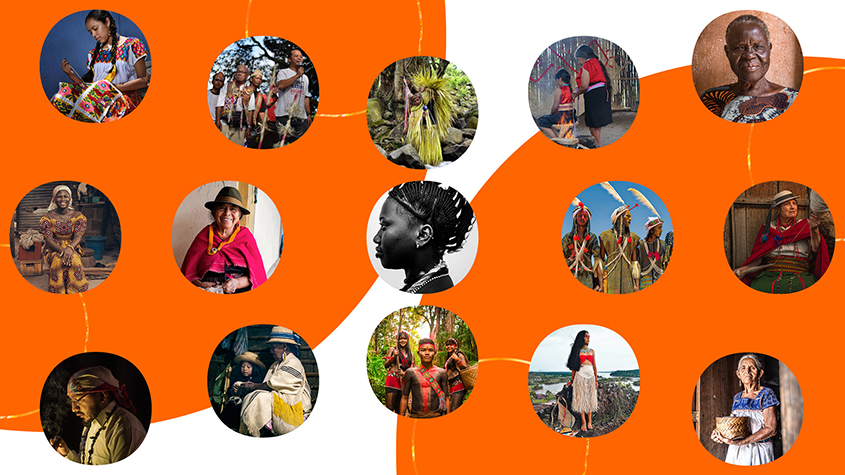 Under the theme How We Wear Our Culture Is How We Tell Our Stories , the WIPO Photography Prize 2023 encouraged youth from Indigenous Peoples as well as from local communities to deliver an important message about their communities' clothing and its significance to their identities – while raising their awareness on how copyright can be used to protect their creativity expressed in the photographs.
A distinguished panel of independent judges composed of three talented photographers hailing from Indigenous Peoples and local communities undertook the challenging task of selecting three winners among the 15 shortlisted photographs. We congratulate the judges on completing this challenging task.
Now, get inspired by the unique profiles and their accompanying photographs of the winners, as well as the talented recipients of honorable mentions in this year's edition.
Third place: Manuel Felipe Garcia Larios, Guatemala.
Manuel is 28-year-old Maya Poqomam man from the municipality of Palín in Guatemala. He is a professional journalist and a broadcaster on a local radio channel Radio Qawinaqel, which provides community-oriented information and entertainment in Poqomam and Spanish languages and shares knowledge about the Maya Poqomam worldview. He has degree in communication science from San Carlos University, Guatemala.
Manuel is passionate about documentary photography and has over six years' experience studying and practicing photography. Through his photographs, he has documented the different cultural expressions and community activities in his area.
When describing his photograph, he highlighted the following: "This self-portrait reflects new generations' resistance by preserving and promoting ancestral knowledge through the investiture of an Ahq'iij (calendar keeper), who is in charge of the connection between humans and Mayan deities. The youngest generations live in modern times with technology and academic knowledge. However, when we wear the ceremonial clothing, we return to the origin of beings and to the essence of our lineage."
As the third winner, Manuel won photography equipment of his choice with a value of up to 1,500 CHF.
Second place: Ummi Garba Hassan, Nigeria
Ummi is 26-year-old woman from Northwest Nigeria. She is from the Fulani tribe that is known to be nomads and is present across West Africa. Coming from a very traditional family, Ummi takes part in most of the cultural events happening in her community and outside.
Ummi does photography as a hobby. Her pictures depict the stories of real people engaged in their everyday activities. Ummi teaches science in primary school, and she would love to introduce her students to the art of photography, hoping it will become a hobby and a profession for some of them in the future.
When describing her photograph, she highlighted the following: "The festival of nomads, also known as Cure Salee, is a gathering of the Fula tribe from the Tuareg and Woodabe clans. Gerowol is a courtship ritual competition amongst young men as they contest in a beauty competition dressing in this regal attire and adorning their faces with paintings trying to get the attention of young women for marriage. This outfit is synonymous with the Woodabe clan in this competition."
As the second winner, Ummi won photography equipment of her choice with a value of up to 2,500 CHF.

First place: Sindi Yeraldi Ortega Juagibioy, Colombia
Sindi is a 25-year-old Kamëntsá Biyawoman from Sibundoy, department of Putumayo, southern Colombia. Sibindoy is a town with a wealth of culture reflected in art forms such as weaving, carving, dance, music, oral literature, and more. Sindi's deep connection to her culture and people has driven her to learn from her elders alongside her youth collective, Ayents Colectivo, as well as to engage in activities, such as traditional weaving and planting, to strengthen her identity.
Sindi uses photography to represent her people. The photograph submitted by her to the WIPO Photography Prize 2023 represents women's resistance in using their hands and memory to preserve the thousand-year-old weaving practice, which has survived despite the impacts of colonization.
When describing her photograph, she highlighted that the making of the photo was created with the support and coordination of her community and youth collective. "In the shelter of the Shinyak, my grandmother always tells me stories and gives me advice. She teaches me that this space is sacred for the Kamëntsá people, because when a baby is born, the bejata (placenta) is buried within it so that the child will receive strength, wisdom and an immediate connection to the earth and will care for and protect our land. That is why our attire bears the colors of the land in one of its most important garments, the Tsombiats (sash). It is a symbol of protection for the stomach and strength that is inscribed with the symbolism of our people's experiences."
Sindi also conveyed a collective acknowledgement to the ones that inspired her to create this photograph "On behalf of the Ayents Collective, I would like to express our gratitude to our families as well as the mothers, fathers, grandparents, leaders, youth and children from our community who, with their words and feelings, have given us the opportunity to believe in an autonomous process and awareness of our origin, identity and territory as Kamëntsá."
As the first winner, Sindi won photography equipment of her choice with a value of up to 3,500 CHF.
Honorable mentions from the Jury
This year's edition also welcomed three honorable mentions from Uganda, the Bolivarian Republic of Venezuela, and Colombia: each sharing valuable stories about their clothing and its importance to their identities, and communities.
Take as example Andrew Ayenga, Acholi from Uganda, who shared a captivating portrait, titled The Handwriting of Life, of his grandmother's smile wearing her vibrant kitenge, while embracing her heritage with pride and reverence. He highlighted that "The colorful patterns and intricate designs of her traditional attire are a living testament to the rich tapestry of her culture […] She imparts a profound message: our traditions are not just worn, but spoken and celebrated, connecting past, present and future".





Likewise, Oscar Mora Guzman, Yeral from the Bolivarian Republic of Venezuela, with his photograph titled Among My Roots and Other Worlds, shared the story of his photograph where he featured the journey of his younger sister who has embarked in a new chapter in life where she navigates worlds with different realities where often times there are no references to her culture.





Finally, Isais Montaño, Kankuamo from Colombia, through his photograph titled We Wear Our Mother Earth: Kukambas shared the cosmovision of his community when relating clothing to their connection to the Earth "We are air, water, fire and earth and our clothing represents every element from our surroundings. This photograph shows the living representation of the birds that brighten our days in the Sierra Nevada and tell our future. This outfit shown in the picture is used in dances during the sun festival".
Awards Ceremony at the WIPO Headquarters
Following the announcement of the 15 exceptional shortlisted photographs of this edition, the three winners were announced on November 2, 2023, during the Awards Ceremony hosted at the Headquarters of WIPO in Geneva, Switzerland. For this inaugural occasion and for the first time, the winners were invited to receive their prizes in person. With heartfelt gratitude, they extended their appreciation to WIPO, their families, and communities, acknowledging their invaluable support in achieving this accomplishment.
The event also featured a captivating photographic exhibit, showcasing not only their outstanding work but also the remarkable entries from all the shortlisted talented young photographers from Indigenous Peoples, as well as local communities. As of today, the 15 shortlisted photographs are being exhibited at the WIPO Headquarters in Geneva, Switzerland.
Furthermore, during their visit to WIPO, the winners engaged with the Traditional Knowledge Division, gaining deeper insights into their work, and also connected with experts from the Copyright Law Division.
We look forward to witnessing the future creative endeavors of these talented photographers.