Release of the Vienna Classification Assistant
August 5, 2020
WIPO just launched a new artificial intelligence (AI)-based tool to help users classify trademark images according to the Vienna Classification more easily: the Vienna Classification Assistant.
By just dropping one image in the Vienna Classification Assistant, the user will be walked through the different selection steps: first, the 29 main categories will be displayed with the relevant ones highlighted together with a relevance rating (******).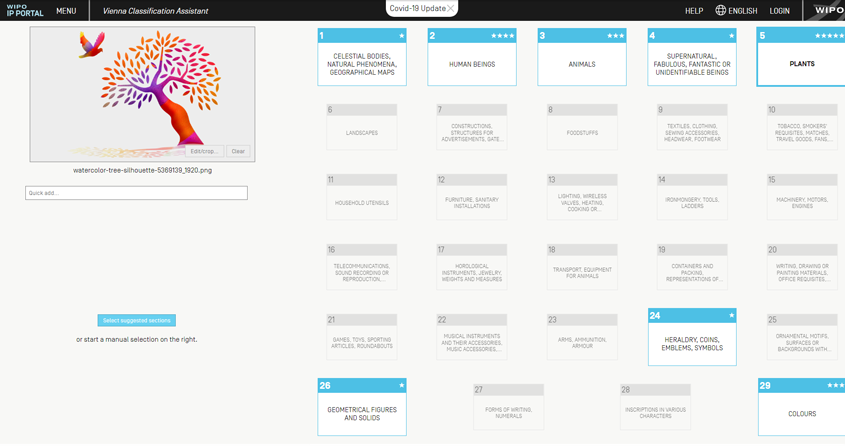 Then the user can pick the suggested choice or other options. When an auxiliary section is selected, the tool will notify the user that at least one principal section has to be selected. The image is then classified according to the Vienna Classification.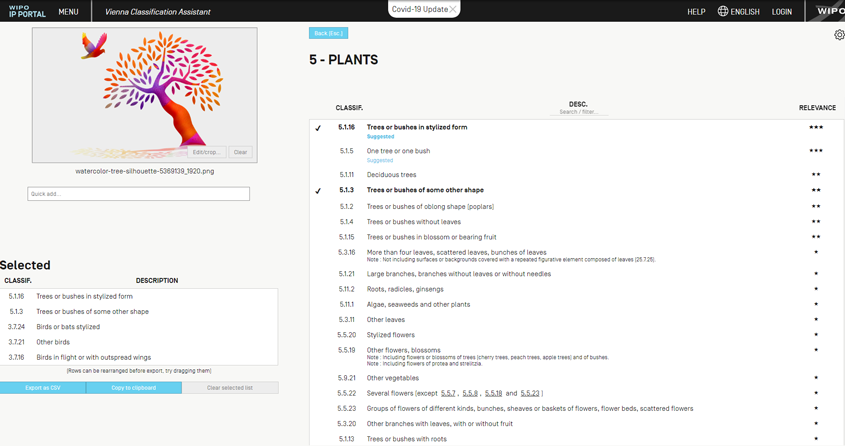 About the Vienna Classification
The Vienna Classification is an international classification of the figurative elements of trademarks. It is especially useful during the creation process of the trademark logo because it helps search for similar logos in millions of trademark images available in databases like the Global Brand Database.
In fact, before filing a trademark application it is key to make sure that a confusingly similar or identical logo does not already exist in the targeted markets in order to avoid trademark infringement. Therefore, once the prototype of the logo is classified using the Vienna Classification Assistant, similar or identical trademarks can be retrieved and a decision can be made to proceed with the filing of a trademark application and one or more jurisdictions can be defined.
The Vienna Classification Assistant is available free of charge on the WIPO website. Tutorials on how to use it and its special features, such as image cropping, the auto-select function and many more, are available in the Help menu.
Find out more
For more information on the Vienna Classification Assistant tool, please join our free webinar on August 12, 2020, or contact WIPO.