The WIPO Journal - 2015 Volume 6 Issue 2
Analysis and Debate of Intellectual Property Issues
作者: Sweet and Maxwell | 出版年份: 2015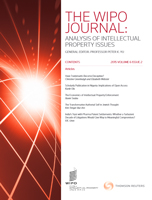 Contents: Have Trademarks Become Deceptive? | Scholarly Publication in Nigeria: Implications of Open Access | The Economics of Intellectual Property Enforcement | The Transformative Authorial Self in Jewish Thought | India's Tryst with Pharma Patent Settlements: Whether a Turbulent Decade of Litigations Would Give Way to Meaningful Compromises?
The peer-reviewed WIPO Journal was produced from 2009 to 2016 by Sweet and Maxwell in association with Thomson Reuters. The WIPO Journal ceased publication from December 2016.
The Journal sought to draw on contributions from experts around the world to provide diverse interdisciplinary perspectives on issues of interest to the global intellectual property (IP) community. Submissions were reviewed and selected independently of WIPO. Views expressed in the Journal are those of the authors, and should not be considered or interpreted as those of WIPO.
Copyright in all contributions remains with the contributors; the publishers acquire all publication rights.