Defining and Measuring the "Market for Brands": Are Emerging Economies Catching Up?
Economic Research Working Paper No. 21

Author: Carl Benedikt Frey
Author: Atif Ansar
Author: Sacha Wunsch-Vincent
Publication year: 2014
DOI: English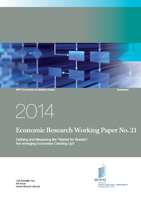 Markets for brands, as defined in this paper, play an important but underappreciated economic role in today's global economy. The ability to use Market for Brands allows companies to diversify their business; access competences; and generate new revenues without substantial investments. This paper defines and provides a taxonomy for different brand markets then analyzes the economic rationale of such markets. It also assesses the relative importance of the different brand-related transaction types in developed and emerging economies alike.