Barbara Hendricks, one of the world's leading opera singers and a best-selling recording artist, joined the intellectual property community in inaugurating the new WIPO building on September 26, 2011 with a recital of Manuel de Falla's "Siete Canciones Populares Españolas."
Ms. Hendricks said she was pleased to be part of the ceremony as a representative of the artistic community.
It was an honor she said, "to be here to help you inaugurate your new building with music because you are here to help us the artists, the creators, the scientists. Because without our rights, without the possibility to continue, there will be no more arts, there will be no more creativity, there will be no more civilization."
[WIPO is] here to help us, the artists, the creators, the scientists. Because without our rights, there will be no more arts.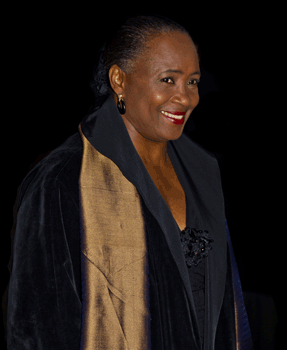 WIPO Director General Francis Gurry welcomed Barbara Hendricks as "an inspirational representative of the international artistic community, who has demonstrated a life-long commitment to promoting development through the arts – a cause in which we share." He paid tribute to Ms. Hendricks' work in support of refugees through the cultural foundation, Etoile d'Azur (Help with Art), and as an Honorary Ambassador for Life of the United Nations High Commission for Refugees (UNHCR).
Ms. Hendricks' performance delighted delegates of WIPO's member states, who were in Geneva for the WIPO Assemblies. "The fact that she was here is wonderful," said South African delegate Tshihumbudzo Zane Ravhandalala. "By bringing music to the ceremony, Barbara Hendricks reminded policy makers in the IP community that their work is truly important by providing an environment where culture can flourish."
We need art in our lives... it is the singular expression of our human condition.
In a filmed interview for the WIPO You Tube channel, Ms. Hendricks told WIPO that artists need to earn a living from their work and that piracy - while not so prevalent in classical music - prevents many from doing so. "Quite a few artists that are getting downloaded for free are people who write and produce their own music and without revenue they can't continue. So that means there will be no music to download soon because those artists will have to go out and work in an office or something."
Paying artists for their music was a matter of respect and of fairness, she said. The opera diva described her own successful experiment in making her music available online and allowing users to decide whether - and how much - to pay for it. But artists' own choices should be respected. "If they want to give away their music freely, that's their priviledge," she said. "But they have a right to decide for themselves."
Barbara Hendricks concluded on an optimistic note on the challenges facing the music industry today. "I think we will be able to find solutions so that artists can continue to create and to represent what is so important for us as human beings," she said.