China Drives International Patent Applications to Record Heights; Demand Rising for Trademark and Industrial Design Protection
Geneva, March 21, 2018
PR/2018/816
China moved into the second position as a source of international patent applications filed via WIPO in 2017, closing in on long-time leader United States of America, in another record year in the use of WIPO's intellectual property services for patents, trademarks and industrial designs.
Two Chinese technology companies were the top filers of international patent applications in 2017, with Huawei (number one filer) and ZTE (number two) followed by Intel, Mitsubishi and Qualcomm.
Videos on YouTube: Highlights on patents | Highlights on trademarks | Press Conference
This rapid rise in Chinese use of the international patent system shows that innovators there are increasingly looking outward, seeking to spread their original ideas into new markets as the Chinese economy continues its rapid transformation.

Director General, Francis Gurry
Japan posted strong growth in 2017 but was nosed out of the second position by China, which at current trends is projected to overtake the U.S. within three years as the largest source of applications filed under WIPO's Patent Cooperation Treaty (PCT) – a system that has helped to spread innovation worldwide since it began operations 40 years ago.
Overall, inventors from around the world filed 243,500 international patent applications via WIPO, 4.5% more than the previous year – driven by strong growth from China and Japan. Demand grew by 5% for WIPO's international trademark filing service (the Madrid System), which saw 56,200 applications, while the number of industrial designs handled by WIPO's Hague System for the International Registration of Industrial Designs grew by 3.8% to reach 19,429 designs contained in international applications. This marks the eighth consecutive year of growth for all three WIPO filing systems.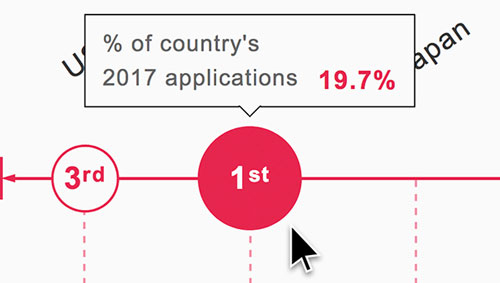 Interactive charts


Charts with the latest key international intellectual property data.


"This rapid rise in Chinese use of the international patent system shows that innovators there are increasingly looking outward, seeking to spread their original ideas into new markets as the Chinese economy continues its rapid transformation," said WIPO Director General Francis Gurry. "This is part of a larger shift in the geography of innovation, with almost half of all international patent applications now originating in East Asia."
Patents
In 2017, U.S.-based applicants filed 56,624 PCT applications, followed by applicants from China (48,882) and Japan (48,208). Germany and the Republic of Korea ranked fourth and fifth, with 18,982 and 15,763 applications, respectively (Annex 1
). China and India are the only two middle-income countries among the top 15 origins for PCT applications. Almost half of all PCT applications filed in 2017 came from Asia (49.1%), with Europe (24.9%) and North America (24.2%) accounting for a quarter each.
Among the top 15 origins, China is the only country to have recorded double-digit annual growth (+13.4%). China has now posted growth higher than 10% every year since 2003. Sweden (+7%) and Japan (+6.6%) also saw strong growth. In contrast, the Netherlands (-5.2%) and Italy (-4.5%) each saw a decrease in filings.
Two Shenzhen, China-based telecoms companies – Huawei Technologies (4,024 published PCT applications) and ZTE Corporation (2,965) – occupied the top two spots for PCT applications. Huawei reclaimed its lead over ZTE, the latter seeing a substantial drop in the number of published PCT filings in 2017. They were followed by Intel Corporation of the U.S. (2,637), Mitsubishi Electric Corporation of Japan (2,521) and Qualcomm Incorporated of the U.S. (2,163). The top 10 applicant list comprises seven companies from Asia, two from the U.S. and one from Europe (Annex 2
)
Among educational institutions, the University of California was the largest user of the PCT System in 2017 with 482 published applications, extending a leading position it has held since 1993. Massachusetts Institute of Technology (278) ranked second, followed by Harvard University (179), the University of Texas System (161) and Johns Hopkins University (129), (Annex 3
). While the top 10 is dominated by U.S.-based institutions, the top 20 list includes 10 Asian universities. Coming in at 24th among the educational institutions is the highest-ranked European university: Oxford University Innovation Limited.
Computer technology (8.6% of the total) overtook digital communication (8.2%) to become the field of technology with the largest share of published PCT applications. These two fields were followed by electrical machinery (6.8%) and medical technology (6.7%), (Annex 4
). Among the top 10 technologies, transport (+11.8%), computer technology (+11.4%) and biotechnology (+9.6%) were the fields with the highest rates of growth in 2017.
Trademarks
U.S.-based applicants (7,884) filed the largest number of international trademark applications using WIPO's Madrid System for the International Registration of Marks in 2017, closely followed by those located in Germany (7,316), China (5,230), France (4,261) and the U.K. (3,292), (Annex 5
).
Among the top 15 origins, China saw the fastest growth (+36.3%), followed by the Russian Federation (+23.9%), the Republic of Korea (+9.8%) and the U.K. (+9.3%). Both China and the Russian Federation recorded their second consecutive year of double-digit growth. In contrast, Austria (-4.9%), Italy (-6.6%) and the Netherlands (-5.8%) each saw a drop in filings.
L'Oréal of France with 198 applications headed the list of top filers, followed by Richter Gedeon Nyrt. of Hungary (117), ADP Gauselmann GMBH of Germany (104), and Swiss companies Novartis AG (96) and Abercrombie & Fitch Europe SA (82). Of note, Richter Gedeon Nyrt. filed 106 more applications in 2017 than in 2016, when it filed 11. The top 15 applicants list is comprised of 12 companies from Europe, two from Asia and one from the U.S. (Annex 6
).
The most-specified class in international applications, computers and electronics, accounted for 9.8% of the total, followed by services for business (7.9%) and technological services (6.2%). Among the top 10 classes, machines and machine tools (+13.4%) and services for business (+6.2%) saw the fastest growth.
Industrial designs
The number of designs contained in the applications filed under the Hague System grew by 3.8% in 2017 to reach 19,429 designs while the 5,213 applications represented a decrease as compared to the previous year. The increase in the number of designs completed 11 years of uninterrupted growth for the Hague System. (Annex 7
).
Applicants based in Germany (4,261 designs contained in their applications) continue to be the largest users of the international design system, followed by those in Switzerland (2,935), the Republic of Korea (1,742), the U.S. (1,661) and France (1,396). Among the top 10 origins, Belgium (+189.2%) saw the fastest growth followed by the U.S. (+17.8%), France (+15.2%) and Switzerland (+14.9%).
Two electronics giants from the Republic of Korea, Samsung Electronics (762 designs) and LG Electronics (668), ranked first and second respectively in the top applicants list. Fonkel Meubelmarketing of the Netherlands (490) filed 463 fewer designs, causing it to drop from the top applicant in 2016 to number three in 2017. Procter & Gamble (488) and Volkswagen (369) were fourth and fifth, respectively. I. Paleohorinos Fotistika Abee of Greece, which is active in the decorative lighting industry, ranked 6th with 357 designs. It filed only 8 designs in the previous year (Annex 8
).
Furnishing (10.5%) accounted for the largest share of all designs, closely followed by recording and communication equipment (10.3%), which includes computer equipment and mobile phones, and means of transport (7.6%).
About WIPO
The World Intellectual Property Organization (WIPO) is the global forum for intellectual property policy, services, information and cooperation. A specialized agency of the United Nations, WIPO assists its 193 member states in developing a balanced international IP legal framework to meet society's evolving needs. It provides business services for obtaining IP rights in multiple countries and resolving disputes. It delivers capacity-building programs to help developing countries benefit from using IP. And it provides free access to unique knowledge banks of IP information.
For more information, please contact the News and Media Division at WIPO:
Tel: (+41 22) 338 81 61 / 338 72 24