WIPO and UNIDO Agree to Strengthen Cooperation Activities
Geneva, April 12, 2012
PR/2012/707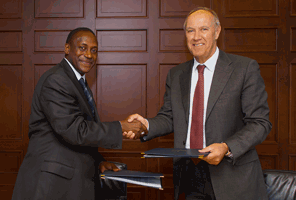 (Photo: WIPO/Berrod)
WIPO Director General Francis Gurry met on April 12, 2012 UNIDO Director General Kandeh Yumkella to discuss the strengthening of cooperation between the two organizations in areas relating to science and technology, innovation promotion, private sector development and trade capacity building.
Mr. Gurry and Mr. Yumkella agreed that the two organizations should collaborate on activities to support the strengthening of capacity in developing countries to use science, technology and innovation in addressing key development challenges in areas such as agriculture, oceans, energy, water and public health.
The role of science, technology and innovation is a critical element in the Rio+20 discussions, and the post 2015 Development Agenda. It will also be the main theme of the Annual Ministerial Review at ECOSOC 2013. Both organizations had unique and valuable knowledge and experience to contribute to the international community's discussions in this area and closer cooperation between WIPO and UNIDO would help shape the UN's work to support member states.
Existing examples of successful cooperation between WIPO and UNIDO include a European Union-funded trade related technical assistance project in Pakistan. WIPO provides the IP component of the project that also includes the International Trade Centre (ITC). The Directors General agreed to expand this type of joint activity and partnership with donors, such as the EU, to support developing countries, in particular in Africa, in building trade capacity.
WIPO and UNIDO have also co-organized a series of workshops during the UNFCCC COPs in Copenhagen, Cancun and Durban which have addressed the critical issue of the transfer and development of environmentally sound technologies, with a special focus on sustainable energy for all.
For more information, please contact the News and Media Division at WIPO:
Tel: (+41 22) 338 81 61 / 338 72 24