Stevie Wonder calls for International Action to Enhance Accessibility for Visually Impaired Persons
Geneva, September 20, 2010
PR/2010/661
Video | Transcript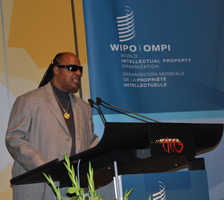 World-famous singer-songwriter and UN Messenger for Peace Stevie Wonder called on the international community to take action to enhance accessibility for all those with physical disabilities. Speaking at the opening of the annual meetings of WIPO Assemblies on September 20, 2010, he challenged delegates to conclude an agreement on improved accessibility to copyright protected works by visually impaired persons (VIPs) within a year.
Stevie Wonder launched his "Declaration of freedom for people with disabilities" which he said was "a call to action, a plan to empower the independence of people with disabilities by providing them with the tools to learn and grow." In addressing ministers and policy-makers from WIPO's 184 member states, he said, "through your legislative efforts, incentives can be created to advance the blind and visually disabled towards the promise of a better life."
The award-winning musician told delegates, "we must declare a state of emergency, and end the information deprivation that continues to keep the visually impaired in the dark. We must spread the word that the untapped genius of the 300 plus million who have a visual disability are in need of our love and action; today, not tomorrow, but today."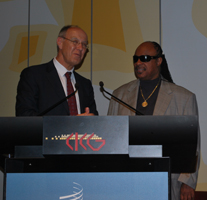 "While I know that it is critical not to act to the detriment of the authors who labor to create the great works that enlighten and nourish our minds, hearts and souls, we must develop a protocol that allows the easy import and export of copyright materials so that people with print disabilities can join the mainstream of the literate world" he said. "There are many proposals on the table that will create a safe clearinghouse for the exchange and translation of books, please work towards a consensus."
The singer stressed that "your work and my work is not done", and called on those present "to put ideological differences aside and come up with a practical solution." He said, "I am respectfully asking you to join my declaration of freedom for the many print disabled and visually impaired by giving them the tools to think their way out of poverty and the darkness that is created when the mind does not have access to something as simple, but as powerful as a book."
"We have the greatest minds in the world right here in this room," said Wonder. "Please work it out or I'll have to write a song about what you didn't do." He added, "it is our legacy and our gift to the future. Let's do this."
The American artist Stevie Wonder is a prolific singer-songwriter with 49 top 40 hits, 32 number 1 singles and over 100 million unit sales including hits such as "I just called to say I love you", "You Are The Sunshine Of My Life" and " Mon Cheri Amour", excerpts of which he played to delegates.
WIPO member states are currently discussing the question of better access to copyright-protected works for the blind, visually impaired (VIP) and other reading-disabled persons in its Standing Committee on Copyright and Related Rights (SCCR). A number of proposals aimed at creating an enabling legal environment for better access to copyright-protected works for reading impaired persons are under discussion.
Various practical measures to facilitate access to copyright-protected materials by reading-impaired persons are being implemented. These include the ongoing work of the stakeholders' platform and the launch in June 2010 of an on-line forum, www.visionip.org/forum, to broaden awareness and stimulate debate on this issue.
This WIPO Assemblies are meeting in Geneva from September 20 to 29, 2010.
For more information, please contact the News and Media Division at WIPO:
Tel: (+41 22) 338 81 61 / 338 72 24