Flying the Nest and Establishing a Global Brand
Name: Yeigo Communications Proprietary Limited
Country / Territory: South Africa
IP right(s): Copyright and Related Rights, Trademarks
Date of publication: July 23, 2012
Last update: September 25, 2015
Background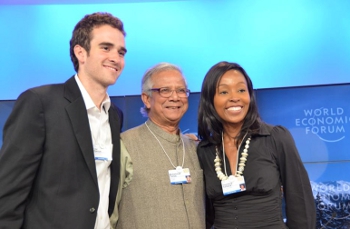 Ms. Rabana (far right) and Mr. Matshoba (not pictured) were among a small number of young entrepreneurs selected "Global Shaper" at the World Economic Forum's Annual Meeting, 2012 (Photo: YEIGO)
The Republic of South Africa (South Africa) has emerged in the 21st Century as a beacon for modern telecommunications technologies among emerging market countries. One of the country's leading lights has been YEIGO Communications Proprietary Limited (YEIGO) – an innovative communications software development company based in Cape Town, South Africa.
Established in 2005 by entrepreneurial university graduates, YEIGO's products permit customers to make free phone calls, send emails and communicate via short text messages with other users through the Internet. The small and medium sized enterprise (SME) was at the vanguard of software developers in the world (and the first in South Africa) that offered free mobile phone services via Voice over Internet Protocol (VoIP) – a family of communications tools delivered Online.
Shortly after its foundation, YEIGO not only expanded its brand presence, product range and services; the SME helped to modernize the telecommunications industry in South Africa and to inspire its youth to become entrepreneurs. As a result, YEIGO's customers have been empowered with modern communications tools while the country's international competiveness and services have been improved.
Research and Development
YEIGO – which means "with spirit" and originates in the language of the Native American Navajo Nation – was co-founded by Rapelang Rabana, Wilter du Toit and Lungisa Matshoba (the Founders). The Founders established the company shortly after they graduated from the University of Cape Town (UCT).
As students with limited financial resources, the young entrepreneurs found it increasingly difficult and expensive to make phone calls based on the prevailing phone networks (which were obsolete) and payment tariffs (which had been costly). Faced with the challenge and opportunity of creating more effective and affordable telephony software based on the Internet, YEIGO's founders decided to combine their aspirations for entrepreneurship with a desire to solve a common and pressing problem.
As the SME's co-founder, Ms. Rabana, said, "The most powerful ideas come from solving your own problems (expensive and ineffective phone systems, in this case). And that's how you're able to sustain a company because it's solving something that's real to you; and, most likely, if it's real to you, it's real to many other people around the world."

Launched in 2007, YEIGO 2.1 was the company's first VoIP software to hit the South African telecoms market (Photo: YEIGO)
The beginning for the young entrepreneurs was defined by uncertainty and risk. Some of the Founders' early challenges included initial set-up costs (such as regular Internet access) and a lack of capital. YEIGO's founders were also concerned with potential future investments such as the need to expand the company or the possibility to outsource key skills. The entrepreneurs, however, felt that it was important to keep costs down by being creative and self-reliant. They also planned to secure funds while avoiding unnecessary future expenditures so early in the company's life.
To move the business forward, YEIGO's founders relied on their core skills (the Founders are computer science and management graduates), motivations and sense of togetherness. As Ms. Rabana noted, "…if you don't have the core skills [among your partners] to start the company without hiring [others] from day one, [then] you probably don't have the right [partners] or you don't have the right skills and you need to fix one or the other."
Because of their high motivation, close-knit structure and complementary skill-sets, the entrepreneurs were quick to develop a strong sense of commitment, independence and mutual trust. As a result, the SME's founders not only researched and developed (R&D) their initial VoIP prototypes without external assistance; they also managed other aspects of the company themselves.
For instance, apart from establishing the basic structure for YEIGO's R&D (such as purchasing inexpensive computers and setting up regular Internet access for early market research), the new graduates wrote a business plan, approached investors, and implemented office and project management procedures. Beset by early challenges but encouraged by a keen sense of purpose and mutual compatibility, the entrepreneurs produced the first YEIGO software prototype within six months of beginning their R&D.
Ms. Rabana recalled, "One of the biggest misconceptions about starting your own business is that the first thing you need to do is get funding. You shouldn't actually take any money until you absolutely need it – and this should only be after about a year of hard work on your own."
With a prototype in hand, in 2006 YEIGO's founders were able to secure their first angel investment from a group of three angels (informal investors) who provided capital for the startup company. Having developed a prototype and secured vital funds, in early 2007 the company launched its first VoIP product. Among its many features, the YEIGO software had mobile phone applicability, Instant Messaging (IM) capability (which allowed for real-time communication) and Short Message Service (SMS) applications.
Moreover, rather than relying on traditional voice networks, YEIGO's telecommunications software directs a user's voice or text message through the Internet. This resulted in a free voice call, IM or SMS message for the YEIGO user; the only cost incurred by the subscriber was for the initial payment to access the Internet.
The customer, furthermore, is able to download (via SMS) and use the company's software on several platforms, apart from mobile phones, including desktop computers and laptops. Whilst YEIGO subscribers have been able to call each other free of charge, the company has generated funds by charging a fee when its customers call users of other operators' networks.
As demand has grown for the SME's software, the company has been able to employ new staff members. The Founders, however, have limited the size and speed of the company's growth in order to ensure efficiency and high standards for both products and personnel. When YEIGO has expanded, it has done so only in order to improve its ability to supply its clients and customers.
In addition, in lieu of paying wages that are in line with the market rate (which can be prohibitively high, especially for a startup company), the SME has implemented an employee reward scheme. Under this scheme, dedicated staff members have been offered share options in the company and thereby incorporated into YEIGO's aspirations and plans. As of 2012, there were 9 staff members working at the company's headquarters in Cape Town.
Partnership and Financing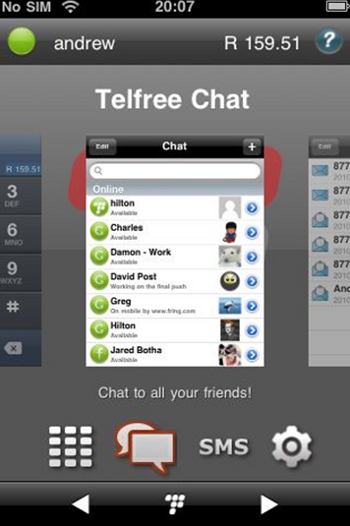 YEIGO's innovative collaboration with Telfree has been a mutually beneficial match that allowed the Swiss company entry into VoIP telecommunications and the SME entry into South Africa's telecoms network (Photo: YEIGO)
YEIGO's founders have been keen to establish strategic collaborations with key partners in order to secure funds, increase knowledge of the industry and develop new avenues for expansion. When the SME was developing its first prototypes, for instance, the entrepreneurs approached traditional lenders such as banks, venture capitalists (VC) and government agencies for financial support.
In part due to a lack of a robust community of VCs in South Africa in the 2000s, and because YEIGO was a pre-revenue company in the middle of that period, the Founders were initially unable to secure funds via traditional lenders. "Funding was our biggest initial stumbling block," Ms. Rabana said. "Until you start meeting the right people, it's incredibly hard to get venture capital in South Africa, especially in the high-risk technology sector." Moreover, entry rates for startup companies into the telecoms industry in the country were prohibitively expensive at the time.
Forced to adapt to an unfavorable economic and infrastructural environment in South Africa (VoIP technology was not permitted in the country until 2005), the entrepreneurs worked from home on a shoe-string budget. In addition, they relied on family members for their daily expenses and occasionally approached mentors, such as former teachers at UCT, for strategic advice. Subsequently, the Founders sought collaboration, inspiration and guidance from professional business advisors.
YEIGO partnered with several members of the industry including BandwithBarn (BwB), a not-for-profit organization (NPO) based in Cape Town that has supported information technology (IT) startups in South Africa. With its wide range of services for the IT industry (including inexpensive high-speed Internet access and low rent office space) BwB was a natural partner for the SME. Furthermore, because the NPO has had a wide membership of IT businesses, it has developed one of the most influential entrepreneurial IT communities in the country.
As a member of BwB's business network, YEIGO's founders were able to engage other professionals in the industry and thereby benefited from exchanging ideas with like-minded peers. Through largely informal engagements with BwB members, the Founders realized that it was important to develop YEIGO beyond the original idea that inspired it. The inexperienced entrepreneurs had to, for example, develop their expertise; think creatively about differentiating their services from those of competitors; and build strong contacts within the industry.
YEIGO's founders, furthermore, were all selected in 2007 as "High-Impact Entrepreneurs" by Endeavor – an NPO that identifies and develops pioneers from emerging markets. The young entrepreneurs' business strategies benefited from the NPO's mentoring scheme which includes a rich network of advisors, consultants and investors.
Because of its association with a community of local and international experts, YEIGO was able to develop its business profile, extend its contacts in the industry and establish a corporate reputation for excellence. The company subsequently leveraged its enhanced profile in order to enter new business alliances.
One of YEIGO's most significant partnerships has been with Telfree – an international telecommunications company based in the Swiss Confederation (Switzerland). Since the liberalization of the economy in South Africa, Telfree developed a strong foothold in the country's traditional telecoms industry including an extensive presence in the country's fixed-line phone networks. The Swiss company, however, desired to enter the cutting edge of Internet based technologies in South Africa. YEIGO, meanwhile, was seeking an established telecoms partner with local connections in order to distribute its innovative software.
In 2008, Telfree acquired a majority shareholding of 51% in YEIGO in a deal that enabled the start-up company to supply its VoIP technology to the Swiss company in a collaboration that not only fulfilled each company's immediate aspirations successfully; it would also become a lasting partnership. Indeed, having established a good working relationship early on, YEIGO and Telfree were able to enter a productive revenue share licensing agreement which led to the SME's VoIP technology and services being fully incorporated into the Swiss company's networks and business strategy.
As Ms. Rabana said, "I think the reason our relationship with Telfree has been successful this far [2011] is because we had a client/supplier relationship before we actually had an equity relationship. So we were able to fully assess their own systems, they were able to assess ours. The fit was evident in how the products we produced together worked."
As YEIGO's corporate brand and software gained a growing international reputation for quality, and in collaboration with Telfree, the company was able to develop other partnerships with investors and leading telecommunications companies including MTN Group Limited (MTN), based in Johannesburg, and Vodafone Group Plc, headquartered in London, the United Kingdom.
Branding and Commercialization
With the South African telecoms industry liberalized, the company developed VoIP software brands (such as YEIGO Lite, which was launched in 2007) for mobile phones because the majority of its potential customers accessed the Internet via such platforms (fewer South Africans used personal or desk top computers to access the Internet, according to Mobile Monday™, 2011).
The YEIGO Lite brand, for instance, was a timely trailblazer that was easy to use (by simply setting up an Online account with the company, downloading its software, and following simple setup instructions) and had several innovative features including "Holler" (where one user could request the presence of another user Online via an SMS) and "Call Back" (a feature that allowed the YEIGO server to connect users who had sent and received a "Holler" message).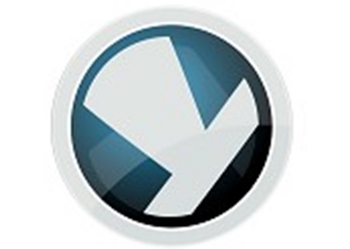 The YEIGO trademark and logo has quickly gained an international reputation for innovation and quality (Photo: YEIGO)
YEIGO has not only collaborated with established IT partners in order to open new avenues for expansion and commercialization. The SME has also created quality, affordable and user-friendly products and brands that have utilized the latest trends in the telecoms industry. In this way, the company has been able to attract new clients and win new customers.
Notably, YEIGO Lite was supported by JAVA Platform feature phones (which can be less costly than smartphones), extending the business's reach beyond smartphones. As Ms. Rabana said, "Before the changes in regulations, we simply had to focus on a smaller [mobile phones] market and differentiate ourselves through the quality, transparency and convenience of our services."
When the telecoms industry in South Africa was liberalized, the company was able to exploit many of the new platforms that became available as a result. The YEIGO 2.1(Y2.1) brand, for example, allowed customers to take advantage of developments in the industry including the advent of wireless connectivity (commonly known as Wi-FiTM) hot spots, Internet access via a phone operator's data networks, and third generation telecoms technologies – a broad family of high-speed wireless communication tools.
With Y2.1, YEIGO users had a state of the art tool that allowed the customer to make wireless international calls from anywhere around the world. Moreover, the software had several innovative functions including full-screen communications capabilities and "tab chat" (which permitted simultaneous communication between multiple users).
Furthermore, because the new software utilized minimal bandwidth (rate of digital transfer), users were able to enjoy an efficient, versatile and competitively priced product. Due to the company's strong competitiveness, its users have been able to save up to 80% on all calls and 90% on text messaging fees to any phone number around the world.
In addition to its competitive pricing strategies and brands, the company has sought to expand its customer base beyond individual consumers to include corporate clients (including businesses outside the telecoms industry). Because corporate customers have specific, constantly changing requirements and demands for their businesses – including streamlined, flexible, international mobile communications tools (such as multi-user mobile video conferencing) – the SME has made the strategic decision to target this important client base.
Indeed, versatile telephony tools have become key facilitators of global commerce and international competitiveness for many organizations, businesses and countries. As the General Manager of Fixed Mobile Convergence at MTN Business noted, "…the biggest change affecting the [South African] telecoms industry is the realization of [mobile wireless technologies] which offers businesses and users the choice of working from anywhere, anytime, over any medium, using any device and interacting with anyone."
Having identified the unique demands of this important clientele, YEIGO has taken several steps in order to meet its expectations including expanding the company's products' compatibility with a variety of platforms in the market. The SME's technology is compatible with some of the world's leading VoIP and messaging clients such as GoogleTalk (offered by Google Inc.), the Microsoft Network (offered by Microsoft Corporation) and AOL Instant Messenger (offered by America Online Inc).
By releasing quality brands, exploiting the latest technological developments and expanding its product range and services, the company has broadened its commercialization strategy and thereby gained new customers and clients in both the individual market and corporate world. At the same time, YEIGO has set new standards in the country's telecoms industry, and invigorated and empowered both business and the general public with affordable and versatile global communications tools.
Trademarks, Domain Names and Copyrights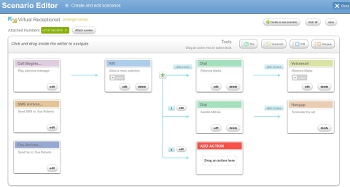 Office Connection's "virtual receptionist" is just one of many features of the software that allows users to easily navigate between internal and external calls, SMS, faxes and accounts billing in real time, all within the "cloud" (Photo: YEIGO)
Since its foundation, YEIGO's founders have been keenly aware of intellectual property rights (IPRs) as a means of protecting the company's corporate identity and as assets that can be leveraged in order to secure new investment and partnerships.
When the entrepreneurs initially sought investors outside South Africa, for instance, one of the challenges they faced was how to transfer the company's IP assets across international jurisdictions. Deciding to develop the company in South Africa while seeking locally based investment opportunities instead, YEIGO's founders would eventually rely upon the good will associated with the company's IP assets in order to win national and international investors and partners.
Such collaborations were facilitated because the company secured its corporate identity by registering YEIGO Communications (in 2006) as a trademark via South Africa's IP office – the Companies and Intellectual Property Commission.
Having protected the company's trade name in the local market, and intending to expand into the European Union, the Founders registered a trademark for YEIGO (in 2007) at the Office for Harmonization in the Internal Market.
Moreover, YEIGO was registered (in 2008) in one of the most lucrative markets in the IT industry, the United States of America (USA), via the United States Patent and Trademark Office (USPTO).
The SME, furthermore, has retained all copyrights for its products, slogans and brands and maintains an Internet domain name (www.yeigo.com) in order to keep its future avenues for expansion open. YEIGO's strong IP portfolio has allowed the SME to leverage business contracts and partnerships from around the world.
Licensing
Having acquired a majority share in YEIGO, Telfree subsequently entered a licensing agreement to distribute and market the company's products and services under the Telfree brand. In 2010, YEIGO and Telfree launched their first product – called Telfree Mobile, the world's first unified telecoms hub – which allowed for calls, SMS, push email and cross platform IM on a single device.
One of the many advantages of the software has been the global flat fee. With this pricing innovation, users can make international calls (or send SMS) at the same low cost as making local or national calls (or text messages). The software has subsequently been made compatible with established mobile communications platforms such as the Apple iPhone, Apple iPod Touch, Nokia and Windows Phone.
While Telfree has assumed the marketing or customer-facing front of YEIGO, as of 2012, the SME retained responsibility for creating future products by virtue of Ms. Rabana's position as Global Head of R&D at the Swiss company.
Public Health
Since the advent of the Internet, there has been a disparity – referred to as the global digital divide (GDD) – between regions that have ready access to the technology and those that do not. In Africa, for instance, only 3 out of every100 people in 2004 (compared to 1 in 2 in the most developed countries), had access to the Internet according to the International Telecommunications Union, a specialized agency of the United Nations (UN) responsible for IT issues.
Because health outcomes have run parallel to technological developments (especially regarding information dissemination), regions of the world with poor communications tools (such as Internet connectivity) have usually had poorer public health services (UN Millennium Action Plan, 2000).
Although Internet access has increased greatly in South Africa (between 2001 and 2009 it nearly doubled to 10.8% of the population, Internet World Stats, 2009), the UN has worked with several entities including private companies such as YEIGO in order to bridge the GDD and improve health outcomes. These initiatives have been inspired in part by the principles acknowledged under the UN's Millennium Development Goals (MDGs) – which are eight international development aims (including fighting disease, improving gender inequality and reducing the GDD) established in 2000.
To this end, Ms. Rabana was appointed in 2011 as an ambassador for the World Summit Youth Awards (WSYA), an information and communications technology initiative of the UN. The WSYA has promoted digital technology creativity in people under 27 years of age as one of the means by which the MDGs can be met. As a spokesperson for the WSYA, YEIGO's co-founder has promoted digital technology and science education for some of Africa's most marginalized groups – young people and women especially.
Commensurate with the innovative communications tools created by YEIGO, Ms. Rabana has promoted digital technology and its power to alleviate poverty, improve health and empower consumers via inspiring lectures and presentations all over the world. Leading by example, the entrepreneur – and the continued legacy of the company that she co-founded – has inspired a new generation of potential entrepreneurs (especially those – such as young girls – who are underrepresented in science and technology education and industry) whose innovations and ideas will help to bridge the GDD while addressing many of the aims of the MDGs.
Business Results
Since its foundation, YEIGO and its founders helped to modernize the telecoms industry in South Africa and to create innovative mobile phone software. Indeed, the SME has expanded its service offering (beyond individual VoIP applications) to software that can manage entire telecoms environments for businesses – also known as "second wave mobile VoIP".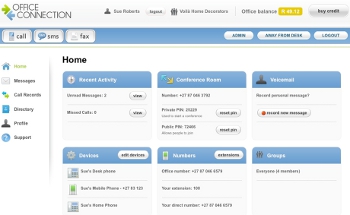 YEIGO's Office Connection software, part of the company's "second wave" VoIP applications, has allowed the SME to expand into unified service offerings for business clients (Photo: YEIGO)
For instance, via YEIGO's Office Connection product, a cloud-hosted telephony software for businesses that is distributed by Telfree, users can sign up to the service through the Internet; pay a monthly fee; utilize a "virtual reception"; add other users in the office via a drag-and-drop interface; enjoy real-time monitoring of expenditures; send SMS and faxes; and allocate individual budgets for calls (internal calls are free). Indeed, this simple yet cost-effective and streamlined innovation allows business users to unify their telephony needs and make calls from anywhere around the world under a single "cloud" platform.
As Ms. Rabana said, "Taking [telephony services] to cloud is the one way to connect everything in the business environment [:] every device, every point of communication can now sit in one centralized place that can be used [to] control each point. The [previous] disconnect that appeared as we added more and more devices to our 'telesphere' can now be closed [;] the home phone, the office phone, the mobile phone, the VoIP desk-phone, the mobile VoIP phone and every other …phone can all be connected and [located] in the cloud."
As YEIGO has developed, the SME has become an award winner. The company's MzansiSMS product, which was produced in conjunction with Telfree, was awarded the Outstanding Regional Achievement Award for Excellence in Mobile Content (2010) at the UN's World Summit Award. Among its many advantages, the software reduced the cost of sending an SMS for the company's low income customers.
As of 2012, one the SME's three co-founders, Mr. du Toit, had moved on to co-find Virtual Mobile Technologies – a manufacturer of e-commerce mobile software based in Cape Town. In the same year, Ms. Rabana and Mr. Matshoba were elected "Global Shaper" – a social pioneer who is between 20 and 30 years old – at the World Economic Forum in Geneva, Switzerland. YEIGO, meanwhile, was a group company of Telfree and a Technology Top 100 company in South Africa.
Eagles don't need parachutes
Established by university graduates without capital but inspired by big dreams, shared skills and pressing concerns, YEIGO developed into an international brand with a strong record for creativity. In addition, the SME established a robust IP assets portfolio that it leveraged in order to win its first business partnerships and enter new markets.
Having become internationally respected, YEIGO not only improved South Africa's telecoms industry and international competitiveness; the SME introduced affordable global communications tools to some of the world's poorest people while inspiring a new generation of young entrepreneurs.
This case study is based on information from: