The Business of Intellectual Property
Name: Intellectual Property Bewertungs AG
Country / Territory: Germany
IP right(s): Patents
Date of publication: September 3, 2010
Last update: August 25, 2021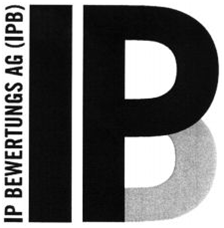 The IPB AG logo is registered trademark in Germany and abroad (Madrid system)
Background
Intellectual Property Bewertungs AG (IPB), one of Europe's leading consulting firms for intellectual property (IP) services such as patent evaluation, patent monetization and patent management, was set up as a spin-off company from Germany's HypoVereinsbank Group in 2001. IPB's foundation was laid in the mid-nineties, when a small team of the bank's product development specialists identified "knowledge" as an investment target with huge prospects. They realized that since the Internet provides almost any information to anybody anywhere in the world, the value of mere information is losing its importance; what is more important and valuable today is what one can abstract from information, i.e., knowledge.
Commercializing knowledge, therefore, is the way to avail the "value from knowledge". Since a patent enables property-like rights over knowledge concerning an invention, protecting information pertaining to patentable inventions is the key ingredient for commercializing knowledge. The idea was thus born to set up an investment trust only investing in companies which own underestimated patent-portfolios. To do so, IPB created a method of valuating patents quickly, reliably and at a competitive price. The valuation method allows companies to use patent portfolios as collaterals, offering them an alternative financing option. Consequently, many companies started seeking patent valuation consultancy services from IPB, since the alternative financing facilitated them to enlarge their equity base. IPB's unique expertise in the commercialization of patents and patent portfolios soon turned the company into a market leader in the field of technology development funds. At present, the Hamburg-based company possesses a managed asset volume of over 200 million Euros.
Commercialization
IPB's business model is based on the acquisition of underestimated patent rights which it believes underpin technologies that have a demand in relevant industries. IPB primarily focuses on the areas of biotechnology, renewable energy, electronics and medical devices. Once a patent portfolio is acquired, the firm goes into further development of the technology in collaboration with the previous patent owner and target industries. This unique strategy benefits all the stakeholders – the previous patent owner gets a percentage of the profit once a final deal is accomplished, and the industry players get a say in how the development of the technology should take place. This tailoring process gives the patents a higher chance of being attractive to the concerned industries. For industries seeking to acquire patents and technologies, IPB's expert team conducts comprehensive and systematic monitoring of the market to find technologies that match the clients' requirements.
IPB has taken several initiatives where the investor's focus is the commercialization of patents. In other words, the investor is not investing in the company but in the patent asset. Their aim is to conclude license agreements through a structured transfer process. This IPB process is divided into four steps:
Patent Valuation-Analysis
Quantitative Analysis
Qualitative Analysis through examining all potential licensees
Contact licensees and conclude the license-agreement
From a financial perspective, the crucial aspect is patent valuation. A reliable but cost efficient monetary method for the valuation of patents that is accepted by banks or any other investor is necessary. Logically speaking, it is impossible to initiate a structured transfer process without patent valuation.
IP Valuation as a Service
In cooperation with several German universities and a growing number of IP specialists, IPB developed a new valuation-method for patents. At the request of its clients, the IPB-model was audited by chartered accountants from KPMG at the beginning of 2004. The auditors certified the applicability to validate patent portfolios as collaterals in the financial sector. Small and mediu-sized enterprises (SMEs) can especially benefit from this alternative financing option, which helps to enlarge their equity base. In most cases, banks offer similar conditions as if using classical collateral, such as real estate.
IPB offers three types of patent valuation methods, which are based on cost, income and market.
Cost-approach: In this approach, the patent's value is equal to the costs for the patent-related research and development (R&D) costs. A cost-approach can be useful for operation management and controlling, although this approach often tends to overestimate or underestimate the patent's value, thereby making it unusable for financial transactions.
Income-approach: In the income-approach, the patent's value is equal to the amount of the future revenues the patent-holder is going to earn by using their patent. The present value can be calculated by discounting these patent-related revenues on the valuation date. The resulting present value is considered as the patent's value. This approach, however, needs the availability of a large database for a reliable outlook on the future revenues; it also requires to know exactly which part of the products' revenue is related to the monopoly right of a specific patent.
Market-approach: In the economic society, a market-value is always the most reliable and robust value for every kind of asset. It shows what the buyer is willing to pay for the asset and what the seller wants to receive at the same time. So the general idea is to find a similar patent that has already been priced and traded. The actual value/price is differentiated out of historical transactions. There are two major problems with this approach: it is not that easy to gather data of patents which are already priced and traded, and every patent is unique, therefore finding similar patents is quite rare.
In order to solve the first problem encountered in the market-approach, IPB has gathered numerous data of patents that are already priced and traded from different sources, such as expired license-agreements, remunerations of employees' inventions and patent sales (e.g., out of liquidations). With this data the IPB-specialists located value-indicators hidden in nearly every patent-document. With the help of regression analysis, significant correlations between indicators and values were identified. Today these parameters are fed into a multivariate-regression-model in which each parameter is supplemented with a "personal" beta-indicator. The beta measures the impact of each parameter on the patent-value.
One of the advantages of this valuation-method is that IPB is able to collect at least 95% of the relevant data out of public databases so it is able to valuate any patent portfolio without involving the owner. The advantage of objectivity is not only interesting in order to convince any investor or bank, but also to collect information, for example, about merger and acquisition targets.
Another advantage is the value-distribution which shows the investor his whole chance-risk-profile and which puts banks in the position that they are able to calculate the value-at-risk which is essential for the credit-calculation.
Patents
IPB offers flexible partnership deals to patent and technology owners who wish to either further develop and/ or sell their patented inventions. Payment is made as soon as the proprietary rights are transferred to IPB. Several of these transferred patent rights are registered at the European Patent Office with IPB as the applicant.
Trademarks
The logo of IPB is internationally protected under the Madrid system. The company also has several trademarks with the German Patent and Trademark Office (DPMA).
Business Results
IPB grew within a short period of time from a small spin-off company to a market leader with a managed volume of over 200 million Euros. The company has established an international network with worldwide resources in commercial legal protection, the financial services sector and auditing and taxes. Along with its 80 member strong staff, it has a network of supported development teams of over 250 scientists at universities, research establishments and in companies. IPB's areas of competence and managed technologies have expanded to include biotechnology/pharmaceuticals, chemistry/food, medical technology, renewable energy, and engineering/automotive. Its customers include large international companies, SMEs, universities and research institutes, and individual inventors.
Key Success Factor: Using IP to Generate "Value for Knowledge"
Due to the increasing replacement of classic assets by IP assets, the valuation of patents has become a central issue in strategic decision-making. IPB's success lies in its decisive role in supporting its customers to generate "value for knowledge" by using IP valuation to connect technology to the capital market.
This case study is based on information from: