Multiple Benefits from an Innovative Social Business Model
Name: Hagar Soya Co. Limited
Country / Territory: Cambodia
IP right(s): Trademarks
Date of publication: July 23, 2010
Last update: July 10, 2012
Background
Hagar Soya Co. Limited (HSL) is a small enterprise in Phnom Penh created in 1998 by Hagar, a non-governmental charity organization based in Switzerland. In the mid 1990s Hagar began an income generation and training project for abused and abandoned women in post-conflict Cambodia. The project eventually led to the incorporation of HSL operations as one of Hagar's small businesses. The objective of this project was to provide employment opportunities for women participating in Hagar programs.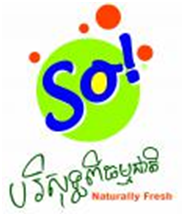 The branding and packaging of So! Soya captured the attention of young people
HSL's first commercially successful product was a soya milk drink sold under the brand name "So! Soya". The product is nutritious, affordable, and tastes good – all important in helping local children increase their protein intake in a country with very high malnutrition rates. Following the success of the soya milk drink, the company added more soya-based items to its product line. HSL uses ultra-high temperature (UHT) and Tetra Pak aseptic packaging that gives the soya milk a long shelf-life, which is very important in a country where temperatures are high and few people have access to refrigerators.
Financing and Partnerships
Although HSL was initiated through Hagar's social development activities, it is now registered as a private limited company in Cambodia. Nonetheless, Hagar remains one of the main funding sources for HSL. A milestone of the company's history is the inclusion of the International Finance Corporation (IFC, a member of the World Bank Group) as a shareholder. HSL received US$ 1.2 million in financing from the IFC. Other funding sources include the Swiss Agency for Development and Cooperation (SDC), the Organization of Petroleum Exporting Countries (OPEC), and the Canton of Zug in Switzerland. Additionally, Nestlé S.A. (a Swiss nutrition and food company) donated one of its factories in Cambodia to HSL in 2007. Soya drink production, however, returned to the old factory a year later due to financial constraints relating to the renovation of the factory from Nestlé.
In order to focus on other social development areas, Hagar made a strategic decision in 2009 to divest HSL to a third party. It entered into a contract with the HSL General Manager, Graham Taylor, who took over the "So! Soya" brand and began a new soya and nutritional products company. The operational principle of the new owner, however, is strongly aligned with that of Hagar and adheres to strong social values and fair trade standards, and continues relationships with existing customers.
Commercialization
Initially, the commercialization of Hagar's soya milk was done in a rather informal way; women from Hagar's programs produced 300 liters of fresh soya milk per day and sold the product on the streets of Phnom Penh from push carts. By 2003, HSL was ready for larger scale production. The first batch of soya milk branded as "So! Soya" was launched during the Water Festival in November 2003 – a three-day long Cambodian celebration that draws about a million people into the capital city. HSL distributed a total of 8,304 packages of its soya drink as a promotional activity which created significant awareness of the "So! Soya" brand among consumers. The company began commercial production of the soya drink the same month. The brand was accepted immediately in the market, and the Cambodian people are proud of this local product. "So! Soya" milk drink soon became popular in the domestic market, competing with imported soya drinks. The production capacity of HSL is 6,000 packages per hour for supplying a market demand of about 30,000 packages per day.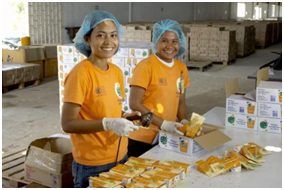 Workers at the HSL factory
Trademarks and Branding
The "So! Soya" trademark was registered with the IP Department of the Ministry of Commerce of Cambodia as early as 2003. Subsequent HSL products such as "So! Soya kids", "So! Soya Gold", "So! Yo", "So! Yumme", "So! Milk" and "So! Choco" have also been protected by registered trademarks. These products are promoted through advertisements on television, in newspapers and other media so as to popularize these products and create their brand impact. The company has been successful in giving its products a distinctive, easy-to-recognize character which not only captures the attention of domestic consumers but also facilitates building trust among its financers.
The company's intellectual property (IP) strategy focuses almost entirely on trademarks and aims at increasing the competitiveness of HSL's products. The company considers the registration of trademarks to be an effective means for effectively preventing unauthorized use of HSL's marks and guarding against counterfeiting. The competitive edge also arises from registering a trademark to protect and increase its value, then publicizing it through a good marketing and business strategy to enlarge the company's market share and stimulate the development of new products. The success of HSL's strategy vis-à-vis trademarks is reflected in the company's achievements, firstly, in marketing its brand name through brand development of both the company and its products, and secondly, in ensuring lasting brand impact through quality products.
Business Results
HSL is the first large-scale soy milk plant in Cambodia. The popularity and market demand for HSL brands is a clear attestation of the company's commercial success. In recognition of HSL's commitment to the principles of good corporate governance, the company received the Corporate Citizenship Award from the Royal Government of Cambodia in 2005. HSL has made important contributions to poverty reduction and social development in post-conflict Cambodia through job creation and income generation, provision of nutritious beverages, and value addition to domestic resources (by raising the amount of soybeans purchased from small-scale farmers in rural Cambodia). Although Hagar divested HSL to a new owner, the success of the social enterprise will continue to exist in a new soya milk and nutritional products company that maintains a strong partnership with Hagar.
A Model for Social Business
The company's success is based on identifying the right path to incorporate income generating activities within a development project, taking into consideration the social needs of Cambodia. This aspect was further strengthened through a strong trademark and branding strategy, which helped HSL popularize its products and capture domestic market share. HSL is an example of an efficient social enterprise model, which, according to the IFC, can be replicated by non-governmental organizations worldwide.
This case study is based on information from: