Cutting the cord for conducting underwater inspection of submerged assets
Swiss-based underwater robotics company Hydromea specializes in underwater navigation and through-water wireless communications technologies. Founded in 2014, the company has made a name for itself as an up-and-coming supplier of portable robotics and high-speed wireless communications technology for underwater applications. Hydromea has come a long way from its humble beginnings in Australia, where it made its first portable underwater drone, Serafina. From there, the company has since moved to Lausanne, Switzerland, fittingly known as a center of fine manufacturing.
Hydromea's passion and the UN SDGs
At the heart of Hydromea's operations is its unwavering passion to help people and the planet by redefining maritime operations through greener, smarter, and safer solutions which contribute to the UN SDGs of 9, 13 and 14. In particular, Hydromea is keenly interested in ocean exploration and in how big data is changing the world.
Soon after its inception, the business immediately discovered that there is still a big gap in our understanding of the seas and set to work developing products and solutions that enable clients to have autonomous high-speed and high-volume subsea data access in real-time.
By merging autonomous robots and wireless communication network technology, Hydromea hopes to eliminate wires, making previously impractical projects more affordable, even while eliminating the need for high-risk manual labor. This represents a fundamental shift in the way the industry tackles the affordability and speed of access to subsea data. Above all else, keeping people away from harm is Hydromea's major concern and goal
Underwater Asset Inspection – an Innovation for the future
According to Hydromea, the marine industry of the future will be totally automated and electric, underpinned by robotics technology. Underwater robots will provide continuous monitoring of submerged assets—whether it is a legacy offshore oil facility, a freshly created wind park, or a burgeoning sea farming enterprise. Such smart monitoring would greatly increase overall efficiency of maritime operations and eliminate the need for polluting support boats, which are estimated to emit over 10,000 tonnes of CO2 per year on average. Remote operations will also help ensure the safety of personnel by allowing them to work from onshore control centers, bringing them closer to their families and their communities.
EXRAY – World's first wireless underwater drone
In May 2021, Hydromea unveiled "EXRAY," a backpack-sized remotely operated underwater vehicle (ROV) that its inventors tout as the world's first wireless underwater drone. The current iteration of EXRAY measures:
70 cm (27.5 in) long,
weighs 7 kg (15 lb),
has four vertical and three horizontal hubless thrusters that allow it six degrees of free movement, and
it also has a zoom-capable HD camera, two LED spotlights, and a battery life of six to eight hours.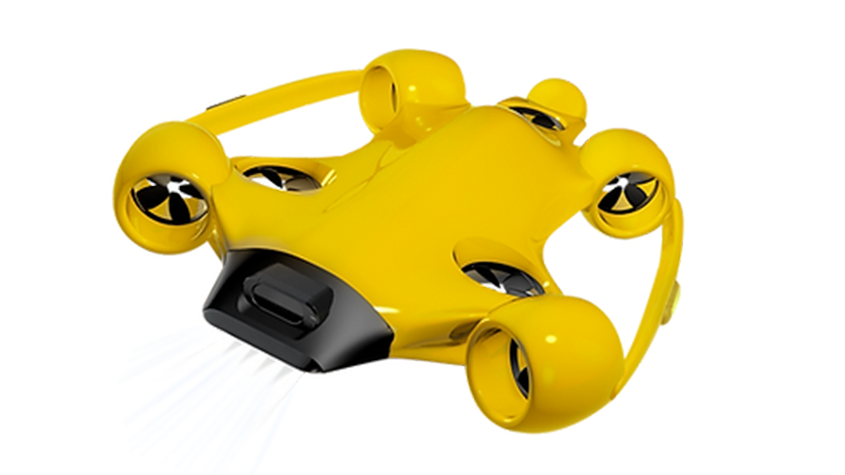 The EXRAY presently has a communications range of just 50 m (164 ft) in clear water and full darkness, and that range drops as ambient light and turbidity levels in the water increase. Nonetheless, Hydromea anticipates that as the technology improves, the ROV's working range will be increased to at least 100 m (328 ft). In any case, the vehicle is purposely designed primarily for enclosed-space jobs, so extended range may not necessarily be a major concern.
LUMA Optical Modem for fast wireless underwater communication
Dubbed LUMA, the technology uses:
modulated pulses of 470-nanometer LED light as its information carrier to wirelessly deliver up to HD-quality, lag-free video,
compact optical modems which are power-efficient yet capable of working in a wide range of conditions, from splash zones to 6,000-meter depths, all while maintaining communication speeds of up to 10 Mbps and line-of-sight operational ranges of up to 50 meters, and
the optical system has been shown to be capable of delivering real-time HD video in addition to control signals.
In March 2022, Hydromea introduced the LUMA X-UV, a patent-pending subsea wireless communication modem that:
can beam data at up to 10 Mbit/s in the presence of other light sources in the environment,
enabling real-time streaming of HD-quality video and 4K photos wirelessly over water.
The company's focus on producing inexpensive, autonomous, and tiny devices that can be utilized at any ocean depth led to the creation of the LUMA X-UV. The device has a titanium enclosure, a serial and ethernet connection, and is pressure-rated to 6,000 meters.
"LUMA X-UV is another big step forward in providing unlimited access to subsea data. It is a tool with a lot of versatility built in. It can be used as a modem and as an access point in subsea infrastructure," Hydromea co-founder and CTO Felix Schill told Marine Technology News. "Moving the data stream into the UV wavelength with LUMA X-UV, this modem will work in the presence of other light sources, such as ROV lights. It will also be the best communication tool in shallow waters where there is still a significant amount of ambient light."
LUMA's capabilities are in stark contrast to existing commercially-available underwater drones that use data cables that hamper both maneuverability and operational range, due to the limited underwater range of conventional radio technology. Traditional ROVs require significantly large ships to carry the necessary control cables, which, if accidentally severed, could result in the loss of the drone itself.
DISKDRIVE Thruster – Hub-less propeller
This simplifies the exchange propellers for customers who can now do it quickly and without any special tools in just under 10 seconds.
IP, business strategy and investor funding
Hydromea acknowledges that patents are expensive but if they see Return On Investment (ROI) or if they see the need to protect themselves from competitors, they will patent an invention. Their CTO often looks at other patents, which are in similar areas to draw inspiration.
While Hydromea understands that it is easier for investors to assess a company if there is a portfolio of patents, they are more concerned with the health of their company, and are not driven by the sentiments of investors. They invest a lot of money in R&D, and they raise money with investors for the development of their technologies. They have also made the conscious decision to not license their technology, preferring instead to offer it directly to their customers or through their channels. Their focus is to partner with someone who is strategically synced with them. This is their strategy as they are trying to build their own complex ecosystem.
Demonstration Test of EXRAY and LUMA in a real-world setting
In November 2021, Hydromea successfully demonstrated both EXRAY and LUMA for France-based multinational petroleum exploration company, TotalEnergies, at one of the latter's floating production, storage, and offloading (FPSO) vessels. The ROV was able to complete a visual inspection of a full ballast water tank, validating the IP's wireless navigation and communication capabilities.
The ROV's pilot was able to command and operate the vehicle, as well as get real-time 1080p visual feedback via its wireless optical communication system. The Net Zero Technology Centre (ex-OGTC) in Aberdeen, Scotland, funded the initiative, which in turn is part of a bigger development roadmap aimed at allowing portable and economical multi-robot inspections of the ever-rising number of submerged assets in the North Sea. Further tests are planned for late 2022.
Hydromea co-founder and COO Alexander Bahr was grateful for the opportunity to demonstrate EXRAY's capabilities in a real-world setting. "Thanks to Net Zero Technology Centre and TotalEnergies, we were able to test our system in the real environment of an offshore site. This is a valuable experience for our development team and it gave us plenty of data points to work with and prepare for our summer validation pilot of the beta system. We are currently looking for the industry partners to work with us in our next funded phase of the roadmap that shall kick-off at the end of 2022," he told Offshore Engineer.
New IP is a game changer for underwater inspection
This new IP is seen to benefit inspection operations, particularly in confined flooded spaces such as ship ballast tanks, closed waterways, and hydropower dams.
"Up to now, portable underwater vehicles always relied on a cable for communication. Our underwater drone works without a cable and sends full HD video stream back in real time. This eliminates any risks of getting stuck in complex flooded spaces, usually associated with cabled vehicles," Hydromea CEO and co-founder Igor Martin was quoted as saying by Inside Unmanned Systems.
"Since radio signals do not travel under water, Hydromea had to develop a new technology to control the drone: a wireless optical system which uses light to transmit high-bandwidth data. With our unique technology that is robust and miniaturized, we can finally cut the cord and unleash the freedom of portable robotics underwater," Hydromea co-founder and CTO Felix Schill also told Inside Unmanned Systems.
Continuous innovation for underwater exploration
Hydromea seeks to continue expanding its research into undersea wireless communications and drone technology, focusing on ultra-fast, high-volume, real-time data transfer and harvesting in an effort to gain an increased stake in the growing fields of subsea exploration and the subsea economy.