Titan Tracker: Solar Trackers for all Technology
Spanish Patents and Trademarks Office
Cabanillas Ingenieros, S.L. (Titan Tracker) began in 1986 as an engineering office in a town close to Toledo and Madrid. Its main activity was to manage and carry out projects and works for installations and industrial construction.
After years of experience in this field, the company is well acquainted with solutions on the market for solar tracking in photovoltaics using devices that it considered uninventive.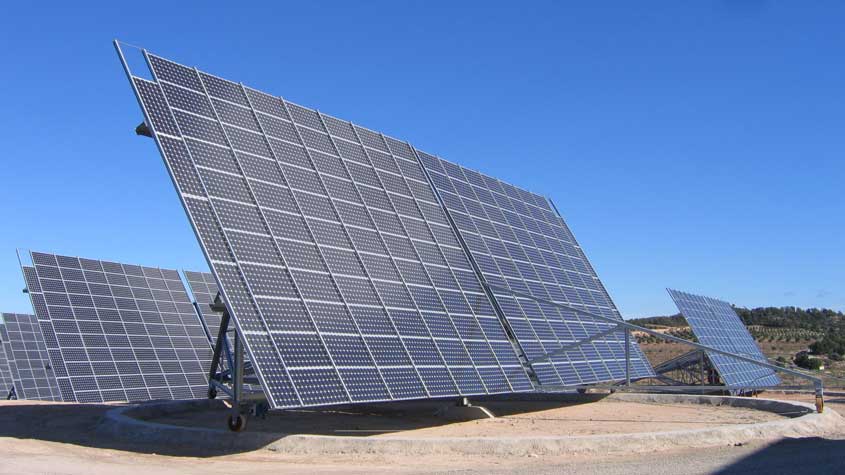 The company started working to improve existing solutions and, in autumn 2006, it finalized and realized its idea and began to document its protection and exploit it commercially.
The business model was, and remains, based mainly on technology transfer and, to a lesser extent, on the sale of devices manufactured with that technology. Technology transfer is commercially simpler and cleaner.
Having defined the business model, the technology needed to be protected in the geographical area of interest. The company obtained patents in the USA, Europe, India, China, Australia, South Africa, Brazil and other countries with little or no difficulty.
Since renewable energies are a technological area of global interest, it was only necessary to disclose the tracking geometry to generate interest, thanks to the clarity and simplicity of the technology; clients were persuaded by the technology's clear advantages.
The technology was initially used for flat‑plate photovoltaics and was then adapted to concentrator photovoltaics, dish–Stirling systems and heliostats for concentrated solar power towers. Although the technology provided robustness and a good useful life for flat plate photovoltaics, in later applications requiring precision, a good useful life and low cost, it proved even more advantageous over the other solutions on the market.
Having filed its first utility model in autumn 2006, Cabanillas Ingenieros, S.L. signed its first licensing contract in March 2007 with a major Spanish company, generating its first income just from technology transfer.
U200602226: Dual-axis solar tracker
Subsequently, the company has licensed to other companies around the world.
Today, its solar tracking solution remains unbeaten in precision applications.
Titan Tracker heliostats are sold all over the world; for example, in Spain, France, Italy, Greece, Turkey, Canada, the USA, Mexico, the Middle East and North Africa, China, India and Australia.
Business development and international expansion were only possible thanks to the system of protection provided by industrial property offices, initially through utility model applications and then patent applications via the PCT or the European Patent Office, protecting the technology in countries such as China, Australia or Morocco and enabling the dual-axis trackers developed to be marketed securely.
U200901617: Adjustable structure for a parabolic reflector
The international expansion achieved with Titan Tracker would not have been possible without the protection granted by industrial property registration.
The marketing and success of the Titan Tracker products is based on two fundamental pillars: firstly, a product that offers clear improvements in performance in comparison with the prior art, and secondly, the protection offered by patent registers, which has allowed commercial expansion and research into new ideas and developments to continue.
Company contact details
Name: Titan Tracker
Address: Ctra Gerindote 18, 45500 Torrijos, Toledo, Spain
Contact telephone: +34: 925 76 23 33
Web: titantracker.es